The Takeaway
Across America, School Lunches Now Come With a Serving of Politics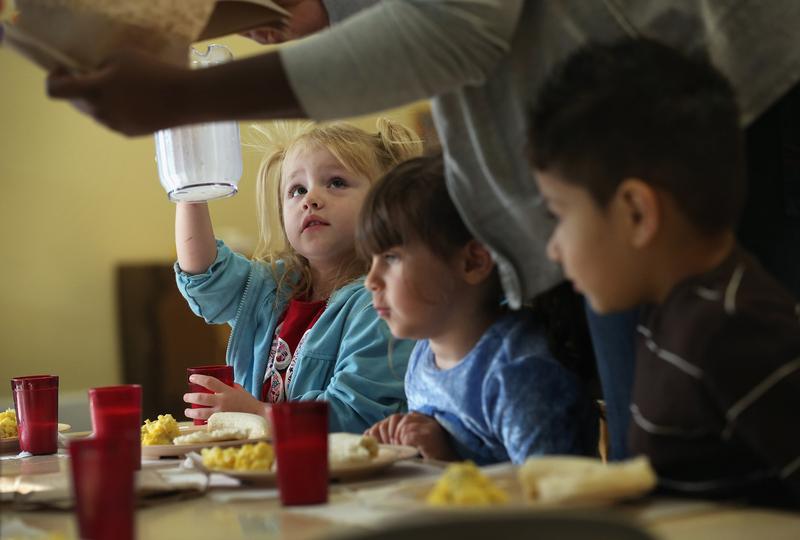 In 1946, the National School Lunch Act created the modern school lunch program. By the end of the school year in 1947, around 7 million children had been served.  
The National School Lunch Program has steadily grown since—last year more than 5 billion school lunches were served to over 30 million students across the country, according to the USDA. In total, more than 224 billion lunches have been served since the program's start.  
But with every lunch comes new criticism of the program.
In New York, one problem is just how early school lunches are served. Because of a shortage of space in cafeterias, tens of thousands of students eat their lunch before 11 A.M.—sometimes as early as 9 A.M.
Meanwhile, in Minnesota, almost four dozen public school districts are coming under fire for completely denying lunch to students from low-income families who don't come up with the 40-cent cost of a reduced-priced lunch. Similar practices have been reported in schools in Utah and Texas.
Then, there's the long-standing issue of nutrition: After Congress passed the Health, Hunger-Free Kids Act in 2010, school menus changed to include more vegetables, and sometime students started complaining that the new "healthy" meals were neither tasty nor filling. 
Americans have been talking about how to fix school lunches for a long time: Why is this so hard to fix? And what should the school lunch of the future look like?
Marion Nestle, professor of Nutrition and Food Studies and Public Health at New York University, has given this issue much thought. She also runs the blog FoodPolitics.com. Professor Nestle joins The Takeaway to discuss the main obstacles to better lunches and what the lunch program of the future should look like.
Check out our interactive infographic below that shows when school lunches are served in New York City.