Soundcheck
Reggie Watts: Comedian And One-Man-Band Extraordinaire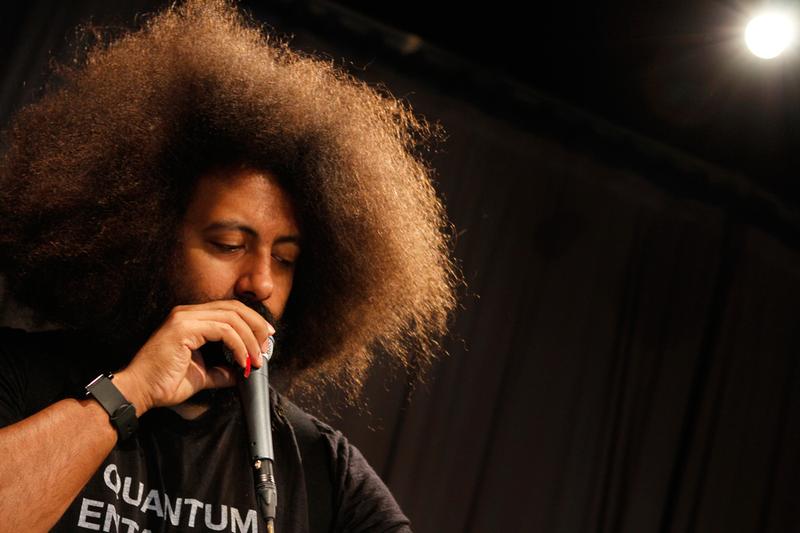 This year will see a major change in late night talk shows, with Stephen Colbert taking over David Letterman's The Late Show, and James Corden taking the slot previously filled by Craig Ferguson. And with that, also comes a shuffling of talk show bands: Comedy Bang! Bang!'s "fake bandleader" Reggie Watts was recently announced as the "real" bandleader on Corden's Late Late Show. And with Watts set to perform this Friday, Jan. 9 at the Blue Note in New York, it's as good a time as any to revisit one of our favorite Soundcheck segments with Watts performing and talking about his idiosyncratic and hilarious beat boxing music.
Comedy Bang! Bang! is one of the most unique things on TV right now. Created and hosted by Scott Aukerman, the surreal IFC series is based on the comedy podcast by the same name, and is equal parts (fake) talk show, sketch, and improv -- featuring well-known guests and a rotating chair of bizarro characters who pop up to wreak havoc. And like most talk shows, Comedy Bang! Bang! has its own house band, or in this case, a one-man-band: Reggie Watts. 
Like the show itself, Watts is impressively versatile and unpredictable. He's a brilliant comedian, and a fantastic vocalist and beatboxer -- all at the same time. On the show, Watts not only provides the theme song and the bumper music for each commercial break, but serves as Aukerman's comedic foil and co-star in nearly every sketch and plot line. But to watch him do his thing live, is even more extraordinary. He's truly masterful at looping layer upon layer of beats and rhythms, melodies and countermelodies, entirely with his voice, to create a dense and soulful, hip-hop-infused sound. And his hilarious lyrics seem to be pulled out of thin air, improvised with a sly wink and impossibly quick wit.
Watts honed his skills over the years with the Seattle band Maktub and an odd variety of musicians and groups, including Wayne Horvitz 4+1 Ensemble, Das Rut, Hit Explosion and more. He started making music on his own in 2002, moved to New York City a few years later. He's also made a number of viral videos, and recently co-launched Jash, the website and YouTube channel with fellow funny people Sarah Silverman, Michael Cera, and Tim and Eric. Watts' most recent special, Reggie Watts A Live in Central Park, premiered on Comedy Central in 2012.
In an interview with Soundcheck host John Schaefer, Watts talks about juggling his various comedy and music projects, and performs two on-the-spot improvisations in the Soundcheck studio.