Reflecting on Art and Life with Fireflies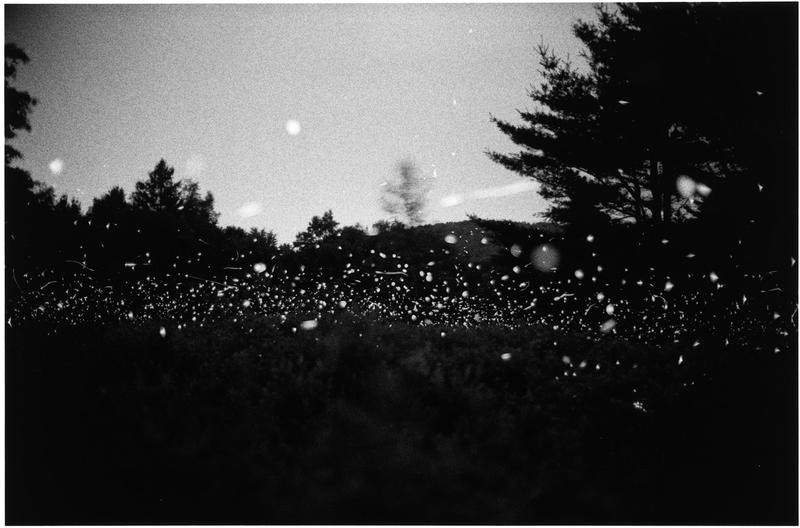 New York photographer Gregory Crewdson is best-known for creating cinematic pictures of small-town America.
But a new exhibit at Wave Hill public garden and cultural center in the Bronx shows a different side of him. It features 61 black-and-white photos of fireflies he took almost 20 years ago.
Crewdson was living alone one summer in his family's cabin in rural Massachusetts when he took the pictures. He said he was going through some personal issues, and retreated to reflect and heal.
Every afternoon he would go around  a small lake in the woods photographing the fireflies — he didn't develop the pictures until much later.
Gregory Crewdson, Untitled, 1996, © Gregory Crewdson. Courtesy Gagosian Gallery.
In 2006, as he was working on a project of large-scale photographs of forests and American suburbia, he found the fireflies pictures in a box, and decided to print them.
Crewdson said most of his work has been about telling stories through light and color with cinematic photos, but that the firefly photos are the counter-response to that. "They are my least-known work, but in a certain way, they are the closest to my heart. Because of the experience of making them, and the solitude and sort of the poetic aspect of the pictures," he said.
In an era of cell phone pictures and selfies, Crewdson said the photos offer a different reality. "These pictures are so removed from that, because it's just film and light and to me it's kind of a reminder of that could be very meaningful, very profound, and we forget that."
This is the first time that the pictures are being shown together.
Gregory Crewdson, Untitled, 1996, © Gregory Crewdson. Courtesy Gagosian Gallery.