Web Extras
Recipe: Tyler Kord's No. 7 Sub Broccoli Sandwich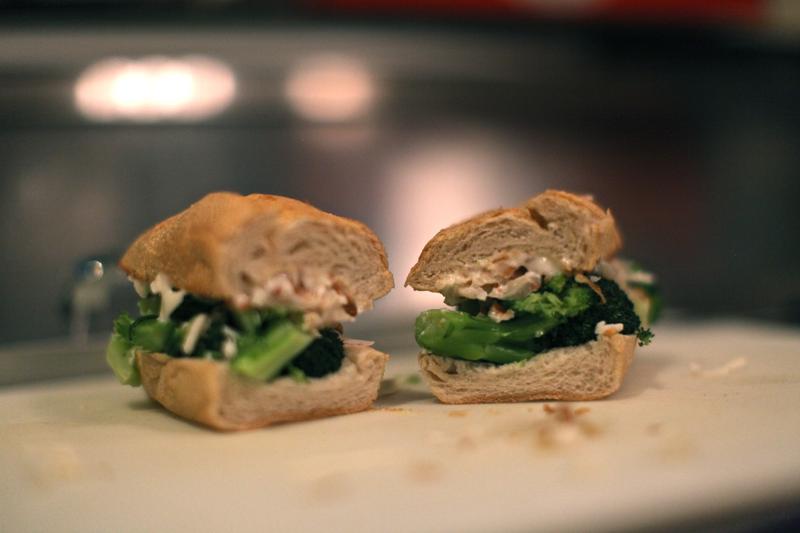 Makes 2 huge subs
1 can pitted lychees (available at Asian markets), drained and quartered
1 garlic clove, minced
One 1-inch piece of ginger, peeled and minced
1 medium shallot, finely chopped
A few drops of sesame oil
1 tablespoon sugar
2 small dried chiles, chopped (I prefer tien tsin chiles, available at Asian markets, or chiles de arbol, available at Mexican markets, but a teaspoon of red chile flakes will work)
1 cup white vinegar
2 scallions, thinly sliced on a bias
2 soft Italian sub rolls, split lengthwise
4 tablespoons mayonnaise
1 pound broccoli, cooked
4 ounces ricotta salata, shredded (about 1 cup)
1/2 cup pine nuts, toasted
1/2 cup fried shallots (the Vietnamese ones found at Asian markets, but any fried onions, store-bought or homemade, will do)
In a mixing bowl, combine the lychees, garlic, ginger, shallot, sesame oil, sugar, chiles, vinegar and scallions. Let sit for at least an hour. 
In an oven preheated to 375 degrees, toast the sub rolls and reheat the broccoli if necessary. 
Spread 2 tablespoons of mayonnaise on each of the sub rolls, then use tongs to stuff the rolls with broccoli. Top each sandwich with a little bit of the lychee muchin, followed by the ricotta salata, pine nuts, and fried shallots. Serve.
From Tyler Kord's forthcoming cookbook, Broccoli, available from Short Stack Editions.