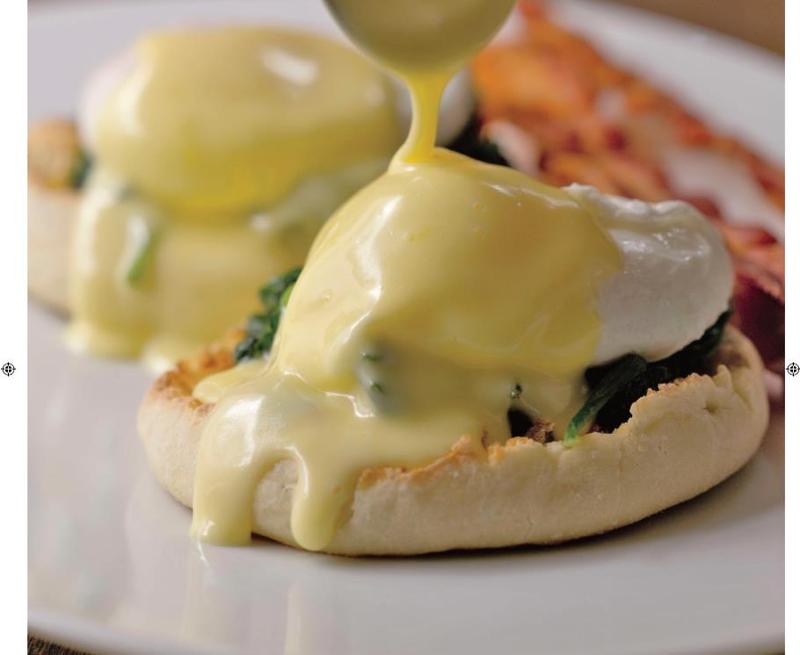 Makes 5 servings
10 toast rounds or ovals
4 tbsp butter, melted
10 poached eggs
1 cup Mornay Sauce (below), warm
1/2 cup grated Gruyère
Preheat the oven to 400°F.
Brush each round of toast with butter and top with a poached egg. Coat with the sauce and sprinkle with the grated Gruyère.
Brown lightly in the oven and serve immediately.
Mornay Sauce
makes 1 quart
3 tbsp butter
½ cup all-purpose fl our
2 tsp vegetable oil
1/4 cup minced yellow onion
5 cups milk, warm
2 oz grated Gruyère cheese
2 oz grated Parmesan cheese
Salt, as needed
Ground white pepper, as needed
1. Melt the butter in a small saucepan over medium heat. Add the flour, stirring to combine, and cook until light brown to form a white roux, about 2 minutes. Remove from the heat and reserve.
2. In a saucepan over medium heat, heat the oil. Add the onion and cook, stirring frequently, until the onions are soft and translucent, about 6 minutes.
3. Add the roux and cook until the roux is very hot, about 2 minutes.
4. Gradually add the milk to the pan, stirring or whisking to work out any lumps. Bring the mixture to a full boil, then reduce the heat to low to establish a simmer. Simmer until the sauce has thickened and the starchy feel and taste of the flour have cooked away, about 30 minutes. Be sure to stir frequently and skim as necessary.
5. Season the sauce with salt, white pepper, and nutmeg, if using, and strain through a fine-mesh sieve.
6. Return the sauce to the pan and bring to a simmer over low heat. Add 2 oz each grated Gruyère and Parmesan. Finish up with 4 tbsp butter if desired, and adjust seasoning with salt and pepper.
Excerpted from Cooking at Home, © 2013 by The Culinary Institute of America . Photos © Ben Fink. Reproduced by permission of Houghton Mifflin Harcourt. All rights reserved.