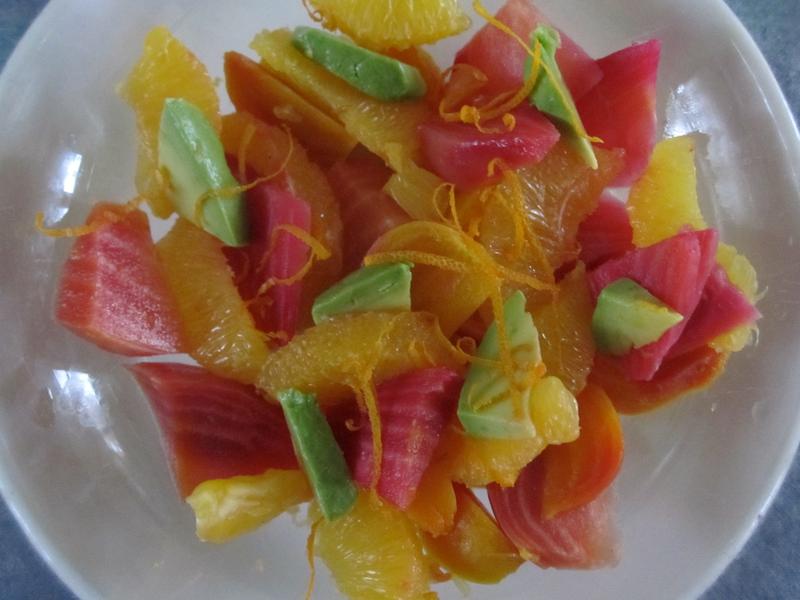 Makes 4 modest main-dish servings 
Vegan (when made with agave nectar)
I love both oranges and grapefruit in beet salads and have always had trouble choosing between them. Then, one day, I realized I didn't need to.
Try experimenting with various colors of beets, alone or in combination, and see which of the optional toppings suits your taste.
Serve as a first course or as a small plate entrée for a light lunch or brunch.
Prepare the beets (step 1) at least an hour ahead of time. I like roasting them for maximum flavor. However, you can simmer them in water if you don't feel like turning on the oven. In either case, wait to peel them until after they are cooked and cooled. Prepare the other ingredients while the beets are cooking.
If you choose to add zest, remove it before juicing the oranges.
This dish keeps well and can be made up to a day ahead if covered tightly and stored in the refrigerator. If you are adding mint leaves or avocado, lay these items on top (minimally mix them in) at the last minute, so they can be at their best.
1 pound (3–4 medium) beets, any color
2 tablespoons cider vinegar
1/2 teaspoon minced or crushed garlic
1/4 heaping teaspoon salt
1 tablespoon agave nectar or light-colored honey
1/4 cup extra-virgin olive oil
2 oranges, peeled and sectioned, sections removed from membranes
1 large ruby grapefruit, peeled and sectioned, sections removed from membranes, sections halved, if large
1. Remove the beet greens (save them to cook separately, if they're nice) and trim the stems to within an inch of the beet. Cook the beets, whole and unpeeled, either in simmering water until fork-tender, 30 to 40 minutes, or by roasting. To roast them, preheat the oven to 400°F, with a rack in the center position. Line a baking sheet with foil. Lay the beets on the foil, add a splash of water (a tablespoon or two), and press together the edges of the foil to form a packet. Roast for about 30 minutes, or until the beets are fork-tender. (Be careful to avoid the steam when opening the packet.)
2. Cool the beets completely, then peel them with a sharp paring knife and cut into bite-sized chunks or elegant half-circles (your call). 
3. Combine the vinegar, garlic, salt, and agave or honey in a medium bowl and whisk until the sweetener is dissolved. Drizzle in the olive oil, continuing to whisk until it is incorporated. 
4. Add the beets to the dressing and stir gently until coated. Let sit at room temperature for at least an hour before adding the fruit. (Cover and refrigerate if it's going to sit for longer—up to a day is fine—and/or if your kitchen is hot and you like things cold.) 
5. Add the orange and grapefruit sections and stir gently until coated. Serve cold or at cool room temperature, plain or topped with any or all of the Optional Enhancements.
Optional Enhancements
Long strands of orange zest (cut with a zester or a sharp knife)
Thin strips of fresh mint
Avocado
Fresh raspberries, blackberries, blueberries, or sliced strawberries as garnish