Web Extras
Recipe: Mollie Katzen's Brussels Sprout Gratin with Potatoes and Spinach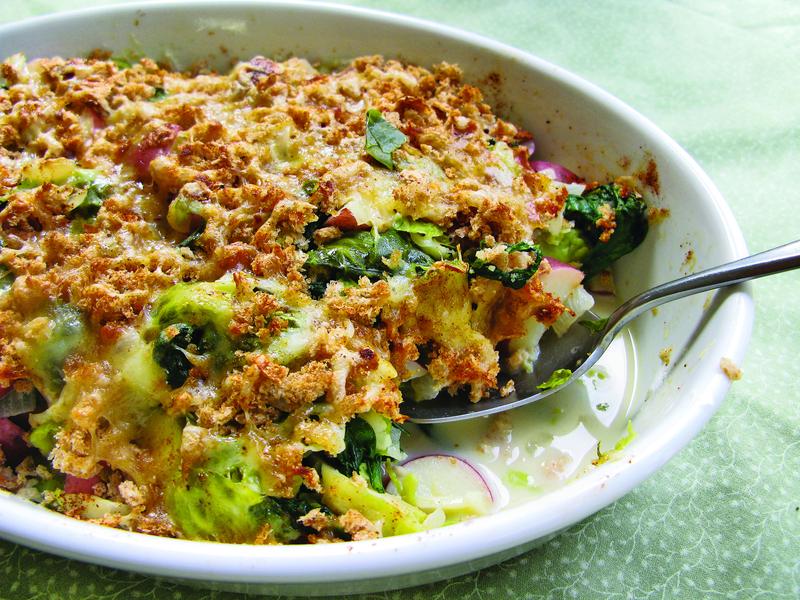 Makes 6 to 8 servings
Vegan (when made with all olive oil, soy milk, and no cheese)
When I decided on a meal of Brussels sprouts cooked with potatoes, onion, garlic, and spinach and baked under a lacy roof of grated cheese and coarse bread crumbs, I expected the results to be cozy, but lackluster. Except for the cozy part, I was so wrong.
Gruyère cheese is ideal for this. You can also use Emmentaler.
For the bread crumbs, toast 2 slices of your favorite whole-wheat bread, then coarsely crumble in a food processor.
2½ tablespoons olive oil, or 1½ tablespoons olive oil and 1 tablespoon unsalted butter
1 pound smallish potatoes, cut into 1⁄8-inch-thick half circles (peeling is optional)
1 pound Brussels sprouts, trimmed and cut into 1⁄8-inch-thick slices (include all the leaves that fall off while you're cutting them)
2 cups chopped onion (1 large)
1 teaspoon salt
2 teaspoons minced or crushed garlic
1/2 pound fresh spinach (baby leaves or coarsely chopped larger leaves)
Black pepper
1/4 cup cream, milk, half-and-half, or soy milk
1 cup fresh whole-wheat bread crumbs (see note)
1 (packed) cup grated Gruyère (about ¼ pound; optional)
Paprika (optional)
1. Preheat the oven to 350°F, with a rack in the highest position that will fit your baking pan. Coat a 9-x-13-inch baking pan or equivalent gratin pan with about 1/2 tablespoon of the olive oil.
2. Fill a medium-large saucepan with water and put it on to boil. When the water boils, add the potatoes and Brussels sprouts and cook them for 8 to 10 minutes, or until they become fork-tender. Drain them in a colander and shake to thoroughly drain.
3. Meanwhile, place a large (10- to 12-inch) skillet over medium heat for about a minute, then add 1 tablespoon olive oil (2 tablespoons, if not adding butter) and swirl to coat the pan. Melt in the butter, if using, and swirl again. Add the onion and ¼ teaspoon of the salt and cook, stirring, for about 8 minutes, or until the onion becomes very soft, verging on golden.
4. Stir in the garlic and lay the spinach on top to wilt. (It will quickly oblige.) Stir it in, along with the drained potatoes and sprouts, the remaining 3/4 teaspoon salt, a generous amount of black pepper, and the cream. Mix to get everything thoroughly distributed, then transfer to the prepared pan.
5. Sprinkle the top with the bread crumbs and cheese and dust it lightly with paprika, if desired. Bake for 15 to 20 minutes, or until the cheese is perfectly melted and turning golden. Serve hot or warm.