Web Extras
Recipe: Melissa Clark's Upside Down Polenta Plum Cake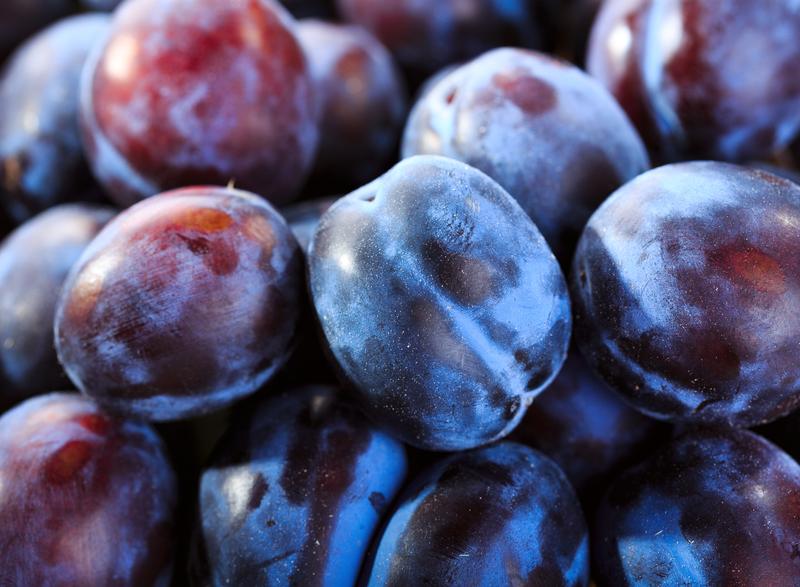 You can substitute nectarines for the plums.
Serves 8
1 3/4 pounds plums, rinsed, pitted, and sliced 1/2-inch thick
1 1/2 cups plus 2 tablespoons sugar
3/4 teaspoon kosher salt
1 cup fine cornmeal
1/2 cup all-purpose flour
1 1/2 teaspoons baking powder
1 cup (2 sticks) butter, at room temperature
4 large eggs
1/3 cup sour cream or whole milk plain yogurt
2 teaspoons vanilla extract
Whipped cream or ice cream for serving, optional
1. Preheat the oven to 350° F. Line a 9-inch Springform pan with parchment paper and grease the parchment and pan well.
2. In a large skillet over medium-high heat, cook the plums, 1/2 cup plus 2 tablespoons of sugar, and 1/4 teaspoon of the salt, stirring occasionally, until the plums are tender and the liquid begins to reduce, about 20 minutes. Spread the mixture into the prepared pan.
3. In a bowl, whisk together the cornmeal, flour, baking powder, and remaining 1/2 teaspoon salt.
4. In the bowl of an electric mixer cream the butter and the remaining 1 cup of sugar until light and fluffy. Add the eggs one a time and beat to combine. Beat in the sour cream and vanilla.
5. Use a spatula to fold in the dry ingredients. Scrape the batter on top of the plums and smooth with a spatula. Bake until the cake is golden and springs back when touched lightly, 45 to 55 minutes.
6. Allow the cake to cool in the pan for 10 minutes, then unmold the sides and invert onto a plate. Serve warm with whipped cream or ice cream, if desired.