Web Extras
Recipe: Dorie Greenspan's Lemon Madeleines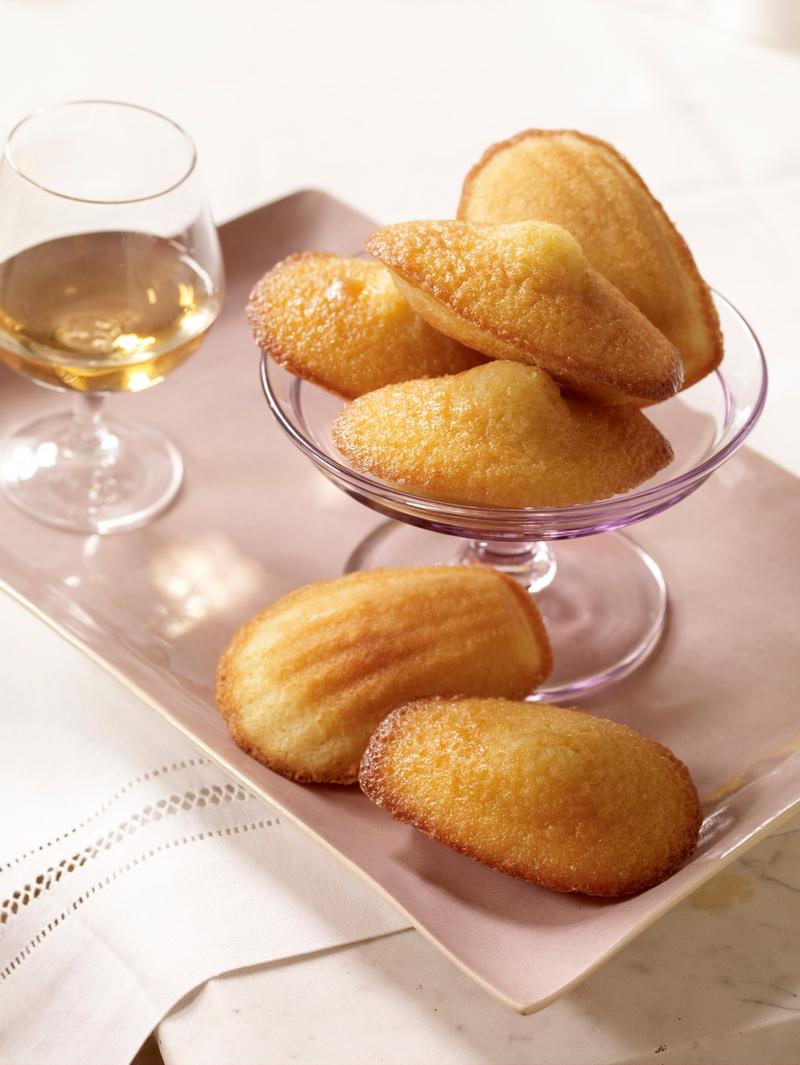 Excerpted from BAKING CHEZ MOI, © 2014 by Dorie Greenspan. Reproduced by permission of Houghton Mifflin Harcourt. All rights reserved.
Lemon Madeleines
Madeleines are the ne plus ultra of teacakes. Made with a buttery whole-egg sponge cake batter, spooned into shell-shaped molds and baked until they turn golden on their shell side and grow a large bump on their bellies, madeleines have long been a touchstone sweet among pâtissiers and pastry lovers.
I don't know if the bosse, the bump or hump, was as iconic in the eighteenth century—the time when madeleines were first made—as it is today, but that dome has become the holy grail of madeleine bakers. And, like everyone else, I'm a seeker. I'd been making madeleines for almost forever and then, in one year, mine took a giant leap, thanks to tips from two of Paris's most talented pastry chefs: Philippe Conticini of Pâtisserie des Rêves and Fabrice Le Bourdat of the matchbook-size Blé Sucré.
Philippe taught me to bake the chilled batter in a cold pan on a very hot baking sheet—it mimics the heat of a baker's hearth oven, the way a pizza stone does. Because of this tiny but monumental tweak, my madeleines, which had always had respectable bumps, are now so bumpy they're in danger of rolling over from top-hump heaviness.
It was Fabrice who showed me how to glaze madeleines, accentuating the domes. It's true that the cakes are luscious unadorned and pretty with just a dusting of confectioners' sugar, but they're almost jewel-like and even more elegant when glazed.
Merci, mes chers pâtissiers.
Makes 12 madeleines
For the madeleines
2/3 cup (90 grams) all-purpose flour
1 teaspoon baking powder
¼ teaspoon fleur de sel or a pinch of fine sea salt
1/3 cup (67 grams) sugar
Finely grated zest of 1 lemon
2 large eggs, at room temperature
1 tablespoon honey
1 teaspoon pure vanilla extract
1 stick (8 tablespoons; 4 ounces; 113 grams) unsalted butter, melted and still warm
2 tablespoons whole milk
Confectioners' sugar, for dusting (optional)
For the glaze (optional)
1 cup (120 grams) confectioners' sugar, sifted
About ¼ cup (60 ml) freshly squeezed lemon juice
To make the madeleines: Whisk together the flour, baking powder and salt in a small bowl; set aside.
Working in a large bowl, rub the sugar and lemon zest together with your fingertips until the sugar is moist and fragrant. Add the eggs and whisk energetically. You want the egg-sugar mixture to thicken ever so slightly and pale just a little; this could take a couple of minutes (if you'd like, you can use a mixer). When the whisk leaves tracks, beat in the honey and vanilla. Using a gentler touch—and a flexible spatula, if you'd like—fold in the dry ingredients, folding only until they disappear into the batter. Finally, fold in the warm melted butter and, when it's incorporated, the milk. You'll have a smooth, shiny batter. Press a piece of plastic film against the surface of the batter and chill for at least 1 hour. (The batter can be kept in the refrigerator for up to 2 days.)
An hour or so before you're ready to bake, butter the molds of a 12-shell madeleine pan, dust with flour and tap out the excess. Even if you have nonstick or silicone madeleine molds, it's a good idea to give them the butter-flour treatment. (Alternatively, you can use baker's spray, a mix of vegetable oil and flour.)
Spoon the batter into the molds—don't worry about spreading it evenly; the oven's heat will take care of that—and refrigerate for 1 hour more. (You can cover the batter lightly with a sheet of wax or parchment paper, but inevitably some of the batter will stick, so I leave the pan bare.)
Center a rack in the oven, put a large heavy baking sheet on the rack and preheat the oven to 400 degrees F.
Place the madeleine pan on the hot baking sheet and bake for 11 to 13 minutes, or until the cakes are golden and the big bumps on their tops spring back when touched. Remove the pan from the oven and immediately release the madeleines from the molds by rapping the edge of the pan against the counter. Gently pry any recalcitrant madeleines from the pan using your fingers or a table knife. Transfer to a cooling rack and allow them to cool to room temperature. (If you're not glazing them, you can serve them warm. Unglazed madeleines are nice with a dusting of confectioners' sugar.)
To glaze the madeleines: Center a rack in the oven and preheat the oven to 500 degrees F. Line a baking sheet with parchment or foil and put a cooling rack on it.
Put the confectioners' sugar in a bowl that's large enough to allow you to dip the madeleines into the glaze. Whisk in the lemon juice a little at a time until you get a glaze that's about as thick as heavy cream. (You'll have more glaze than you need, but it's hard to work with a smaller amount.)
One by one, dip (don't soak) the bump side of each madeleine in the glaze and put them bump side up on the cooling rack. Slide them into the oven, close the door and stay put: It takes 1 to 3 minutes for the glaze to melt and coat the madeleines, and you want to be there to pull them out of the oven at the first sign of a bubble in the glaze. Remove from the oven, lift the hot rack with the cakes onto another cooling rack, to protect your countertop, and let cool to room temperature.
Serving: Generally served with tea, madeleines are good any time of day or night, with anything from coffee to Cognac. They are a delight warm or at room temperature and even still nice when they're slightly stale—and perfect for dunking.
Storing: You can make the batter up to 2 days ahead and keep it covered in the refrigerator, but once baked, madeleines are best the day they're baked.