Rebuilding in the Flood Zone, the Same Way as Before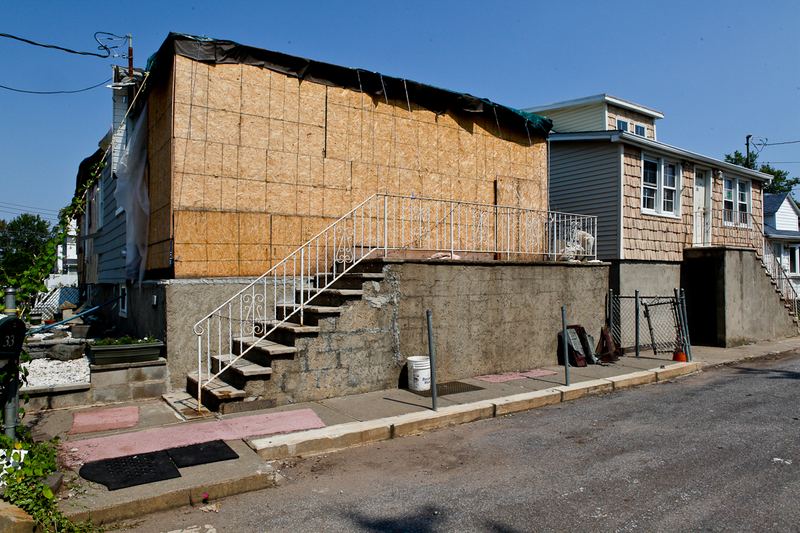 Midland Beach, Staten Island, is a working-class neighborhood on the eastern shore of Staten Island that sits just a few feet above sea level. It is exactly the kind of neighborhood where, according to a major report issued in August by the federal government, homeowners need to elevate their homes to prepare for rising sea levels and stronger storms. In one square mile there, 11 people drowned in their homes during Sandy. 
But George Gabel isn't interested in altering his home at this point.
"I know in today's dollar what a nail costs and a piece of wood and labor. The house ain't worth me raising," he said. "If I was going to raise anything I'd build new."
The 63-year old and his wife have lived in the area nearly their whole lives. They're retired, own their 2-story clapboard home, but did not have flood insurance. So now they have maxed out their credit cards making it livable again with new floors, walls and appliances. And the value of Gabel's home has dropped about $120,000 after Sandy, so he says there is no way he would spend money to elevate the place now.
George and Shirley Gabel have lived in Midland Beach for over 60 years and don't plan to raise their homes to meet new guidelines. (Stephen Nessen/WNYC)
In this neighborhood people are supposed to elevate their homes about 10 feet above the mean sea level or more to meet new federal guidelines. Gurand's house sits roughly at the ground level, Gabel's is about seven steps up.
And then there is 63-year old Joe Bertacchi, who is willing to elevate his home. But there is not much of it left at this point.
At the end of Iona Street, his 2-story home is just a shell. The roof is missing, there are no interior walls and not even a front door.
After Sandy, he began renovating his own home without permits or permission.
"We had relatives. We had volunteers to break up the ceiling because the water was still leaking," he said on a recent visit to his home. "It was trapped in between the floor and the cement ceiling." 
Bertacchi got pretty far along, ripping out entire floors, putting in new joists and pillars and fixing the foundation. But last May, the city Department of Buildings stepped in and issued a stop work order on his renovating. He was fined $4,000 for demolishing his home without a permit. He paid it, but a spokeswoman for the buildings department, Kelly Magee, said he has not filed the proper paperwork to get the stop work order lifted.
Joe Bertacchi's in his damaged home on Iona Street in Midland Beach, Staten Island. (Stephen Nessen/WNYC)
More than 650,000 homes were damaged or destroyed by Sandy in New York and New Jersey, according to estimates. And while $1.8 billion in federal funds has gone to New York City to help bridge the gap between what homeowners received from flood insurance and what they need to rebuild, city officials say that will only help a small fraction of those homes to elevate above flood level.
Shaun Donovan, the Secretary of Housing and Urban Development, who issued the federal guidelines for rebuilding smarter in August, told WNYC that it is unfortunate many people have rebuilt their homes back just the way they were before Sandy.
"We know that for the long term what we're building is a set of standards, and working with local communities that will ensure that communities are better protected when the next storm hits," he said.
He added, while the process for receiving federal aid has been slow, he expects more homeowners will begin receiving money over the next few months.
To listen to the full story, click the audio player.