The Takeaway
'Rebel Music': How Muslims Musicians Around the World Express their Faith in Song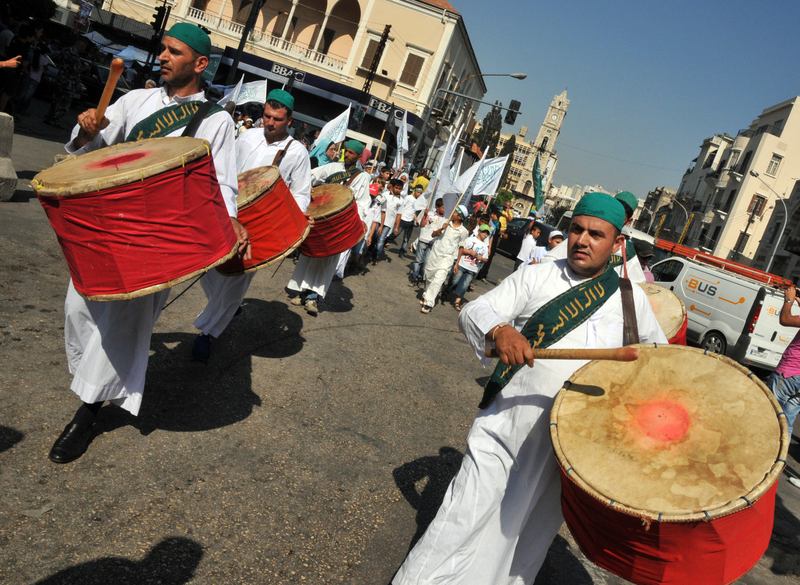 The role of music within Islam has long been a source of deep controversy and debate in the Muslim world. Some Islamic scholars believe music is strictly forbidden, while others have found ways to incorporate music elements in their worship and spirituality.
It's the intersection of faith and rhythm that Hisham Aidi charts in his new book, "Rebel Music: Race, Empire, and the New Muslim Youth Culture," which explores the myriad ways practitioners of Islam around the world have used music to express their faith–and politics–in times of transition.
Some of the examples are surprising. Did you know that Kool and the Gang, for example, took inspiration for "Celebrate" from a verse from the Quran? Today on The Takeaway, Aidi discusses the surprising ways Islam has found its way into music of the world. 
"There's long been this debate—Sufis versus ultra-conservative Muslims—about music," says Aidi. "In the days and the years after 9/11, the argument was made that one way to spark reformation in the Muslim world and promote democracy was to back the Sufis. Music came to be seen as an important tool for public diplomacy, as a way to promote a 'tolerant' Islam, a liberal Islam and so on."
As an example, Aidi points to the "Punkistani" group known as The Kominas, an Islamic punk band made up of Pakistani-Americans that reappropriated Sufi music. He says the group first appeared in the mid-2000s as a way to, partly, contest conservative attitudes towards music within the American Muslim community, in addition to U.S. polices.
While The Kominas are a more modern group, Aidi says that the artist Salim Halali, an Algerian singer and performer, had a huge influence on the music of Islam generations before. As a young man, Halali made his way from Algiers in Northern Africa to Marseille, France as a stow-away on a ship filled with cattle in an effort to pursue his dream of being an Arabic flamenco singer.  
"He is really a remarkable individual," says Aidi. "He gets to Paris in 1937, he's part of the world expo exhibit and he becomes enormously popular playing in different cabarets. Then he disappears—we don't really hear much about him and he dies in 2005. As soon as he died, there was this enormous interest in his life. The younger generation is very interested in this artist."
Aidi says that Halali and his music became a symbol of Muslim-Jewish reconciliation and someone who could calm religious tensions in Europe. While Halali was an influential figure in the Muslim music movement, he was far from the only trailblazer. Aidi also points to the impact that Algerian composer and pianist Maurice El Mediouni had on the rhythm and music of Islam.
During World War II, El Mediouni was in Algeria when the Vichy regime came to power during a time when Algerian Jews were stripped of their French citizenship. When U.S. troops landed in November 1942, Aidi says El Mediouni encountered American soldiers and befriended Puerto Rican GIs who taught him to play the piano and introduced him to Latin music by teaching him how to sing Spanish songs, which ultimately led him to create a genre called "descarga oriental."
"He's someone else who toiled as a tailor for decades in Marseille—nobody knew about him—but in the early 2000s suddenly he enjoyed a rebirth and people were rediscovering Maurice El Mediouni," says Aidi. 
When it comes to Kool and the Gang's "Celebration," Aidi says that while he was doing research he came across an interview with the group's saxophonist, Robert Bell, from the late 1970s. In that interview, Aidi says Bell confessed that he was reading a passage of the Quran that described how the angels celebrated after god created Adam—sparking the idea for the famous lyrics. 
"You would not expect this—this is a song that's played at ball games and parades—it's become an anthem," says Aidi. "It's deeply ironic."
In addition to Europe, North Africa and the United States, Aidi says the music of Islam stretches all the way down to South America.
"I ran into Ali Jamal Shabazz in San Paolo," says Aidi. "I was on the outskirts of San Paolo visiting a mosque and someone had told me about a small hip hop collective. In this hip hop collective, you have a number of Afro-Brazilians who have embraced Islam and who adopted the last name Shabazz after Malcolm X. What they told me was that hip hop gave them their political education. What Ali Shabazz tells me, 'Here in Brazil we look at racial inequality and we have dozens of Trayvon Martins here in Brazil everyday—and no one talks about it.' He says that people who die in young in Brazil are people who don't know their history, so it's a process of historical recovery they're trying to do through music."
In addition to the hip hop of Ali Jamal Shabazz, Aidi says that German rapper Deso Dogg has also been part of the modern Muslim music movement. 
"He moved away from gangster hip hop and he became a Salafism and then he would become a jihadi," says Aidi. "He is currently somewhere in Syria, and rumors have it that he may be dead, others say that he's injured. He represents the kind of extremist rap that European state officials are worried about. European governments are deciding how to respond to this kind of thing."
Aidi concludes, saying that the Muslim Music movement is "a new protest culture that has gone global that is circulating via through social media and through migration."
Listen to the full interview to hear music clips from all the artists mentioned here.