SchoolBook
What it Really Takes to Evaluate an NYC Teacher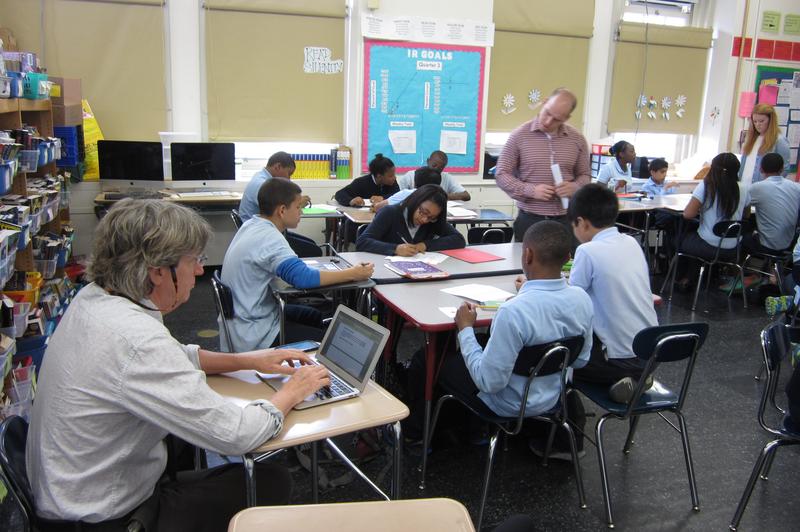 Evaluating a New York City public school teacher used to come down to two letters: S or U, for satisfactory or unsatisfactory. And it was common for almost all teachers — in 2012 year it was 97 percent — to receive a satisfactory rating.
That system was scrapped by the state to provide more nuance with greater accountability. Teachers are now rated through a combination of classroom observations and student test scores. There's been a lot of debate about whether it's fair to use test scores but overall teachers and principals said they appreciated the classroom observation component of the new system. 
It's just very complicated.
At the Community Action School on Manhattan's West 93rd Street, principal John Curry and special teacher Noah Foster allowed us to see a real, live classroom observation and follow-up conversation.
Principals are supposed to make at least four classroom observations of every teacher, and they have to stay for at least 15 minutes. During these visits they had to measure a teacher on 22 different competencies, which cover everything from lesson planning to classroom management. The new teachers contract whittles the list down eight competencies starting next school year, partly because principals said they were overwhelmed by paperwork.
Curry recently watched one of Foster's seventh grade English classes, which he was co-teaching with a general education teacher because it had a mix of different students.
Curry brought along his laptop for notes and cell phone to record parts of the lesson. He leaned in closely when Foster pressed the students to think about a writing assignment based on a chart about student crime.
"Careful, does the data say that kids are turning into criminals?" the teacher asked. "No," a girl conceded
Curry was pleased by the exchange. The next day, Curry gave Foster a "highly effective" on six of the eight areas he observed that day, and an "effective" on two. But it was the conversation with his principal that meant more to Foster than the actual ratings.
"I value these conversations extraordinarily," he said.