Come for a Haircut, Stay for Captain Underpants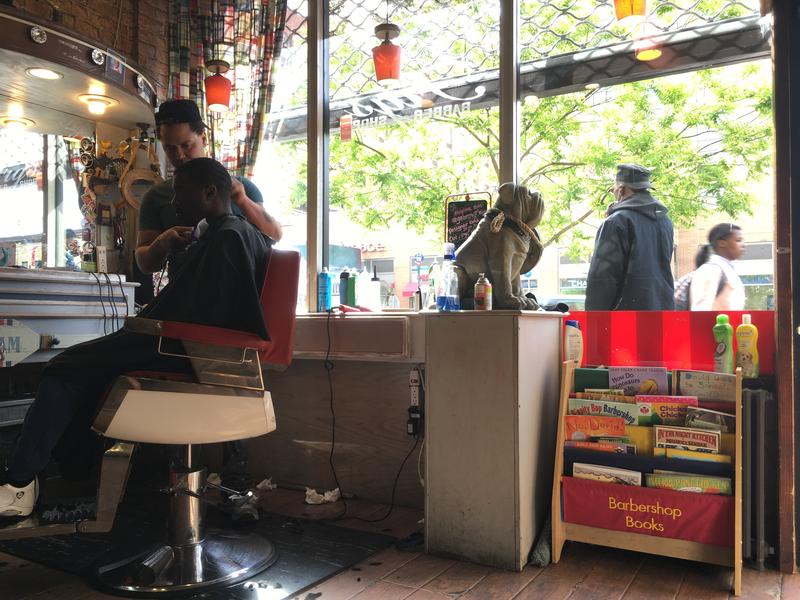 More than 85 percent of American black boys in the fourth grade are considered "not proficient" in reading.
Alvin Irby, an educator and the founder of Barbershop Books, says most people react to that statistic by somehow blaming the boys for not being motivated or focused. But that's just not fair.
"What reason are we giving them to read?" says Irby. "What cultural factors, what social cues would lead a young black boy to conclude that reading is even something they should do?"
Irby is trying to work a new social cue into the lives of young black boys, by putting curated collections of kids books in barbershops. His bookshelves are now in 50 barbershops across 11 states.
He got the idea when he noticed that, at the barbershops in his neighborhood in Harlem, adults and teenagers were often hanging out and being social, but the youngest kids were usually sitting quietly, fidgeting, waiting.
Irby saw it as a missed opportunity, not only to encourage reading but to model it.
Irby knows the importance of modeled behavior. He spent a few years in education, as a teacher and as an education director. Less than 2 percent of teachers in the United States are black men.
Which brought him back to barbershops: a regular stop in the lives of black men, a place to socialize and maybe a place to show young black boys that it's fun to read.
Irby says that last part is important—the books should be fun and inviting, especially for reluctant readers. The challenging part about choosing books that feature diverse characters, and especially books that are billed for black kids, is that they're often about heavy topics like civil rights or slavery. Sometimes, Irby says, publishers lose sight of the fact that all kids want to read books that make them laugh. So while the Barbershop Books feature diverse characters, they're not exclusively about black kids or city kids.
Barbershop Books was recently awarded the 2017 National Book Award's Innovation in Reading prize. Irby says he plans to use the prize money to create 10 new reading spaces in barbershops in his hometown of Little Rock, Arkansas.