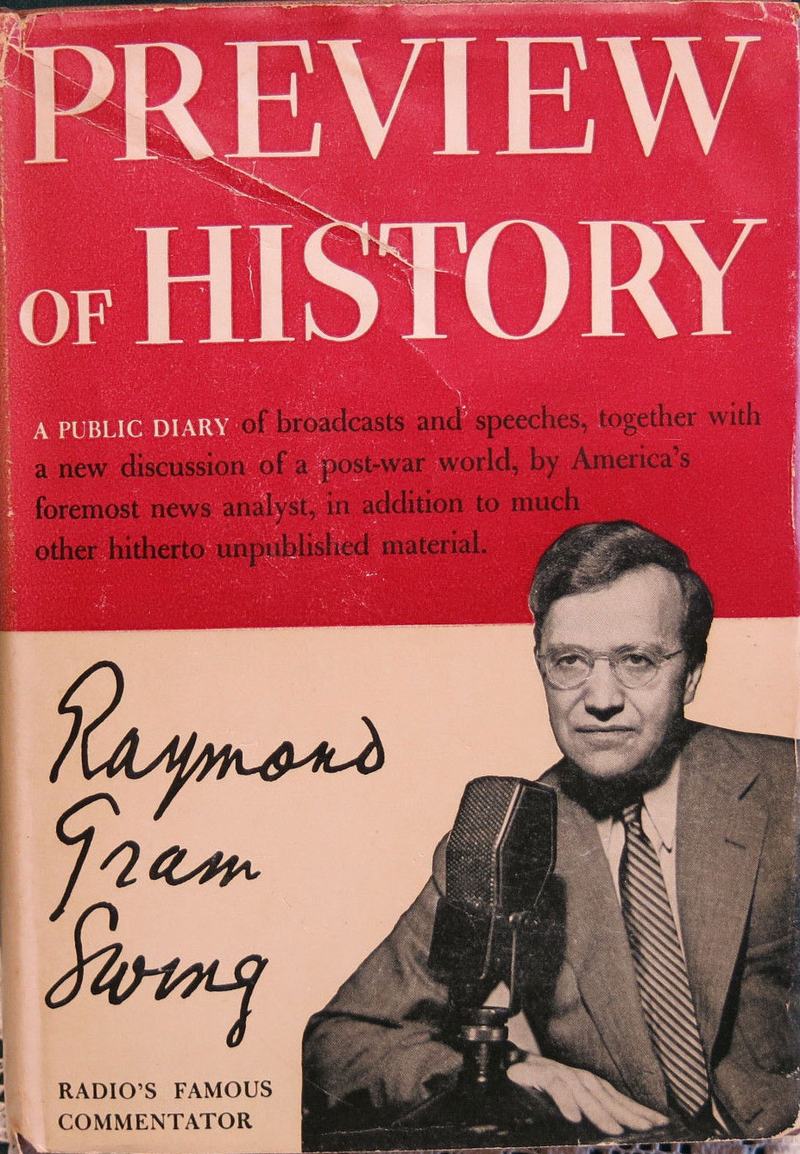 Summary
This episode is from the WNYC archives. It may contain language which is no longer politically or socially appropriate.
John Gunther acts as master of ceremonies at the 77th birthday celebration of journalist Raymond Gram Swing. He introduces a series of speakers who give short talks in honor of Swing. The occasion also marks the publication of Swing's book "Good Evening!"

Fred Friendly, president of CBS, speaks first in Swing's honor. He notes that Swing was the first professional in electronic journalism. He states that everyone in the room owes something to Swing, a trailblazer in journalism.

Quincy Howe speaks about Swing's good judgment as a journalist - one who didn't need an editor.

Henry Loomis, head of Voice of America, discusses the challenges and success of radio. He discusses how Swing made an effort to make his broadcasts as relevant to someone in a village in India as to a Communist as to the American audience. He writes editorials as they were meant to be written.

John Gunther then announces a birthday surprise: a series of birthday greetings by a variety of notable people recorded by CBS. Includes messages from: Secretary of State Dean Rusk, Dame Rebecca West, New York Senator Jacob K. Javits, former Prime Minister Lord Clement Attlee, House Majority Leader Mike Mansfield, William Clark (Baron Clark of Kempston), Senator Hubert Humphrey, British journalist Geoffrey Crowther, Joe Harsh, Lord John Reith, Merrill Miller, and Frank McGee.

Many of the British speakers discuss how Swing was responsible for keeping them aware of the American views of the war with Germany before the US became an allied forces.

Jospeh Newman, of the New York Herald Tribune presents Swing with a transfer of the taped tribute compilation.

Many other notable figures pay tribute to Swing and his influence in the field of journalism including Walter Lippman. Many letters and telegrams are read on behalf of people who could not attend the event.

Raymond Gram Swing closes the evening with a graciously delivered speech. He speaks of his career and of the task of the "communicators" to keep the world safe from ourselves (related specifically to war and nuclear armament).
Audio courtesy of the NYC Municipal Archives WNYC Collection
WNYC archives id: 70316
Municipal archives id: T194
Transcript
This is a machine-generated transcript. Text is unformatted and may contain errors.
This is just. I'd like to begin with a commercial I would like to call everybody's attention to the fact that we will be having our twenty fifth anniversary dinner on April seventh at the Americana when the secretary of state will be our anniversary speaker it's going to be a a really great evening in the history of the New York communications industry the American communications industry and I hope that everybody will. Make reservations soon we already have disposed of something like two thirds of the places so the sale is is very lively and I would like to see all of those who are here today with us on that brilliant occasion on April seventh at the Americana. I'd like to begin by introducing those who are with us at the head table our immediate past president and vice president will Yolen. Who is the another commercial who is preparing our latest Overseas Press Club book The the twenty five years of our history as seen by eyewitnesses of the great news events of this time will tell me that the publisher who hopes to bring it out in October is excited by it as one of the brightest collection of foreign correspondent names assembled between book covers I think all of us can will have good reason to be proud of what Bill is the will has done for us. Starting from the other end Jim Sheldon our red chairman of the Open House committee who will take the question period and my good friend honorable Ned not miss who is the Public Relations Officer of the. Disarmament at the Arms Control and Disarmament Agency I would be tempted to read everybody at the head table and everybody also out in the audience if I didn't know that the person I'm about to present will be presenting some of the of those who are here to you it's my great pleasure to introduce. A man who has been so long one of the brides of our foreign correspondent professions our own John Gunter. Elect ladies and gentlemen. Friends of Raymond saying Thank you Mr McGovern. I must say. This Varus all the earmarks of being an extremely pleasant and happy occasion to have so many old friends colleagues. Distinguished members of Mr Swing's profession here to greet him perhaps paid tribute to him. As you know I'm sure all of you know we're celebrating tonight a double birthday. That of Mr sewing himself who has reached a ripe young age and that of his book fittingly called Good evening. Which is even younger which in fact is not actually to be born until tomorrow now I would like to introduce. This glittering constellation at our table here. I will mention everyone's man perhaps they'll be good enough to to rise and make a courteous by our side and down to fire them although they need no identification then we will have I hope a few words from some of them later. Going from left to right no political significance we start with with Eric Sevareid of. Ed Morgan. Howard K. Smith. JOE No the problem. I see I don't need to identify I'm programs director of the Overseas Press Club and the man responsible for this assemblage. Fred Friendly. May swing. The right MCGURN the president of the overseas press for. Mr Swain rising order I'm not especially if you have. Walter Lippmann. Mrs Barack my girl. Mr Henry long as they have the force of America. Finally as a philosopher from Beacon Hill Mr Quincy. With such a variety of talent available I don't quite know with whom to begin but I think it might be. Pleasant to start with Mr friendly if only because he's a veritable monarch of a great domain I read the other day that Mr friendly is the only man in all of whom. Who who doesn't list his age I can't imagine why maybe it's because he isn't old enough. Mister friendly began to impinge on us all with I can hear it now a good many years ago and he is still impinging. He and Mr swine work together for a great many years and Raymond tells me but now that Fred is president of C.B.S. News he Raymond actually knows a president by his first name. Mr Friendly's contribution to the world of communications as at Mario's T.V. producer on the seat now documentaries and in a great deal else on is known is so well known to on his own or so well known to you all that I really don't need to say anymore Mr friendly Could we have a word from. You or. The for. You or do I. Live at a soccer park. One. Or two years ago I made it back five minutes later a line. Went right into. Usable. Order the. Far right. Very quiet. And I listened very loud. And. Newton who. Right. Right. With morning and would love. To. Thank you Mr frankly I now don't know why Mr Swain who's been my close friend for something like two fifths of a century has been slightly cooler to me since my arrival tonight. We have agreed I'm afraid far too casually that I would pick him up here around six and we would have a chat and I sauntered in I believe the ten minutes of Saturday. I don't. Suppose we turn now to Quincy how another old and valued friend of Raymond's. Mr Howe as you know is the Son of The Atlantic Monthly and this of Boston Brahman was always been just a bit of a non conformist I remember a book he once wrote about England I won't tell you the title. His career has been valued in the extreme varied I'm sorry to say in the extreme he added living age for a while then became of all things a publisher. His work as a news analyst goes back all the way to nine hundred forty two first with C.B.S. then with A.B.C.. He's won the Peabody or twice or receives Press Club Award and no fewer than for Freedom Foundation Award also has been engaged for many years in a modern history third volume of which I look forward to keenly seems to me one of the most lively provocative political histories I've ever read and just as the mythical Atlas for the first on his shoulders Mr Howe bears on his shoulders a new magazine called Atlas which I'm sure all of you know now Mr Swing's told me that he hopes that Mr Howe will give an intellectual. Two or three. Minutes in celebration of this occasion. I. Was playing. With. Them. But I only had a plain English dated. Way not all. The Bible is available we haven't gotten the wide. Array or. The problem is that there was a man. On I've. Never. It is. One of the many I've been. Playing. In the field that he and I have. In the news in the mail your goal is to be. The editor of the government and that is their role and they are writing in the newspapers in all of the areas of the plane why important role does not exist in the radio television world. Which is going to also point out about America as a country went from went from. Bottom to page without having to civilization among the on. The radio and like bashing has gone from the bottom to the games without asking who we civilizing influence of editorial direction. And it is not the whole radiology plans we live in it is the speed at which the world is moving that was responsible for this but the. Remarkable feature of Raymond's way and the reason why this is my job as an editor once announced that the reason why Raymond swing has been outstanding in this field even in the even meeting that is the one who's in the newspaper business he had his arm riding and they were a video better than many of the others who sat over the news that over others and he knows what ideas to pass judgment and to give the guy. That kind of drive and that kind of guidance is the water is no longer being applied in the in the radio and television. Ratings way and I. Had the remarkable experience of having where we got into it now living. There was no radio for us to does the. We're going to live through the golden age of radio and now that play is gone through. Again seems no radial velocity to endure and not always which can provide us with the very high standard of living which we became so usually And so badly about them but it is no wonder that his wife may be so bought because Raman's waiting years much more than a class on his account. He is more than odd he is a catalyst and that is I looked up and there is no way in the news for a change. I suspect. That it is his love and his talent the mule. That is the secret of their success. But because I know his name is Bob in good evening that one of the points you made was the necessity out acted salacious clear articulation I will never forget the banners I had painted me by. LOL Now the playwright of all things act when I had lunch with him and he informed me that he wanted to tell me that he was conveying in the person the respect or God of the one Gallion community in the yard because of the house call anyways so big. And the fact that Raymond is waiting has. So clearly and consistently observed a preview is this is that of a out loud I just want to read a couple of the whole post that as it is either by reading or writing as a compromise between pro and conversation. He speaks of have a happy medium between in the wall of speech and convents writing in my core way I. Call it revive That's right. But it's getting the same thing in the air but the heart of the man and the special genius comes it leaves you with it I learned he said to what that's myself to a single letter. Railing swaying never top down he always spoke. As Mr Holland thank you but a single non-conformists sentence you uttered did have something to do with America reminded me of an old joke a crock really made by an illustrious English lady who said that one must never forget the United States the country. In which its progress was slightly in advance of its civilization. I think we'll call next on Henry Louis. Mr Lomas as I said before as head of the Voice of America and as such he's commander in chief of the most extensive communications enterprise the world has ever known. He has been an assistant to the president of the Massachusetts Institute of Technology he was trained as a scientist and Congress has never quite gotten over the shock of finding out that he was a man able to comprehend figures even budget figures. Mr Loomis as you probably know received recently the Rockefeller award for distinguished government service I believe this was the first time this award was given to anybody of less than ambassadorial rank I should mention another achievement of Mr loses another distinction he was host to Raymond and his stepson in a freshwater lake in Florida not long ago where they caught one hundred and sixty fish of. Various large determinations no. Large mouth bass. It is but if it's going to fish in six hours or days three days and you. Mr Obama's joined the United States Information Agency in one thousand nine hundred fifty four has been director of the boy since one nine hundred fifty eight and has had the most intimate and intricate contact with Mr Swing day in and day out for many years Mr Thomas perhaps you could tell me something about your work with Mr White. You're part of your bifurcated slower way and eating voice. We have to assume that you know what it is that. You actually that the. Most. That with the accomplishment is just getting ready back to the. Light. At the time we know we like. One. Place. To read it and then spent about reading the next. There's been a warning about radio. One. Perhaps someone. Reading that. But after all we do. Most of the greedy people here without pain. We knew. What it was or that. But the problem with that. Is the problem that there are so few people praying for a while. To do come. In the true sense of the word. As required or one of. The day. I private hire. But. For. This problem that we say. Is a voice only and maybe. Only serious radio. We are speaking only to people who are politically you're it. If there were not they wouldn't be listening to our barn raising. Which we all. Know in some countries of the very high percentage of the population. Other countries is a highly respected population. But they are used to radio it is not a mass media. In the Beatles that. This is a unique opportunity that you need shall. Go to the beauty of radio or as. It know when you know when you're doing the right number you know we're doing it wrong you. You're her commanders you record it nobody knows. We know we are going through a communications revolution that is the greatest that has ever happened in this. Very just the radio is affecting communication to a greater degree in the back. Than the printing ever. Acquire problem or a body with how to write a commentary. That would be meaningful Not only that say. But in a now. Interior in year that had no communications with the outside world at all was physically black be. Acceptable someone had got. A grand history. No one knows very well who. It was no educated. It was nothing but some may hear this radio. You've been here a. Year when you hear Pakistan. You and your mom do. The king on your new name is doing there. How to Speak to that individual in a way that is meaningful to him. And productive. Another time the problems is ours re two species were coming. Back for all many of our already living under. And many things that are those the common is a hard fact for the members. This is an interesting challenge. Because when you raise your right to be. It will be heard by coming. Over by neutral little beaver by which. It will be heard by the most arrogant people. And the most newly arrived among the politically you're. One of the advantages of races where his wisdom. And his judgment. Imagination. I happen to live in Virginia where I was now or never been called or. Where I was in use because they do. Similar I don't know if any of you are driven for. It's rather interesting experience from there or was it going the direction you wish to go. More or less the same be. Your buying that you need what are called Wheel which by the by and that they don't move back and when you get stuck in the market they're the ones that put you out. But you also only believe. The leader the one that. Imagination. That makes a difference that allows for. The. Right. Thank you thank you very much. You have a place surprise for Raymond form a song and members of his family and here are cues operate it is. The Honorable Dean Rusk secretary of state Raymond swelling is one of the truly great names of broadcasting and journalism for more than half a century he served with distinction because of providing his fellow citizens with the information they need to play a responsible role in the complex and sometimes violent world of the twentieth century since nine hundred thirty five his commentaries have been a badge of honor to the broadcasting industry in recent years this for many a voice became the voice of America bringing the same truth and insights to persons committed to freedom around the world it is a great pleasure for me to pay my respects to a man who has given so generously obviou