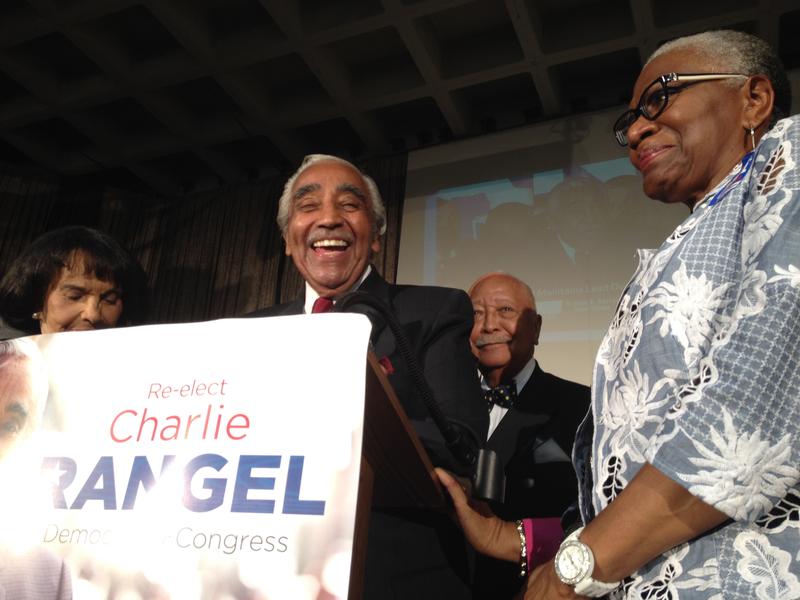 With 100 percent of the returns in, Rep. Charles Rangel is ahead of State Sen. Adriano Espaillat 47.4 percent to 43.6 percent in a primary election to secure the Democratic nomination for the 13th congressional district. The district includes upper Manhattan and parts of the Bronx.
"The people have won," Rangel said to his supporters in a speech at an affordable housing development in East Harlem. The crowd chanted, "Charlie, Charlie." But Rangel had taken the unusual step of coming down to speak to the crowd before the votes had been tallied, shouting questions to the crowd about how many votes had come in, and from where. 
For Espaillat, the race didn't end. Though he was losing by a yawning gap of more than 2,000 votes, Espaillat called the race "too close to call." Rangel offered no comfort, weakly congratulating Espaillat, who gathered with supporters on an Inwood street, saying he's done "the best with what he had to work with."
Espaillat ultimately conceded in a written statement on Thursday. He also announced he plans to seek re-election to his state senate office.
After a bitterly-fought campaign that divided the city's Democratic establishment and devolved into attacks over the candidate's respective age and ethnicity, Rangel looked like he had outpaced his 2012 margin of victory, though the Associated Press did not immediately call the race.
That year, Rangel narrowly beat Espaillat by 1,086 in another off-season June primary with very low turnout. While Espaillat conceded defeat that night, the gap between the candidates shrunk dramatically by the next morning as more votes were tabulated. It ultimately took two weeks for the results to be finalized.
While Rangel accused the senator of being a lackluster state lawmaker with not enough of a record to be criticized, Rangel also seized on Espaillat's history-making potential as the first Dominican American in Congress saying in a televised debate that Espaillat wanted, "to be the Jackie Robinson of the Dominicans in Congress," then adding, "he's no Jackie Robinson."
Rangel is credited with helping found and name the Congressional Black caucus, expanding the earned income tax credit program for people with low income, and supporting the Upper Manhattan Empowerment Zone, intended to spur economic development in the neighborhood.  
The congressman's conduct came under scrutiny starting in 2008 after he was accused of improperly using four rent stabilized apartments in Harlem for his home and office. Charges continued to mount over tax law and ethics violations. In December 2012, Rangel was formally censured by the House.
Espaillat was elected to the New York State Assembly in 1996 and served there for 14 years. He was elected to the New York State Senate in 2010, after then incumbent Eric Schneiderman decided to run for Attorney General.
A third candidate on the ballot, Michael Walrond, the pastor at First Corinthian Baptist Church in Harlem, received about 8 percent of the vote. While he consistently polled in the single digits, Walrond had a built-in base from the 9,000 parishioners at his church, of which 70 percent live in the district, according to his campaign. 
A first-time candidate, Walrond has worked in the community for 10 years, though he only moved to the district in January. Walrond often said he was running to offer voters a real alternative to career politicians.
Updated Thursday 6/26/2014 at 3:10pm with Espaillat's concession.