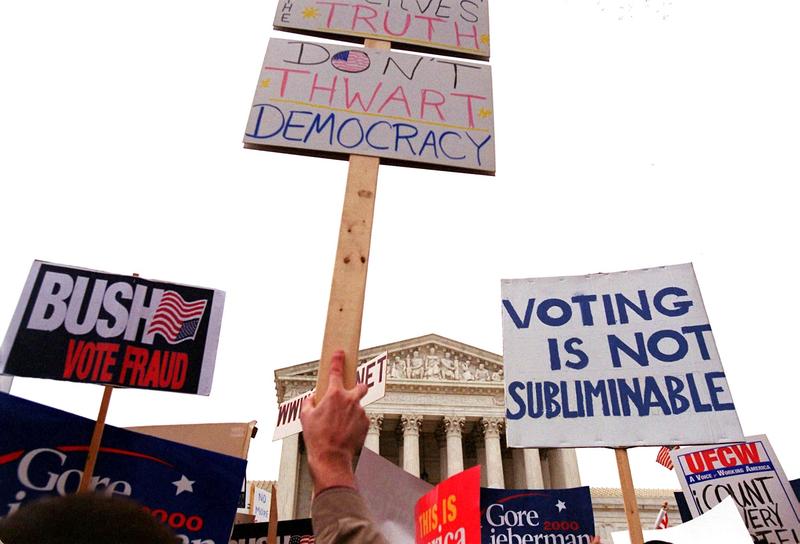 Summary
For sixteen years, Democrats have lived in fear of repeating the mistake of the 2000 election, when Ralph Nader supposedly cost Al Gore the election. And for sixteen years, Ralph Nader has had to live with us thinking this, even though he finds the idea patently absurd and a sign of just how corrupted our electoral system really is.
Bob talks to Nader himself (author of "Unstoppable: The Emerging Left-Right Alliance to Dismantle the Corporate State") about why he is absolutely not to blame for Gore's 2000 loss, how words like "spoiler" and "siphon" represent the bias we have against third parties, and what we might be able to do to improve our system. 
 Song:
"It Had To Be You" 
Transcript
For 16 years, not an election has gone by without Nader's name being invoked as the father of tragic folly, the spoiler of all spoilers and the begetter of the George W. Bush presidency. Well, to paraphrase Woody Allen in Annie Hall, I happen to have Ralph Nader right here.
[CLIP]
MARSHALL McLUHAN: You know nothing of my work!
[END CLIP]
BOB GARFIELD: [LAUGHS] Nice. Yes, Nader is fed up with the conventional wisdom and he thinks his media scolds should be looking at their own culpability for a system that gave us 2000 and our current melodrama, as well. Ralph, welcome back to the show.
RALPH NADER: Thank you, Bob.
BOB GARFIELD: Now, I vividly remember us around 2001 or 2002 drunkenly approaching you at some Washington event and jabbing my finger into your chest and saying, thanks for nothin! And you patiently explained to me why the Bush-Cheney administration and all that came from it wasn't your fault. And I, and I believe I walked away satisfied. Would you be kind enough to satisfy me, once again?
RALPH NADER: Why is the Green Party the scapegoat for the Democratic Party's failure to defeat a bumbling governor from Texas who couldn't put a paragraph together and who had a horrible record on children, on pollution, on corporate welfare?
And all the shenanigans in Florida, with Jeb Bush and the secretary of state in Tallahassee, the Green Party's responsible for that, the loss of thousands of votes for Gore by the misidentification of ex-felons, the 5-4 decision by the Supreme Court blocking the Florida Supreme Court's ongoing full state recount, which would have given the state to Gore? He lost his home state of Tennessee. That alone would have put him in the White House. He lost Arkansas, Clinton's home state. That alone would have put him in the White House.
It's just a matter of massive scapegoating by the Democratic Party against the little Green Party that dared to try to make the national presidential campaign a little more competitive by injecting a dozen issues of change in this country that actually had majoritarian support.
BOB GARFIELD: Let's pull back further because you believe that the problem isn't the mischief created by third parties; it's that third parties are so marginalized in our system, to begin with.
RALPH NADER: We have an equal right to run for election in this country. We have an equal right to try to get votes from one another. So we're either all spoilers of one another or none of us are spoilers. I mean, the word "spoiler" is a politically bigoted word only reserved for third-party challengers.
BOB GARFIELD: Why is it bigotry?
RALPH NADER: Because they treat third parties like second-class citizens, instead of welcome injections in new agendas, new leaders, new energies, new vote turnout. Historically, the third parties in our country blazed the way for most of the major progressive achievements for the United States of America, the little Liberty Party in 1840 against slavery, women's suffrage parties. It was Eugene Debs that put on the table full health insurance, Social Security, put on the table a progressive income tax, the 40-hour week. None of them won a national election or came close, but they put it on the table and got a lot of public discussion, until the - one or more of the two major parties picked it up. So why are we treating third parties this way, with huge ballot access obstacles, harassing litigation, keeping them off the presidential debate?
BOB GARFIELD: We started this conversation with me jabbing a finger in your chest. Why don't you job one into mine? Tell me hell my industry, media, have been aiders and abettors in the kind of suppression you're describing.
RALPH NADER: The mass media is, is pretty disgraceful because they, they basically say, what are the polls for these candidates, how much money do these candidates have? So if you start out with a modest amount of money and you're not high in the polls, they won't give you coverage. And they won't give you coverage, if you don't get higher in the polls.
The problem is that the polling companies are owned by the very mass media that ignores you, and so the only way you can reach tens of millions of people, as a third-party candidate, unless you're very rich, is to get on the presidential debates. I traveled in 2000 to 50 states. I, I spoke to, by far, the largest gatherings, filled Madison Square Garden, the Boston Garden, the Target Center in Minnesota. And I figured out I had reached only 2% of the number of people I would have reached had I been on that stage for just one of the three debates between Bush and Gore.
BOB GARFIELD: Well, you know, had you considered appearing on Dancing with the Stars?
RALPH NADER: [LAUGHS] I tried everything. You know, I did get on, I think, one of the – one or two of the nightly national comedy shows. It's just absurd. You're, you're – you're trying to discuss serious turnarounds for the United States, its impact on the world, with a few minutes in a highly-saturated pseudo-comedic context. And the tragedy is that when we filled Madison Square Garden, we got a little article in The New York Times on the obituary page.
BOB GARFIELD: I read a piece you did in the LA Times back in June, laying out all of these arguments. Where, I believe, your argument falls down is that you pointed us instead towards the European parliamentary system where there's proportional representation and I think you were saying, yeah, let's do it like that, except we're not like that. That's not how the American democracy is constructed. So, short of entirely changing one of the three branches of government, how does any of this get fixed?
RALPH NADER: Well, one way is that there should be one Federal ballot access standard, and it should be much lower than the many different state ballot access standards that are often abusively interpreted, and you think you meet all the petition signature levels and then some party functionary can disregard it, as happened in Pennsylvania. So let's have one Federal ballot access standard.
The second is they can have instant runoff voting, which operates in places like San Francisco, where you basically vote your first choice, second, third, and the first choice doesn't win, your second choice triggers in. So nobody can win an election without getting a majority. That's an easy way to get rid of the so-called "spoiler" nonsense.
And the third is the press has got to do its job. The media is horribly imitative of one another. They emphasize tactics and strategies and endless speculation. They interview each other. They don't bring in the civic community that knows a lot about these issues and can broaden the agenda and correct the fabrications or mistakes of the candidates. The media's performance is abysmal.
BOB GARFIELD: This sequence of interviews we're doing is premised mostly on the notion that Jill Stein and your Green Party could siphon votes off of Hillary Clinton and create a true national catastrophe of a Donald Trump presidency.
RALPH NADER: Not a chance. First of all, it's balanced out by the Libertarian Party, on the other side, which probably will get more votes. Second, it's interesting, Bob, you never use the word "siphon" when it comes to the two major parties. I mean, they – do you ever hear any of your reporters say, I wonder how many votes Trump is gonna siphon from Hillary? There's something illegitimate about that word "siphon."
BOB GARFIELD: Because the decision on whom to pull the lever for is actually fundamental and it isn't sneaking gasoline from your neighbor's tank in the dark of night.
RALPH NADER: Yeah, and I think the voters want more choices, more voices. The polls show they want a viable third party. I think one reason we're not getting a higher vote total, as in some European countries, is that we don't have a multi-party system. We don't allow small parties to have a chance to compete. I mean, what if nature wouldn't allow seeds to sprout? What if big business wouldn't allow small business a chance to get a toehold and compete? But when it comes to politics, it's just Pepsi and Coke, Democrat, Republican, getting more and more alike.
BOB GARFIELD: Well, Dr. Pepper, thank you very much.
RALPH NADER: [LAUGHS] Thank you, Bob Garfield.
BOB GARFIELD: Ralph Nader is a consumer advocate, political activist and author of Unstoppable: The Emerging Left-Right Alliance to Dismantle the Corporate State and the forthcoming Breaking Through Power.
[MUSIC/MUSIC UP & UNDER]
BOB GARFIELD: That's it for this week's show. On the Media
is produced by Meara Sharma, Alana Casanova-Burgess and Jesse Brenneman. We had more help from Micah-Loewinger, Sara Qari, Emma Stelter and Isabel Cristo. This is our farewell to Emma and Isabel, brilliant and charming, both, whose stints here are sadly at an end. Ladies, we will miss you.
And our show was edited – by Brooke. Our technical director is Jennifer Munson. Our engineer this week was Casey Holford. Katya Rogers is our executive producer. Jim Schacter is WNYC's vice president for news. Bassist composer Ben Allison wrote our theme. On the Media is a production of WNYC Studios. Brooke Gladstone will be back next week. I'm Bob Garfield.
[ANNIE HALL CLIP]:
WOODY ALLEN as ALVY SINGER: I happen to have Mr. McLuhan right here, so, yeah, just let me, let me – come over here a second.
Tell him!
MARSHALL McLUHAN: I heard, I heard what you were saying. You, you know nothing of my work. You mean my whole fallacy is wrong. How you ever got to teach a course in anything is totally amazing!
ALVY SINGER: Boy, if life were only like this.
[FUNDING CREDITS]