Radio Rookies
Father's Day from Radio Rookies: Trying to Do it Right and Not Repeat a Father's Mistakes
Summary
There is less research on adolescent fathers than on mothers — much less  — and most of it focuses on the impact to the child if a dad is not in his or her life. But there are teen dads who are involved in their children's lives. 
Radio Rookie Marvin Ramos is one of them.
Marvin learned he was going to be a dad during a basketball game when his girlfriend Stephanie told him she was pregnant. At the time, she was 19 and he was 16. Since then, he has struggled with being the kind of father he didn't have himself.
Around the time Hailey was born, Marvin's father left home and did not stay in touch.
Listen to Marvin's story to hear what happens as he wrestles to understand his own dad's shortcomings, and tries to become a more capable and present father himself.
Special thanks to West Brooklyn Community High School, Radio Rookies' workshop partner.
WATCH: A video of Stephanie and Hailey celebrating her first birthday.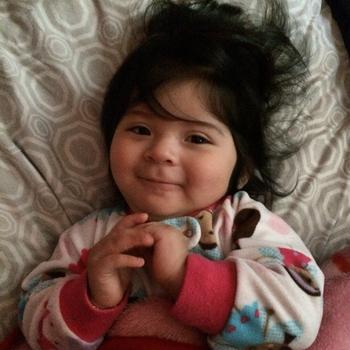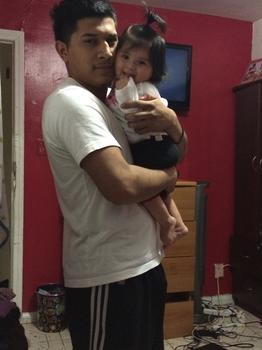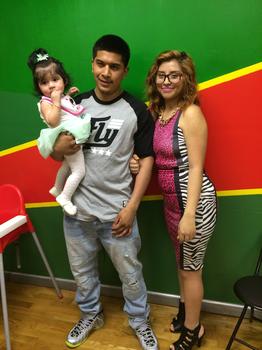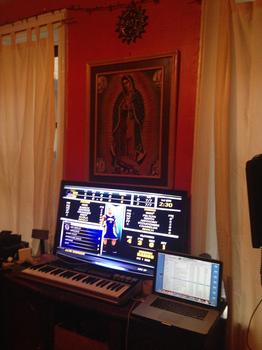 of
Transcript
HOST INTRO:
On Sunday, 18-year-old Radio Rookie Marvin Ramos (RAH-mos) will be celebrating Father's Day with his one-year old daughter. Both of them have grown a lot in the last year. Hailey has learned to walk and Marvin has been working on completing enough credits to graduate from high school.
For Marvin, teen fatherhood is more than just figuring out how to soothe his daughter when she cries or how to put on a diaper. It's an experience that's made him reflect on his own father and what it means to be a Dad.
(Door creaks)
MR: Hailey?
(Hailey coos)
I found out about Hailey during a basketball game. My girlfriend Stephanie called me to say, "I'm pregnant." I sat down on a bench and looked straight up at the sky. At the time, Steph was 19 and I was only 16.
MR: Morning.
(Hailey coos)
Some people said, "There's another way out" – for my girlfriend to get an abortion - but we couldn't do that.
MR: Hailey talk. How you slept?
(Hailey sneezes. Marvin and Steph laugh)
(Duck song from "Sesame Street")
Hailey is mad adorable, mad loveable.
MR: Boo, boo, ba, ba? Boo, boo, ba, ba?
Stephanie Flores: Are you sitting on her bobo?
Hailey and Steph live about 45 minutes away from me, in Brighton Beach with Steph's mom.
SF: Hold her. She's going to get dizzy.
The first month, I didn't know how to hold her. She felt too small for my arms.
SF: Alright. Naptime? You go with Daddy?
MR: Come over here.
(Hailey cries)
Hailey was afraid of me too. The moment she was on my lap, she'd cry.
SF: She's cranky. She has an attitude.
(Hailey cries)
I'd just give her back to Steph. I felt useless.
MR: No llores. No llores. No llore.
It was like - me not being there on the weekdays meant their bond grew bigger than mine.
MR: We had our up and downs about me being a parent to my daughter and you would be upset.
SF: You - no lie - but you would be lazy, you know? I did everything.
The feeding, the diaper changes, the waking up in the middle of the night…Steph did it all. And me? I slacked off. Sometimes, I'd disappear and take long walks.
SF: I think because you were scared. I was scared too, but I had to do it. It's your responsibility. You're her father. I'm telling you, like c'mon. She has to recognize you. She has to know who you are.
I'm trying to be a better father these days.
MR: Yo, whattup bro?
(Sounds of Marvin's brothers greeting him)
I have four brothers and here's the thing, three of them? They also had daughters at a young age. Alyla, Analice, and Abigail.
Analice: Where's your baby?
Marvin: Where's who?
Alyla and Analice: Hailey.
Marvin: Hailey's not here. She's with her Mom right now.
All my brothers are still with their girlfriends and growing up, my nieces would call me "Tio, Tio." I loved it, but being an uncle is really different from being "un padre."
MR: How you been bro?
Gustavo Ramos: I'm good. We chilling right now with Abby, look…
Gustavo is the youngest and the most recent father to join the brotherhood.
GR: When they told me it was going to be a girl, I was like, "Damn." But then, I love her, you know. She's cool. She's my little princess.
He's 16. We share a bedroom, painted red and filled with toys for when our daughters come to visit on the weekends.
GR: She changed me emotionally. I'm a happier person. My Dad dipped, then she came through, so you know. It just filled in that hole in my heart.
About a year ago, our Dad dipped. That means left. A wife. Five sons. And four granddaughters. He went down to Mexico and never came back to our home. I heard he's back in New York, but only Gustavo talks to him now.
GR: I think he's hurt because you know…we all have kids and you know…I think he thinks we failed on him.
Failed on him? In a lot of ways, our Dad failed on us.
MR: Um…I'm about to call my father after so long.
(Phone ringing)
MR: Hello?
Juan Ramos: Yeah?
MR: Sí…como estás?
JR: Yeah, go ahead.
He picks up right away and we start talking. I ask him why he left Gustavo and me.
It doesn't matter if I'm not home anymore. I told you. You guys can call me anytime you want, any day you want. But you have never done that, huh?
I guess, but he doesn't call us either. And why does he never ask about my daughter Hailey? I ask him if he honestly thought he was a good Dad.
JR: No, my son. No. No, I was not a good father my son. Providing anything you wanted is not the same as being a good father. I always put work first and on my days off, I would head to the streets to be with my friends. I never took you guys to the park. I drank. I don't know why. Drinking was the way I had fun.
My Dad worked at a pizza shop, ten to twelve hours a day and would come home with his whole body hurting.
JR: I'm really happy to know that you're fine, but regarding the other stuff, I'm not really happy about it.
MR: Yes. How have your sons disappointed you?
JR: Look at Gustavo! Look where he's at! Do you think that I'm happy that at 16 when he's in school he already has a baby?
MR: No.
JR: And you, the same! Do you think I'm happy about you having a baby at 16 also?
MR: No.
JR: You don't realize how you ruined your life. Having a child at your young age. What kind of future do you have now? Now you have to put your child first.
What do I say to the Dad that thinks my life is ruined, just because I have a daughter by my side? That my brothers and I have no future? I can't accept that. I want to say to him: we're going to prove you wrong.
MR: (Door slamming)
Since my home life wasn't the best when I was a kid…
MR: Yo, whattup Mitchell?
The place where I got my energy was MS 88 – my middle school in Park Slope. I go visit my old counselor, Ms. Brown.
EB: How's life?
MR: It's different now, way different than when I used to come and see you.
I used to spend three periods a week in her room, just talking.
MR: Now, I got a daughter too.
EB: Oh congratulations. How old?
MR: She's 10 months now.
EB: Okay so, did having a baby change your life?
MR: Yeah. My focus.
EB: It's not about you any more.
I tell Ms. Brown about talking to my Dad.
EB: So, your father can maybe never be the man you wanted him to be. Maybe growing up his life was hard and maybe he never got over it. And sometimes when you don't get over things growing up, you then affect your children and you continue the cycle. Despite everything, you have the qualities that matter the most.
Right now, I'm finishing high school and looking for a good job managing inventory or working for the city. I'm saving money because my dream is to manage music talent. Big-time music talent.
(Hip hop music)
I even have a recording studio in my bedroom.
MR: It's 2:11am in the morning and I'm still recording and recording.
I stay up really late editing songs and stare at the screen until my eyes hurt. But sometimes, I worry that all this work won't add up to success.
(Hailey dancing)
Someday, I'd love to have enough money to buy a house in upstate New York where Hailey has a room of her own.
Marvin and Steph: Go Hailey, Go Hailey.
SF: Go chuchi, go chuchi.
But at least I have enough money to throw her a birthday party.
(Family sings Hailey "Happy Birthday.")
Hailey is a year old now. She blows kisses and gives me high fives. She's starting to recognize me.
(Stephanie helps Hailey blow out the candles)
MR: Blow it. Blow it Hailey, for you!
(Candle is blown out and Stephanie plants a big kiss on Hailey)
One thing Steph told me the other day is that Hailey is starting to look like her grandfather. Stephanie's father.
MR: How…how…how long did he hold you for?
SF: She said for a couple of minutes and just gave it back to her.
MR: Only one time.
SF: Yeah. That's it.
MR: Did your Dad not being there affect you?
SF: I mean…I didn't get my high school diploma. Um…(starts to cry). Sorry. I did want a Dad. I did want one so badly because all my friends had one. I always seen them get picked up by them in school. They would have someone to go hug and I never had that. I never had a dad who come and stay stuff, you know? That's why I hate guys who run away from their daughters or sons. That just makes me want me to not believe anybody because they could just run away from you any point of their life.
When she told me this, I felt like crying, for the things her father did and the things I've done. Like when Hailey caught a fever and I wasn't there to take her to the doctor, or when I'd skip out to play basketball. Those were moments I missed with my daughter
SF Right, what you want Daddy? She's like here, "Let me speak."
MR: You want to speak Hailey.
SF: Say Da-Da.
But you know, I haven't run away, not like my Dad or Steph's Dad, and I never want to. I want to be the best father I can be and I think I'm 60, maybe 70 percent of the way there.
(Marvin coos)
I'm falling in love with Hailey every time I'm with her, but I only see her on the weekends. After I graduate high school, I want to give her more of my time. She deserves it.
SF: Say thank you.
MR: Ahh (sounds). Baba.
SF: And tell him, "Good job to the Dad's that are doing it," right?
MR: Say thank you.
SF: Thank you.
Hailey Ramos: Thank you.
MR: Huh? Thank you? You said thank you?!
Thank you. Those were her first words.
(Stephanie laughs)
For WNYC, I'm Rookie Reporter Marvin Ramos.