The Takeaway
Bombs in Our Midst: Questions Linger After Possible Terror Threats in 3 States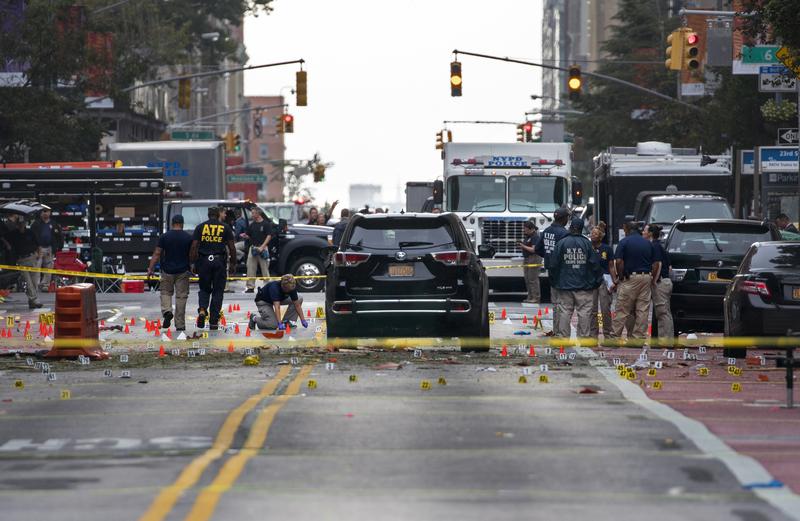 Click on the 'Listen' button above to hear this interview.
Authorities are investigating a number of possible terrorist attacks on American soil, from New York City to St. Cloud, Minnesota. 
On Saturday night, a bomb exploded in the New York City's Chelsea neighborhood, leaving 29 people wounded. Nearby, a second explosive was discovered — a crude pressure cooker device similar to that used in the Boston Marathon bombing. 
Earlier on Saturday, a pipe bomb erupted in a trashcan near a charity race in Seaside Park, New Jersey. There were no injuries, and investigators have yet to confirm a connection between the two blasts.
And in St. Cloud, Minnesota, nine people were injured on Saturday after a man went on a stabbing spree in a local shopping mall. ISIS has since taken responsibility for the attack.
On Sunday, five backpack bombs were also found in Elizabeth, New Jersey. On Monday morning, authorities announced that they took Ahmad Khan Rahami into custody after a shootout. Rahami is a naturalized U.S. citizen of Afghan descent who had been living in Elizabeth. 
Fred Burton, a former counterterrorism agent with the U.S. State Department and vice president of intelligence for Stratfor, a global intelligence company, has the details on these possible terrorist attacks on American soil.