Queens Has a National Treasure in 1964 World's Fair Relics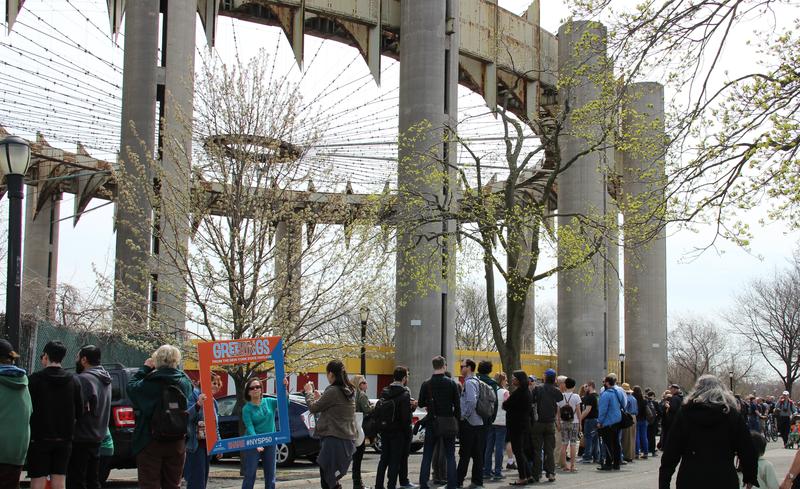 Queens officials had a fitting announcement for the 50th anniversary of the 1964 World's Fair: The National Trust for Historic Preservation has declared the New York State Pavilion a National Treasure.
The designation doesn't protect the site from demolition, but it does bring an important national ally into the fight for preservation — one that could also help in fundraising efforts to restore the site.
The large rotunda known as the "Tent of Tomorrow" and three observation towers have been long-neglected in Flushing Meadows Corona Park. On Tuesday, the tent was briefly re-opened to the public.
Thousands queued up in a line that wrapped around the tent and past a nearby parking lot. Many, like Sharon McClosky, had been to the fair as teenagers or children. "I think this is an important part of the New York City experience," she said.
Others agreed. Louis Kramberg, from Rego Park, said he was willing to wait a few hours for a chance to get inside the tent, where volunteers painted the tent's walls and cleaned up inside. He said he'd love to see the site in use again.
"I think it's not for my generation to decide" how it should be used, he said. "It's for the future generations, how they want to use it, but it should be something that brings people together."
 Paul Goldberger, an architecture critic and a board member of the National Trust, said it's a culturally, politically, and architecturally important site — the hallmarks of a National Treasure. He said architecture critic Ada Louise Huxtable said it best when she called the tent "a carnival with class."
"It's celebratory to its very core," Goldberger said. "And it reminds us that everything in the '60s was not just glass boxes or concrete monoliths."
Visitors waited for hours to get into what remained of the 1964 World's Fair "Tent of Tomorrow."(Jennifer Vanasco/WNYC)
Visitors in hard hats and media inside the "Tent of Tomorrow." (Jennifer Vanasco/WNYC)
A detail from inside the ruin of the 1964 World's Fair "Tent of Tomorrow." (Jennifer Vanasco/WNYC)
Volunteers brought around frames so that visitors to the World's Fair site could create a keepsake. (Jennifer Vanasco/WNYC)