Puerto Rican Voters Could Elect the First Dominican Congressman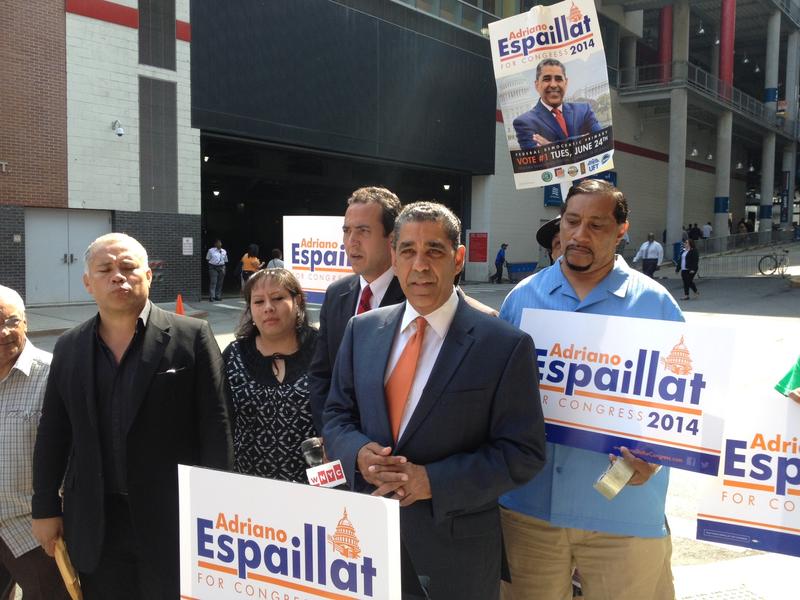 When New Yorkers line Fifth Avenue for the 57th Annual Puerto Rican Day Parade on Sunday, Congressman Charles Rangel and State Senator Adriano Espaillat will both be there. The two are facing off in a rematch of their hard-fought 2012 Democratic primary for the 13th congressional district.
Rangel won the last primary election by just over 1,000 votes. But analysis by WNYC finds that a swing in just two heavily Puerto Rican neighborhoods could change the results this time around.
There are two concentrations of Puerto Rican New Yorkers in District 13, according to the U.S. Census — East Harlem and along the Grand Concourse spanning Jerome Park and Norwood in the Bronx.
These are census tracts where Puerto Ricans make up at least 20 percent of the population overall and a vast majority of the Hispanic population. In some of these areas, one-third of the population identifies as Puerto Rican.
WNYC looked at 129 election districts that fall in those tracts and how people there voted in 2012. Rangel won those districts by 2,065 votes — besting Espaillat by more than a 2-to-1 margin, with 4,073 votes for Rangel and 2,008 for Espaillat.
Those areas are also represented by City Council Speaker Melissa Mark-Viverito in East Harlem and Bronx Borough President Ruben Diaz Jr. — both of whom supported Rangel in 2012 and are endorsing Espaillat this year.
Conventional wisdom says Espaillat, who hails from the Dominican Republic, is on the rise because of the growth of the Dominican population in the district, and their concurrent growth in political power. If elected, he would be the first Dominican American ever to serve in the U.S. Congress.
But another analysis says Rangel, whose has served the district for 40 years and whose father was Puerto Rican, has maintained his power – in part – by winning those votes.
"I'm going with Rangel," said Francisco Guilbe, 62, who has lived in East Harlem since 1975. "The old man, I know him for a long time, he do a lot of things for our community."
Guilbe, who is originally from Ponce, Puerto Rico, said he supports Rangel because the Congressman has seniority.
There are many factors that could determine the outcome of the primary. While there are two other candidates, Michael Walrond and Yolanda Garcia, both are only polling in the single digits.
Last election, Rangel had been recently censured by the House for ethics violations. He also had health problems that limited his campaign activities.
Both Rangel and his staff say this year is different.
On a recent afternoon at a senior center on upper Lexington Avenue, Rangel was glad-handing residents and posing for pictures with renewed enthusiasm.
He also had a ready reply when asked whether the district needs a change.
"If people want a different face, then they are entitled to a fresh face," said Rangel. He added, "If they want a mature face, I think I've carried this one around and it's done enough."