A Puerto Rican 'Hero' Comes Home, But Not Everyone Is Cheering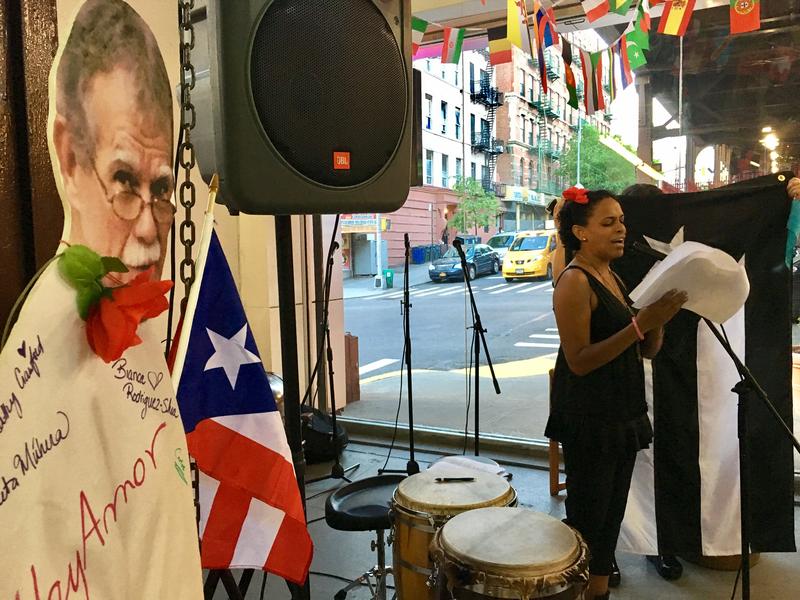 The Puerto Rican Day Parade is less than a month away, and a special guest this year is causing some controversy. Organizers are honoring Oscar Lopez Rivera, who was freed this week after 36 years in prison for links to a nationalist Puerto Rican group responsible for more than 100 bombings in the U.S. back in the 70s.
The 74-year-old belonged to the Armed Forces of National Liberation, or FALN, which claimed responsibility for attacks on government buildings, department stores, and restaurants, including one that left four dead and dozens injured when a bomb went off at Fraunces Tavern in Lower Manhattan on January 1975.
But to many Puerto Ricans, his fight for the territory's rights makes Lopez a national hero.
"We celebrating Oscar's freedom, and the freedom of all of us who spent 35 years with him in prison," said Esperanza Martell at an East Harlem party Wednesday in honor of Lopez.
@WNYC Boricuas at La Marqueta in East Harlem celebrate the release of Oscar López Rivera... set to march in the Puerto Rican Day Parade @WNYC pic.twitter.com/EbhdCMLvo9

— Rebeca Ibarra (@RebeIbarraC) May 18, 2017
While the FALN was fighting for Puerto Rico's independence from the Unites States, that's not necessarily why Lopez is so popular. Only about 6 percent of Puerto Ricans voted for independence in several referendums held in the recent years.
Not everyone is crazy about Lopez, especially on social media. Edwin Martinez, a Puerto Rican who lives in Florida, has taken to Twitter to criticize the parade.
"I think this guy is not representing at all what Puerto Rico really is," Martinez told WNYC. "When you fight against innocent citizens, against private properties, that is not patriotism. That is not heroic."
Lopez was never found guilty of the bombings, only of conspiracy. But these critics called for a boycott of Goya Foods, the parade sponsor for 59 years. Then suddenly last week, Goya pulled its support entirely. The company said it was purely a business decision. 
.@GoyaFoods si Uds auspician terroristas y sospechosos de asesinato, nosotros el pueblo con vergüenza NO los auspiciaremos MÁS! #BOICOTGOYA pic.twitter.com/cGRsyKz09c

— J Molina (@jm70_pr) May 12, 2017
State Senator Ruben Diaz, of the Bronx, said the move really hurts the event.
"Goya is one of the biggest and most important contributors," he said.
While Diaz petitioned the federal to commute Lopez's 70-year-sentence — which President Barack Obama did right before leaving office — he said the parade's move to name Lopez a "National Freedom Hero" risks alienating more people and companies.
The largest union of New York Police Department officers is also condemning the move.
"New York City police officers risk their lives daily to protect all the people of New York City from the very acts of terrorism perpetrated by Oscar Rivera Lopez and the FALN," Patrick J. Lynch, president of the Patrolmen's Benevolent Association, wrote in a statement.
Parade organizers didn't respond to several requests for comment. On their website, they said they stand by the decision to honor Lopez. And City Hall does not appear willing to interfere. Mayor Bill de Blasio told reporters Wednesday that Lopez has renounced violence and served his time.
"All things considered I understand why so many Puerto Ricans, and that's almost 700,000 people in this city, respect that he fought for Puerto Rico in their eyes," de Blasio Said.
If Norma Aviles is any indication, there will be a huge crowd at the parade, which takes place June 11.
"I'm a Neuyorican, and him coming is a very big deal," Aviles said, using the slang for New York-Puerto Rican. "I had stopped going to the parade, but this year I am there."