Public Housing Invites Private Developers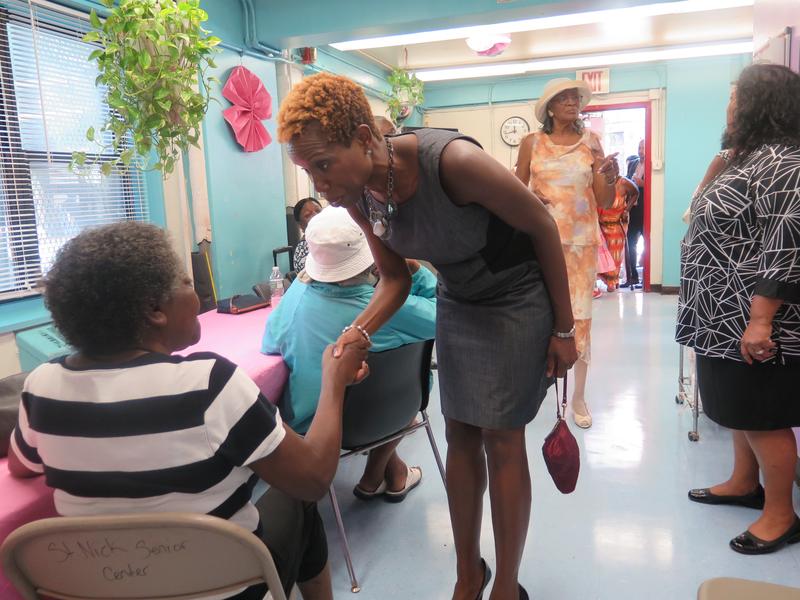 The New York City Housing Authority plans to transfer about 5,000 thousand apartments in Brooklyn, Manhattan and the Bronx into a program that relies on private developers to invest in and manage public housing.
The Rental Assistance Demonstration program was created by the Obama Administration and is seen as a way to tap private dollars for badly needed repairs inside buildings plagued by leaky roofs, mold infestations and more. 
It is controversial among some residents who fear that allowing private developers a foothold in public housing will ultimately lead to privatization, rising rents and displacement. 
But the housing authority said that without sufficient funding from the federal government, apartments would continue to deteriorate.  
"We have to go after programs that will be able to preserve public housing because at this rate, and the way that we're getting funded, if we do nothing it's going to be catastrophic for NYCHA," said Nicole Ferreira, NYCHA's vice president of development.  
The program converts public housing into Section 8 apartments. Typically, low income tenants use Section 8 to rent apartments from private landlords. For decades, the housing voucher was seen as a better alternative to public housing, but now it's being used to prop public housing back up.
Housing officials said private developers can borrow money and access tax credits that the housing authority cannot. The funds are then used to fix buildings. The private developers make money off management fees and housing subsidies that in some cases pay market-rate rents. Any rent increases are not paid by tenants but through Section 8.
NYCHA said the 5,000 or so apartments it wants to transfer need roughly $1 billion in repairs. Those apartments are in the following developments:
Louis Armstrong Houses in Brooklyn
Berry Street-South 9th Street in Brooklyn
Betances II, III, IV, V and VI in the Bronx
Bushwick II in Brooklyn
Claremont Rehab in the Bronx
Franklin Avenue I, II, III in the Bronx
Harrison Avenue Rehab in the Bronx
Highbridge Rehabs in the Bronx
Seth Low Houses in Brooklyn
Manhattanville Rehab in Manhattan
Marcy Avenue - Green Avenue in Brooklyn
Morrisania in the Bronx
Palmetto Gardens in Brooklyn
Wise Rehab in Manhattan
South Bronx Area Site 402 in the Bronx
Stebbins Avenue - Hewitt Place in the Bronx
Twins Park West in the Bronx
Union Avenue - East 166th Street in the Bronx
Weeksville Gardens in Brooklyn
West Farms Square Conventional in the Bronx
WSUR Brownstones in Manhattan
At a Crain's breakfast recently, NYCHA Chair and CEO Shola Olatoye told a room full of business and real-estate executives that public housing needs them. 
"It must aggressively court private investment and individual owners not simply for new capital sources but for new circles of support, partnership and innovation," she told the crowd inside an ornate room at the New York Athletic Club, overlooking Central Park.
Outside, a small group of tenants who were not allowed in handed out flyers that read, "This will privatize public housing at the expense of poor and working people who cannot otherwise afford to live in New York City."  
While some tenants oppose the program, others who have seen their apartments and living conditions dramatically improve support it. 
The program is already underway at Ocean Bay, a large development in Far Rockaway, Queens. At Campos Plaza, on the Lower East Side, some tenants have welcomed the new windows, kitchen cabinets and bathrooms the new private developer running their building has installed. 
Under the terms of the housing program, NYCHA said it would retain ownership of the land and lease the properties to private owners. Holly Leicht, regional administrator for the Department of Housing and Urban Development, said there are protections worked into legislation that governs how the program operates. 
"At the end of a contract term, which can be 20 or 25 years, it automatically renews," she said. "There is no discretion on the part of either the housing authority or any of their partners to end that contract and that permanent affordability."
NYCHA must apply to enter the program and Olatoye said there's plans to eventually convert 15,000 out of roughly 175,000 public housing apartments. It is a transition that will likely take years. There's also a cap on the number of apartments allowed in the program. Leicht said she was optimistic it would be lifted in the fall.