As Public Advocate, de Blasio Flagged Lead Problems in Public Housing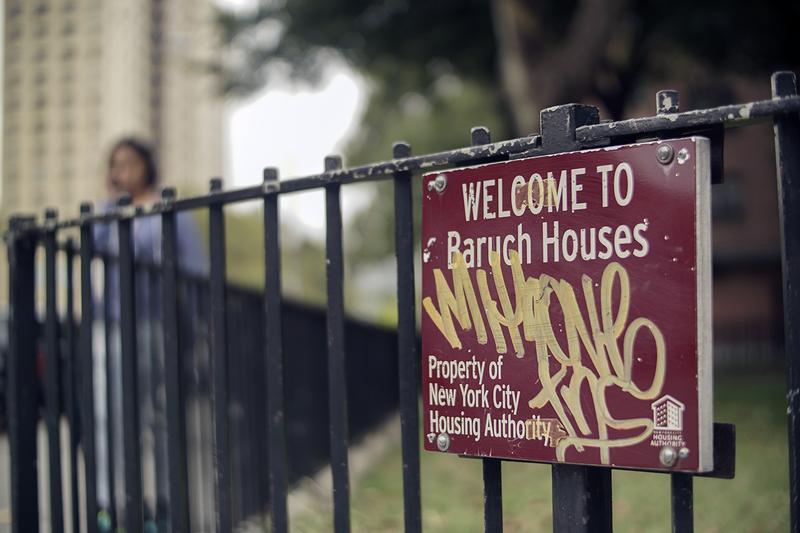 When Mayor Bill de Blasio was Public Advocate, he chastised the New York City Public Housing Authority for taking years to resolve complaints about lead inside apartments. Now, it is his administration that's on the hot seat as the US Attorney investigates health and safety conditions inside the city's vast public housing system. As part of the investigation, the city's health department has been ordered to turn over information regarding individuals with elevated blood lead levels who are living in public housing.  
As public advocate, de Blasio issued a report called the Troubling State of Public Housing Repairs. In it, he called out the housing authority for its failure to respond quickly to a range of issues, the worst among them, lead paint and asbestos.
The report said at Johnson Houses in East Harlem, the Isaacs Houses on the Upper East Side and the Whitman Houses in Brooklyn, lead complaints sat unresolved for anywhere between two and three years. That was in 2013, when councilman Ritchie Torres was housing director for Councilman Jimmie Vacca in the Bronx. Today, he's chair of the council's committee on public housing.
"I see no evidence of appreciable improvement.. NYCHA went two years without complying with a federal court order to remediate mold and that is why a federal judge had no choice but to install an independent monitor" he said. "If you review the Mayor's Management Report, if you review NYCHA's own data on work orders, the conditions are either stagnating or getting worse."
The de Blasio Administration disagreed and said it believes the lead paint issues listed in de Blasio's 2013 report have been resolved. It also said that of the 43 outstanding work orders for lead complaints, 36 are in empty apartments and none go back further than February of this year.
(In addition, a spokeswoman said that NYCHA handles 3,000 mold-related work orders monthly and the city has invested $300 million to fix leaky roofs, which is thought to be a major cause of the mold.) 
The reasons for conditions in public housing are complicated. Torres said while there's an element of mismanagement, the housing stock is also up to 80 years old and has lost billions of dollars in investment, leaving it vulnerable to decay and health hazards like lead — a toxin with a long history inside subsidized housing.
"[It's a] Catch-22," said Victor Bach from the Community Service Society. "NYCHA is receiving grossly inadequate capital and operating funding from Washington on the one hand, and being expected to meet HUD standards for decent housing on the other hand."
Federal prosecutors want the city's Department of Health to turn over documents that will identify public housing residents with elevated blood lead levels. In 1989, it was parents living inside public and other low income housing who sued the city on behalf of their lead poisoned kids, according to David Rosner, co-director of the Center for the History and Ethics of Public Health at Columbia University's Mailman School of Public Health. He said the action prompted the city to turn around and sue lead paint manufacturers, but it never went anywhere. Rosner said he believes the problem was too expensive for the city to fix then, as it is now.
"So in some sense I guess I have sympathy for the US Attorney and his impulse," he said. "But I also have sympathy for the city and for these kids and if we are really going to address this issue, the people who sold that lead and profited from it for literally a century now should be held accountable."
According to court documents, the US Attorney is investigating whether the city's housing authority made false claims pertaining to health and safety conditions in order to receive funding. The city said it takes lead complaints seriously and is fully cooperating with the investigation.