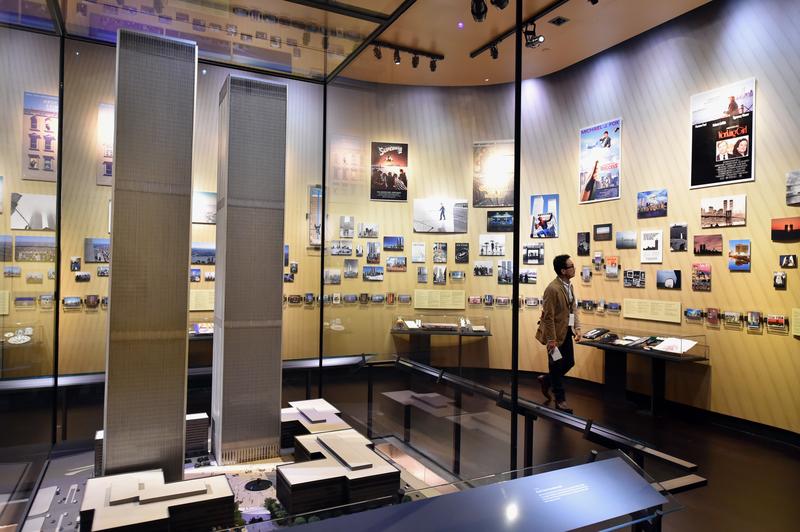 Deep underneath New York City is a geologic foundation, a glittering metamorphic rock layer known as Manhattan schist. This foundation, forged hundreds of millions of years ago, is the literal bedrock of the city. The rock layer works to strengthen and stabilize the skyscrapers that make up New York's iconic skyline. 
There is place in downtown Manhattan, 70 feet below the ground, where the foundations of two unique towers once met the raw Manhattan schist. They stood tall and strong until the day they were knocked down. It's there, 70 feet below ground, that marks the inner chamber of the September 11 Memorial Museum. You walk onto a glass floor and overlook the scarred bedrock that once supported the Twin Towers
Today marks the ceremonial opening of the national September 11 Memorial Museum. Although the it won't be open to the public until next Wednesday, it's exhibits are being unveiled today to President Obama and a small group of survivors, rescue workers, and family members of the victims.
It's been a long road to create this physical memorial of that tragic day—and there were a lot of hard questions to ask along the way.
"In creating a museum about an atrocity, how do you make the decision of what is appropriate to show," said museum director, Alice Greenwald in a video interview with Wired Magazine. "When does the presentation of this audio tape or this particular picture violate the memory of the people we are charged to commemorate?"
And for such a tragic event, there is also the question of the visitors, many of whom may have experienced 9/11 in a deeply traumatic way. For that, the museum design team turned to Dr. Billie Pivnick. She is a clinical psychologist who worked closely with the 9/11 museum designers. Dr. Pivnick explains how to create a tribute to a traumatic event that doesn't exacerbate the feelings of trauma.