34 Arrests at Fast Food Worker Protests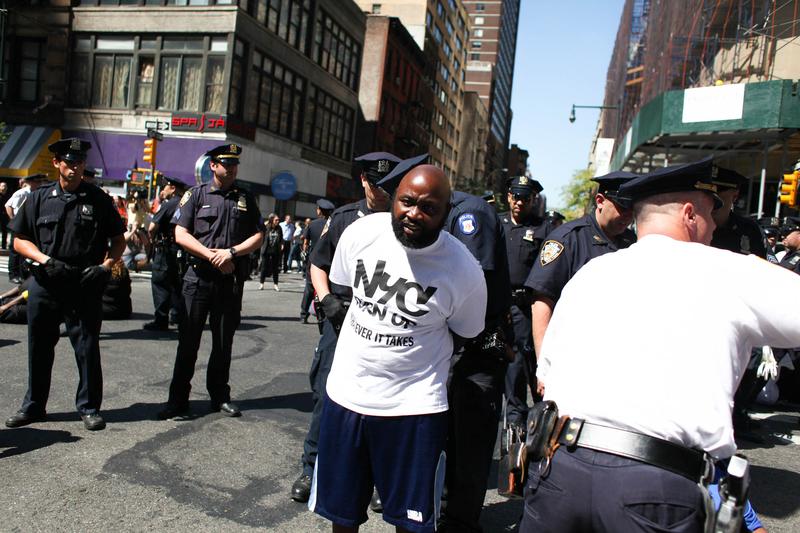 Thursday morning, protesters calling for an increase in the minimum wage for fast food workers held a rally outside of the Times Square McDonald's, where 19 people were arrested. During the lunch rush, another 15 protesters were arrested outside of the McDonald's on 56th Street. They were charged with disorderly conduct and obstructing traffic.
They were part of a nationwide day of protests calling for an increase in wages to $15 an hour and the right to unionize.
Veronica Edwards, 20, works at a McDonald's on 33rd Street and used her day off to join the protests. With more pay, she said she'd be able to take her son shopping and "spend more money on food and not be worrying about, 'Well dang, I won't have money for tomorrow,' " she said.
One of the protesters arrested at 56th street was Samoza Stevenson, 33, from St. Louis, Mo. He makes $8 an hour working at a Cracker Barrel and said he came to the city hoping to draw attention to the working poor. "People can barely afford to live," he said. "I know I'm tired of reaching in my pocket and after bills and everything, I'm broke."   
In a statement, McDonald's said it supports paying workers "fair wages aligned with a competitive marketplace," and that "any minimum wage increase should be implemented over time so that the impact on owners of small and medium-sized businesses — like the ones who own and operate the majority of our restaurants — is manageable."