Protesters Urge Sen. Chuck Schumer to Step Up Resistance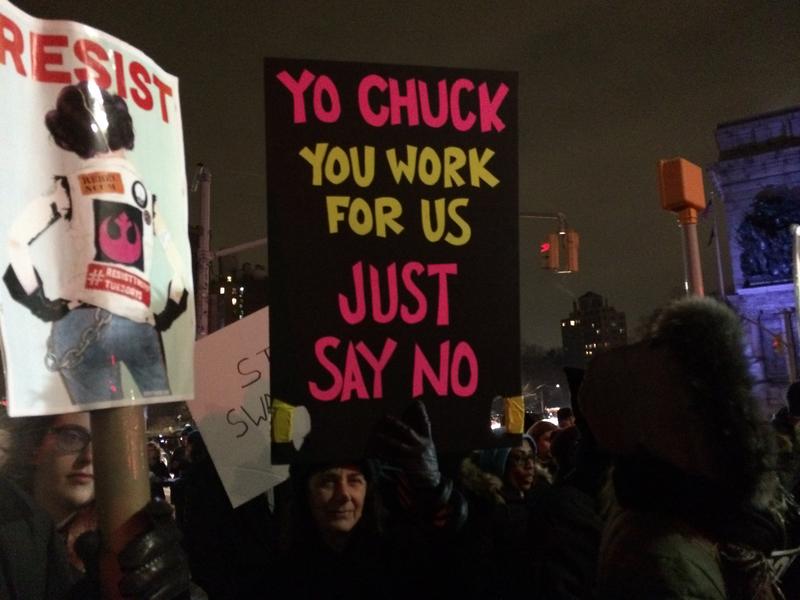 Thousands of protesters lined the area around Grand Army Plaza Tuesday night, some filing past Sen. Chuck Schumer's Prospect Park apartment building. The reason: they feel that the Senate Minority Leader isn't doing enough to resist the Trump administration.
Only 50 people were allowed in front of the apartment building at a time. Across the street, protesters stood behind barriers, holding signs that said, "Stand Up To Trump" and "Grow a Spine". 
The crowd chanted, "Vote no! Vote no! Vote no!" referring to President Donald Trump's nominee for Labor Secretary, Andrew Puzder.
Schumer's office said he has had major concerns with at least eight of Trump's nominees since day one, including Puzder. Tuesday, the senator voted against Elaine Chao, who was confirmed as Transportation Secretary.
However, Schumer voted to confirm General James Mattis for the Department of Defense, General John Kelly for the Department of Homeland Security and Mike Pompeo for the Central Intelligence Agency.
One protester, David Jeorg from Brooklyn, said that, as the Senate Minority Leader, Schumer needs to lead the Democrats in fighting Trump's agenda. 
"The Senate is the best chance of stopping some of the worst stuff that Trump is doing. Chuck Schumer can do a lot to stop Trump, but he needs to stand up and do it," Jeorg said.