Protesters in Pig Masks Take the Mic From Senator Fulbright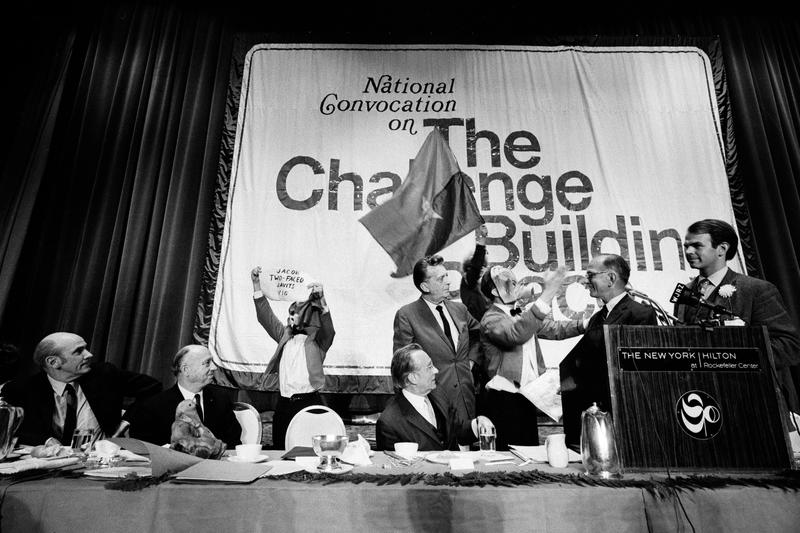 In 1969, more than 2,000 people gathered together at the New York Hilton for the first National Convocation of the Challenge of Building Peace. In addition to those following via televised broadcast, attendees mainly consisted of lawmakers, federal employees, scholars and students. They tackled questions such as: Are National Self-Interest and World Peace Compatible? Is Overpopulation a Threat to World Peace? Is Peace Possible in the Middle East? Is America Becoming a Militaristic Society?
In this recording of the luncheon titled "Senators Speak Out," Broadcaster Chet Huntley opens the panel with optimism that, "world peace is a valid and attainable objective." He calls Senator J. William Fulbright to the podium but before Fulbright can begin, protesters appear on stage chanting, "Ho Ho Ho Chi Minh, N.L.F. is going to win!"
The protesters - later identified as the Veterans and Reservists to End the War in Vietnam – wear pig masks, carry Vietcong flags, and deposit pig heads in front of the stunned speakers.1 One protester takes the mic to introduce, "Senator William Racist Fulbright Pig." Co-chairman Stewart Rawlings Mott acknowledges the protest with amusement, "We were expecting something a demonstration today, we would have been disappointed if we hadn't had it." Fulbright jokes, "You never come to New York if you don't get interesting meetings. I suppose that's one reason we just can't get along without New York because it adds spice and interest to our life."
However, as Fulbright attempts to continue his speech, the interruptions persist as the protesters in the audience shout, "rascist." Mott invites one representative to make a short statement, in the spirit of freedom of expression. The speaker, described in the New York Times as a "long haired man with a drooping mustache," does not identify himself and insists that he speaks for no organization. He accuses corporations like General Motors and Lockheed of "suppressing and murdering people all over the world" while lining the pockets of government officials. He warns,
This country is riding roughshod, economically suppressing people in South America in Asia and in Africa. Until we stop the power elite of this country from doing that, we will not have peace and there are people - and they are my brothers and they are here - we're going to pull it down around your heads! 
Fulbright once again tries to continue his remarks in response to the protest which is met with continued heckling. Flustered, he yields the podium to Senators Jacob K. Javitz and George S. McGovern who he hopes "will not arouse the same interest."
Javitz is not amused! He asserts that this type of violent and tasteless protest does not advance the cause of peace. Refusing to pause for heckling, he continues with his speech in support of the Non-Proliferation Treaty and limiting of an anti-ballistic missile system. He delivers a message (presumably to the protesters): "One of the big problems of all liberal groups is that they are magnificently idealistic but they are so long term that nobody could care less. Here is an immediate opening in which the peace movement in this country can really can get started in a very tangible way, with a very practical result, and with a real likelihood of success." 
McGovern also contributes his disapproval of the protester's interruptions and, like Javits, refuses to respond to continued heckling. He calls for the conclusion of the Vietnam War, cuts to military spending and the anti-ballistic missile system in support for focus on domestic issues. These points he would raise repeatedly as part of an unsuccessful run for president against incumbent Richard Nixon in 1972.
A few days later Chet Huntley reacted to the incident in his NBC Radio editorial segment, Chet Huntley's Perspective on the News: 
The most compelling reaction is one of almost disbelief that these young people could be so ignorant of who their best friends are. It leads one, as a matter of fact, to the conclusion that they want no friends, they want no allies and they are not interested in improving or building. They seek to destroy...

That word 'establishment' is getting overused here of late but it seems to be escaping the attention of our American young people that the establishment is not as tough or as unyielding as they make it. It is quite likely that the establishment... whoever or whatever it is... would resist any and all efforts of direction and change of policy from within. It is changing now. It is young Americans who have entered business and industry in recent years who are now guiding and leading our corporations into social activity of all kinds. But the dissident minority insists that it happen all at once."2
This recording, unfortunately is incomplete. The two tapes were found in a previously uncataloged group of recordings, mainly ranging in date from 1968 to 1970. So far only one other recording from this event has been found in this collection: Is America Becoming a Militaristic Society?
-
[1] "Outbursts by Hecklers Silence Senator Fulbright at a Peace Luncheon Here," New York Times, March 6, 1969
[2] Johnston, Lyle, Good Night, Chet: A Biography of Chet Huntley, 2003, pg. 188-189
Thank you to Annie Sollinger, Digital Image Metadata Librarian at University of Massachusetts Amherst for research assistance. 
Audio courtesy of the NYC Municipal Archives WNYC Collection.
WNYC archives id: 150826
Municipal archives id: T7121, T7122