Protesters Call on NYPD to Do More Than Apologize for Rape Comments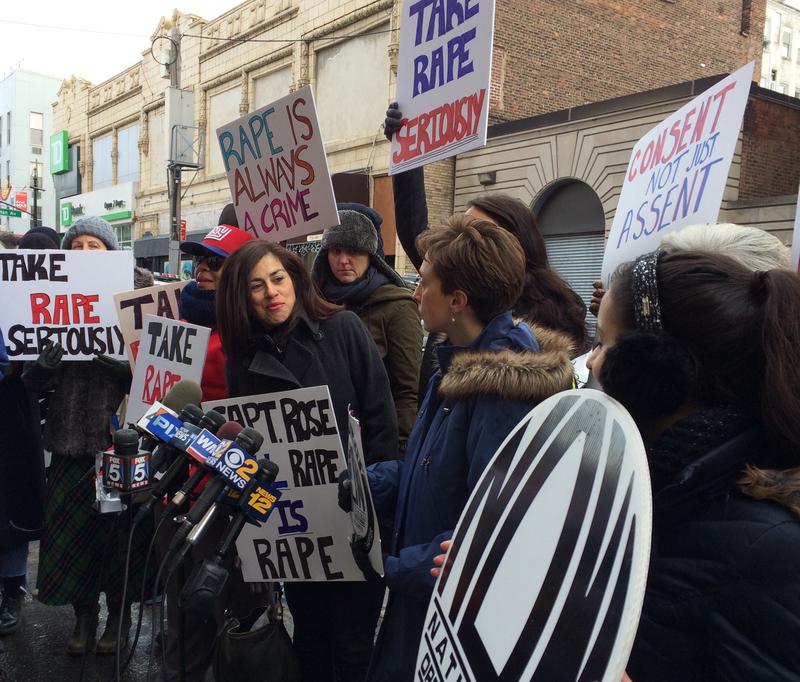 Dozens of advocates protested across the street from the 94th police precinct in Greenpoint, Brooklyn, on Tuesday to send a pointed message to its commanding officer.
Precinct Captain Peter Rose has come under fire in recent days for comments he made at a community meeting where he downplayed a recent uptick in reported rape cases in his precinct, specifically, when the attacker is someone the victim knows.
"The outrageous idea that acquaintance rapes matter less isn't just bad politics, it's bad law enforcement," said Jane Manning, director of advocacy for NOW-NYC, and one of the leaders at the protest. She added, " It affects the way real rape cases are handled in real life."
Reported sex attacks in the precinct jumped from 8 in 2015 to 13 in 2016.
"It really becomes a balancing act for the investigators," Rose told the website DNAinfo, which first reported his comments.
He added, "Some of them were Tinder, some of them were hookup sites, some of them were actually coworkers. It's not a trend that we're too worried about, because out of 13 [sex attacks], only two were true stranger rapes."
The captain has apologized. And Commissioner James O'Neill penned an editorial in the New York Daily News pledging the NYPD would continue to fight all sex crimes.
My sincerest apologies for the comments I've made. pic.twitter.com/TL4yC8JChq

— NYPD 94th Precinct (@NYPD94Pct) January 9, 2017
Still, advocates want the department to do more to address the 10 unsolved cases in the precinct. They also want the department to compile statistics for acquaintance rapes across the city to determine if the unsolved cases in 94th precinct are outliers, or the norm.
Chiffon Abney came from her home in Bedford Stuyvesant to show support for the protesters. She called herself a "secondary victim." She's never been sexually assaulted, but she says she knows countless women who have.
"Give these women true justice and allow for them to reclaim their dignity because it's just not right," said Abney. "We live in 2017 and women are still being treated like cavewomen."