Prosecutors Try To Paint Christie's Former Deputy Chief of Staff As A Ruthless Politico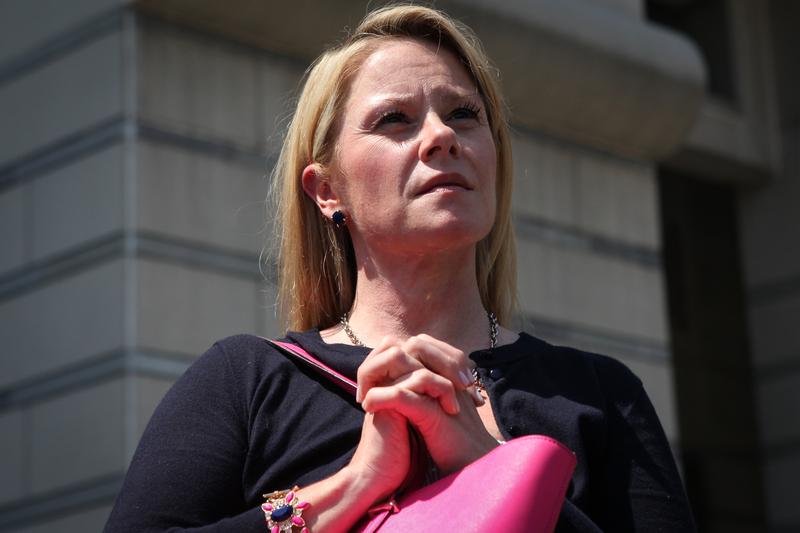 According to Bridget Kelly, she was an overwhelmed mother of four trying to play along in a world of powerful men, including Gov. Chris Christie and his closest confidants. According to Kelly's testimony Tuesday, she was not a decider, but instead a woman who needed "permission," and who didn't have "the kind of power, or anything like that," that would enable her to order politically retaliatory traffic jams against a Democratic mayor who hadn't jumped on the Christie train.
According to Kelly, the very raison d'être of one of the most infamous emails in New Jersey history,  "Time for some traffic problems in Fort Lee," was that she needed to get permission from Governor Christie to even send it, which she says she did. 
But according to prosecutors, Kelly was the head of a unit designed to rack up endorsements of Democratic mayors and that she was fully cognizant of the meaning of codes like "radio silence," which was used by Bridgegate star witness David Wildstein to mean freezing out mayors and others who were on the outs.  
"It meant a deliberate decision not to contact (Jersey City Mayor Steve) Fulop, correct?" Prosecutor Vikas Khanna asked, referring to a string of meetings Kelly had set up with Fulop and cabinet members, then cancelled on orders of Christie's campaign manager, Bill Stepien and chief of staff, Kevin O'Dowd.
"Based on my conversation with the governor," Kelly replied, "it meant no one is entitled to a meeting." (Or a "f***ing meeting," as Kelly had previously quoted Christie as saying.)
Prosecutors displayed emails Kelly was cc'd on that showed Wildstein and Stepien chortlingp over punishment for the carpenters union, who did not get to stand near Christie at a ribbon cutting for a Bayonne Bridge construction project. 
"The carpenters bitched to Baroni they were the only union not on stage, so message received," Wildstein wrote in that email.
But in each case, Kelly insisted that was Wildstein's language, that she didn't challenge.
There's another exchange the prosecution raised: "Is it wrong that I am smiling?" Kelly wrote to Wildstein, after receiving a forwarded text showing Fort Lee Mayor Mark Sokolich pleading for help.  To which Wildstein replied that children stuck in traffic "are the children of Buono voters," referring to Christie's Democratic opponent, Barbara Buono.
But Kelly insisted her text referred to a conversation she'd had the night before, in which Wildstein said commutes were improving for non-Fort Lee drivers. 
"I know its' been portrayed to be about whatever everyone else wants it to be," Kelly retorted. But, speaking slowly and clearly, she said: "I was not smiling about the kids being late to school."
So why, then, didn't she respond to Wildstein's comments about Buono voters? "That's David Wildstein, not Bridget Kelly," Kelly said, saying that she didn't challenge Wildstein, because she understood "Mr. Wildstein and Gov. Christie had a long history."