From NY to DC and Beyond, Hundreds of Thousands Take to the Streets to Protest Trump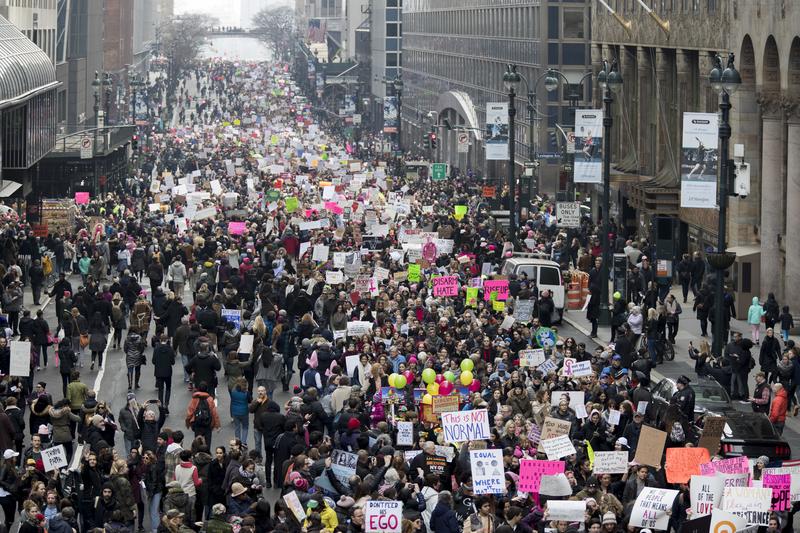 Hundreds of thousands of people took to the streets in Washington, D.C., New York City and other locations around the world on Saturday to protest against President Donald Trump.
A deputy mayor in Washington said the turnout estimate for the Women's March on the National Mall ballooned to 500,000 people — more than double the initial predictions. The Women's March on New York City ended near Trump Tower. A spokesman for Mayor Bill de Blasio said 400,000 people took part in the march.
The crowds were so thick that it appeared to force a change of plans in both cities. Protesters were standing along the entirety of the march route from the National Mall to the White House, preventing them from conducting a formal "march," according to a District of Columbia official, speaking on condition of anonymity because the official wasn't authorized to speak for the march.
In New York City, marchers were dispatched in waves from Dag Hammarskjold Plaza to Trump tower, but the crowds — standing shoulder-to-shoulder — could not be contained to their sanctioned route along 42nd Street. They eventually breached police barricades to make their way up the avenues toward the skyscraper where Trump keeps his residence. Police kept the crowds two blocks away.
The NYPD reported no arrests as of Saturday evening.
WNYC reporters covered the events in both New York and Washington. Here are some of their dispatches:
This OBGYN is worried that women will lose access to life saving healthcare and contraceptives @WNYC @BrianLehrer pic.twitter.com/MQKr27Wqu2

— Sarah Hayley Barrett (@HeySarahBarrett) January 21, 2017
Capitalism asks: can't we all get along and buy hats? #Inauguration #WomensMarch pic.twitter.com/wrkYocRAVs

— Amanda Aronczyk (@aronczyk) January 21, 2017
The spillover from the #WomensMarch across from Hammarskjold Plaza. A sea of pink hats, signs. @WNYC pic.twitter.com/0kUUnHVieZ

— Shumita Basu (@shubasu) January 21, 2017
Lots of vendors selling merch at this march in DC pic.twitter.com/O4z3oXFaYz

— Yasmeen Khan (@yasmeenkhan) January 21, 2017
March in NYC ends here at 55th and 5th Ave where NYPD and protesters appear to have things well under control @WNYC pic.twitter.com/L9vZ8oF271

— Beth Fertig (@bethfertig) January 21, 2017