When Outside Art Became In: Obama's Cultural Legacy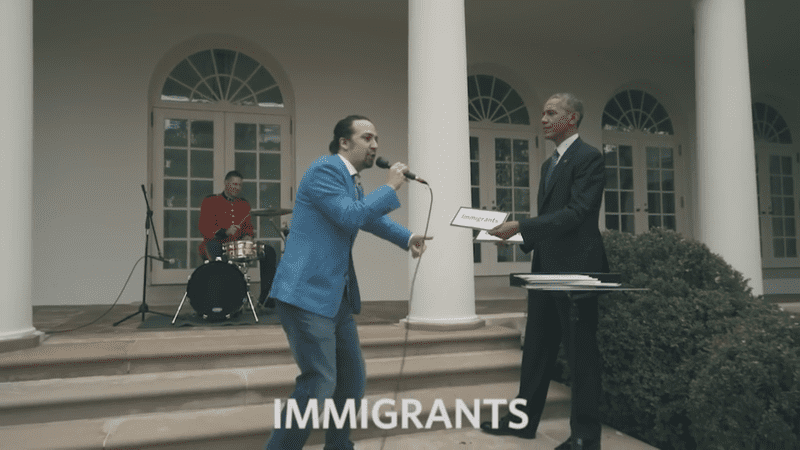 In the spring of 2009, the White House held a poetry jam. Out walked a young man, sporting short hair and a sharp black suit. Looking like he was just out of college.
"I'm actually working on a hiphop album," he said. A concept album, he added, about the man he felt best embodied hiphop: Treasury Secretary Alexander Hamilton.
The crowd giggled, unconvinced. President Obama, just a few months into his first term, covered his mouth in an effort to suppress a smile. 
"You laugh! But it's true!" insisted Lin-Manuel Miranda, before finally launching into song. This was six years before "Hamilton the Musical," well before Miranda became a household name. He looked nervous.
Outside, the U.S. economy was in free fall. The unemployment rate was about to hit ten percent. But if there was one place where the Obama administration was consistently ahead of the curve, it was in the cultural sphere: over eight years, the White House served as a staging ground for countless artists, intellectuals and activists, especially those from communities of color, especially cultural producers from New York, long exiled from Washington.
Writer and comedian Baratunde Thurston, a frequent guest, called it arguably "the most conscientious White House we've ever had," pointing to the vast array of talents who performed at the White House over the years: Queen Latifah, Mavis Staples, the Alabama Shakes, Booker T. Jones, Arturo Sandoval, Stevie Wonder, Lyle Lovett, Keb Mo.
"This is a White House that realizes one of its greatest powers is the power to convene and the power to elevate and the power, in a sense, to retweet," Thurston said in an interview. "That's why that's so powerful: a lot of these kinds of voices are not those that have had historic access to power."
Meaning black voices, Latinos, Asian Americans and Native Americans.
The effort began at Obama's first inauguration, when poet Elizabeth Alexander stood on the Mall before a crowd of almost two million and recited a poem for the nation's first black president:
"Say it plain, that many have died for this day.
Sing the names of the dead who brought us here,
who laid the train tracks, raised the bridges, picked the cotton and the lettuce..."
"I think the vision was to say, in the White House, what would be on the walls?" said Alexander during an interview this month at her Manhattan home. "Who would come in and play music? Who would be invited to come in and hear that music? What's high culture? What's so-called low culture? And can we think of those on a similar plane in some instance? What is American creative expressive excellence?"
It surely helped that the Obamas are sophisticated consumers of culture, paying attention to what the kids are listening to as well as Mingus and Howlin Wolf. Alexander said that when it came to the programming, there was a clear effort to communicate the things that can't be said in a speech.
"What art can do is capture us at the emotional level, it can capture us at the level of contradiction," she said.
A former administration official said the idea was that artists weren't there merely to perform, but as part of the very fabric of the White House: here's Frank Ocean at the Italian state dinner, there's Chance the Rapper. The door wasn't open to celebrities alone, but all kinds of writers, activists and community organizers.
Kayhan Irani, a storyteller from Queens, was honored last year as a Champion of Change. When she arrived at the White House, wearing her royal-blue sari, she was cynical, figuring that since it was Asian Pacific Heritage Month this was all just a P.R. exercise. But she left deeply moved.
"The whole day the message was 'You're welcome here. This is your place. You have a home here.'  I mean, it makes me want to cry," said Irani, growing emotional.
Kayhan came with her parents. They had moved with her from India decades ago, when she was just four, and experienced a loss of status. They had been middle class but now they were working class. People insulted them, made racist jibes and teased them for their accents. So as a human rights activist, her feelings about going to a White House event were complicated.
"But to see the intentionality behind it, and to feel it in every small gesture really made my heart full. And in some way made me mature as an individual. Because I think you can get stuck in an immature way and say, 'Well, this country doesn't want me and screw them and screw everybody.' And I had to recognize that I am American. I'm a hundred percent American."
For some Americans, watching from afar, perhaps it was a little too much: the president's meeting with Kendrick Lamar in the Oval Office. The cavalcade of pop stars like Beyonce, Jay Z, writers of color, people who speak out against the criminal justice system, or police shootings, or imperialism. Not to mention the sheer, effortless glamour of it all.
"When you're not used to being challenged, anything that challenges you feels overwhelming," said Thurston. "I get how that can be a lot to swallow. It can feel like a cultural assault."
In addition to being consumers and conveners of art, the Obamas are artists and performers themselves. The First Lady danced before us, and the president himself was our performer-in-chief. We knew long ago how eloquent he could be: the oration, the perfect turn of phrase. But after years of Obama the thoughtful, Obama the wise, we were treated to Obama the halting singer, leading a crowd through Amazing Grace after the Charleston church shootings, or singing Happy Birthday to his daughter Malia, while accompanied by pop star Janelle Monae.
Through performance, the president insisted that at some level, he was still one of us. That he was vulnerable. And with his creaking, off-pitch, imperfect self, he drew us closer. Walked us past the curtains and the velvet ropes, and the stagecraft that usually surrounds the presidency. For eight years he and the artists he championed showed us that the Republic is indeed deeply flawed, but is no less worthy of our love.