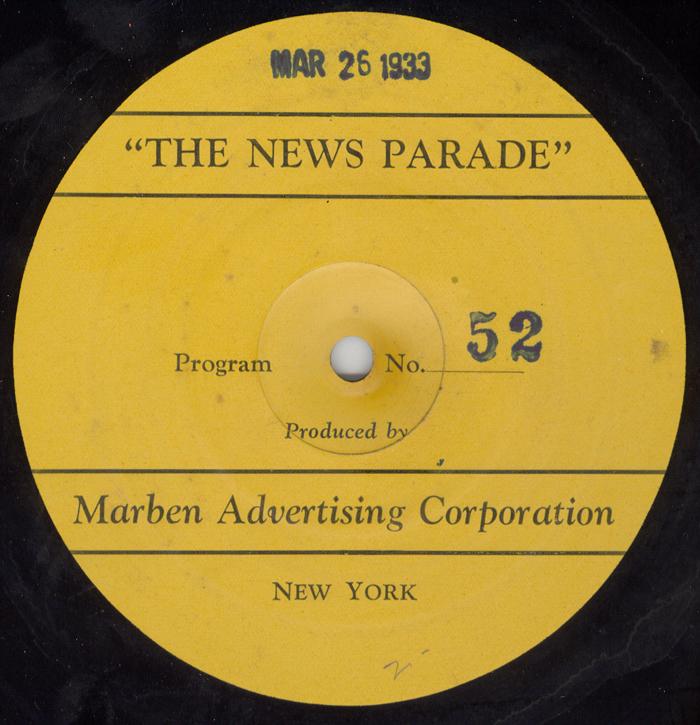 These days the recreation of news, or what I call near-news events, is not uncommon. On The Media devoted a segment to such 're-enactments' on television in 2011. One can even argue that the genre has a history that goes back to the earliest days of commercial recording, when record companies issued what were described as, 'tone pictures' of historical events as skits, monologues, dramatic scenes and literary readings that included musical accompaniment and sound effects. But in this instance we're only going back as far as the radio newsreel of the late 1920s and early 1930s.
There were no reporters in the field with tape recorders nor 'portable' fifty-pound recording devices requiring coated aluminum discs and a cutting stylus. It was 1929, and Time magazine began to send out daily releases they called 'news casts' along with transcription discs containing five-minute dramas they referred to as 'news acting.' They used the name March of Time. Others followed suit. Among them, WBEN Buffalo, owned by the Buffalo Evening News. Their inaugural broadcast in September, 1930, included a dramatization of items from the newspaper. There were other local stations that tried it as well, but Time magazine kept with it and six-months later launched the national broadcast of The March of Time over the CBS network. It was March 6, 1931 that the network began the weekly series sponsored by Time magazine. They would take three to five leading stories of the week and give them to dramatists to script into short recreations for actors in the studio.[1]
By 1939 The March of Time's fifteen-minute program was regarded as the most successful and longest running of the genre. Each week its listener-winning format required 1,000 'man-hours' by some 72 writers, editors, actors, engineers and producers. Its actors were described as "adept at impersonation and can simulate the voices of news figures so well that it is frequently difficult for listeners to believe they are not actually hearing the voices of these news figures...Aiding in accuracy is a library of thirty-second recordings of over six hundred voices that may possibly be in the news. March of Time actors listen to the inflection and accent of these persons and are able to reproduce a startling duplication of them." [2] These touts were joined with claims of expert fact checking and journalistic objectivity, although listening to them now, it's pretty clear they towed Time Inc.'s editorial line.
Other pioneers of this genre followed with varied success. Among them was The News Parade, a series produced by The Marben Advertising Company and airing on WMCA in New York. Their broadcasts were a mix of Hollywood gossip, crimes of passion and hard national and international news. In the above broadcast of December 11, 1932 a 'hunger army' marches on Washington, a lack of health insurance leads to tragedy in Detroit and police trap 'the kiss burglar' in New London, Connecticut.
________________________________________________
[1] Fielding, Raymond, The March of Time, 1935–1951.
[2] "Best News Dramatization - The March of Time," Best Broadcasts of 1938-39, ed., Max Wylie, McGraw-Hill Book Co., 1939, pgs. 138-139.