Is Pornography a Threat to Today's Moral Climate?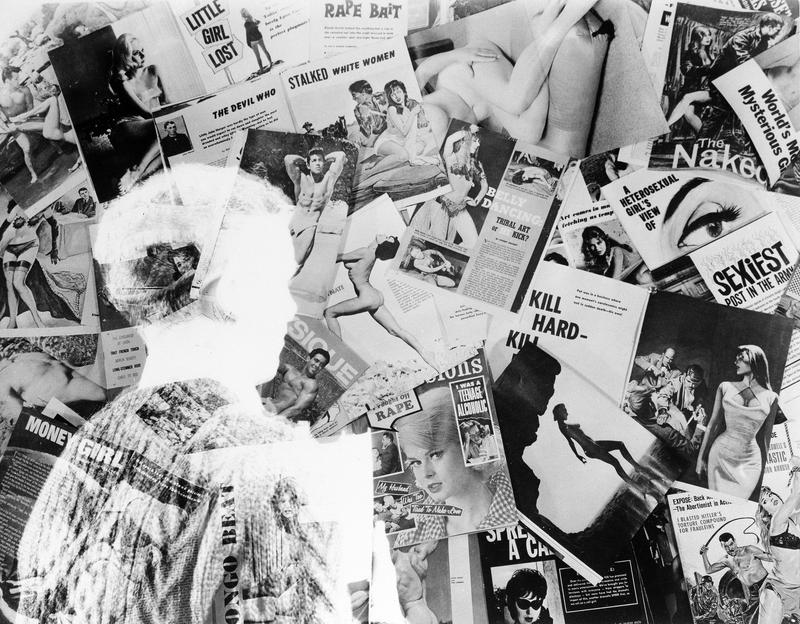 Is Pornography a Threat to Today's Moral Climate? is the question addressed in this 1967 panel discussion. Moderator Harry Lipsig is joined by Assistant District Attorney Elliott Golden, Neil Fabricant, Legislative Director of the ACLU, and James McGuinness, a representative of the anti-pornography group Operation Yorkville. McGuinness outlines his group's campaign against local "smut dealers" who are corrupting today's youth. Golden, while faintly endorsing Operation Yorkville's actions, cautions that the DA's office is not a censor, just enforcing the law. The ACLU's Fabricant, noting that Operation Yorkville considers his organization "Public Enemy #1," argues for "free expression" and questions why there are only lawyers on the panel, no psychologists or psychiatrists. McGuinness's focus is on the vulnerability of children and their susceptibility to the "deviant" practices advocated in these magazines. Fabricant feels it's up to the parents, not the state, to protect their children. Lipsig seems determined to bring the conversation around to miniskirts, should their length be regulated? When that fails to elicit much comment (other than one panelist smirking it would depend on the size and shape of the woman in question), he points out that Roman frescoes at Pompeii depict bacchanalian orgies. Should they be suppressed? McGuinness ripostes that the viewers of those frescoes got their comeuppance via the lava of Mount Vesuvius. He then lumps lesbianism with sadism and masochism. The conversation goes from the absurd to the surreal when the four start discussing one of Charlotte Morman's avant-garde cello performances, speculating if her playing a bowed instrument topless had any relation to the myth of Amazons cutting off one breast to better draw the bow of their weapon in combat. It is, Golden of the DA's office confesses, "beyond my musical imagination."
Today's audience-driven talk radio may have a lot wrong with it but one can hear in this well-intentioned bit of buffoonery what it is reacting against: a bunch of self-appointed experts, all of the same gender, race, and class, chummily debating what is "right" for the society as a whole.
Harry Lipsig (1902-1995) was a well-known attorney, though pornography and freedom of speech issues were not his specialty. Rather, he was valued for his ability to gain large settlements for accident victims. As the New York Times recounted:
In a career that spanned six decades, Mr. Lipsig became famous for his heart-wrenching courtroom depictions of the plight of accident victims and the huge jury awards his eloquence often elicited. The total amount of the awards he won is not known, partly because many of them were sealed out-of-court settlements agreed to by rival lawyers eager to avoid the open-ended uncertainty of a Lipsig-coaxed jury verdict. As they knew, once Mr. Lipsig got wound up and started vividly describing the years, even decades, of hour-by-hour agony and day-by-day suffering faced by his clients, there was no telling how unhinged a jury might become.
Elliott Golden (1926 – 2008) went on to become Judge of the Civil Court in 1976 and then a Justice of the Supreme Court in Kings County, NY. He served on the bench until 1999.
According to the website Hacks and Flacks, Neil Fabricant:
…was the New York Civil Liberties Union legislative director, chief counsel to New York's Environmental Protection Administration, special counsel to a New York state senate majority leader,  a  member of the graduate faculty of the business school at  Baruch College, City University of New York, where he also directed a legislative policy institute and was the editor-in-chief of a monthly magazine on New York government and politics begun by the Ford Foundation. In 1987, together with a small team of faculty and consultants, he organized The Graduate School of Political Management as an independent, degree-granting institution. In 1995, George Washington University acquired the school and he retired as president emeritus.
The Yorkville Project was founded by Father Morton A. Hill (1917-1985.) James Sullivan, in his book Seven Dirty Words, The Life and Crimes of George Carlin, tells how Hill:
…a Jesuit priest with snow-white hair…spearheaded an effort to found a local anti-pornography campaign. Then known as Operation Yorkville, Hill's group was created as an interfaith coalition, including as rabbi and a Lutheran minister. By 1967 the neighborhood group had grown into a national organization, renamed Morality in Media.
In 2015 the group changed its name again, to The National Center on Sexual Exploitation.
Audio courtesy of the NYC Municipal Archives WNYC Collection.
WNYC archives id: 8714
Municipal archives id: T2094