The Politics of Bill de Blasio's Iran Watchlist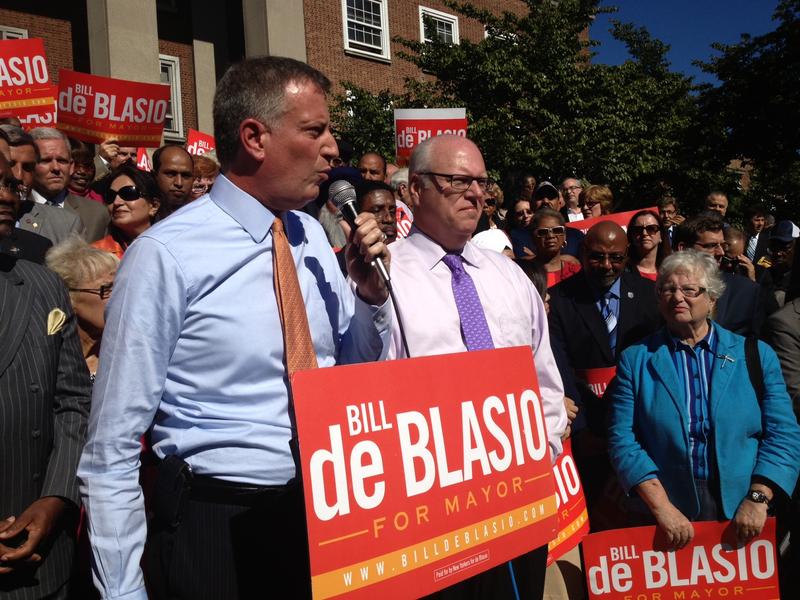 As New York City's Public Advocate, Bill de Blasio led organizing campaigns around a multitude of city issues – from stop and frisk to tenants' rights. But in March 2012, de Blasio also made an unusual foray into foreign policy when he launched an online campaign targeting car companies that did business with Iran.
It was called the Iran Watchlist and it was the only foreign policy platform de Blasio took on as public advocate. It was also politically advantageous. The move bolstered de Blasio's support in a politically-active Jewish community, and it presented an opportunity to take on the Bloomberg Administration, a strategy that took off in his mayoral bid.
On the day de Blasio unveiled the watchlist, he appeared on NY1 where host Errol Louis posed the obvious question: "Tell us why a city official is getting involved with foreign policy."
"The bottom-line is Iran is the state-sponsor of terrorism that is most active in the world and we sadly are the number one target," de Blasio said. He explained that it wasn't enough for the U.S. government to have sanctions against Iran. Consumers here in New York City could also make an impact by boycotting car companies that sell their vehicles in the Islamic Republic.
The campaign was a joint effort between the public advocate's office and Iran 180, a coalition organized by the Jewish Community Relations Council of New York (JCRC), and United Against a Nuclear Iran (UANI), a nonprofit advocacy group aimed at preventing Iran from obtaining a nuclear weapon. Before de Blasio met with leaders from these organizations, he ran the idea past an old friend and political strategist with deep ties in the city's Jewish community.
"This was sort part of an ongoing dialogue about some of the goals, some of his goals as public advocate and some of the things he wanted to achieve," said Matthew Hiltzik, the founder of the strategic communications and consulting firm Hiltzik Strategies.
De Blasio and Hiltzik became friends 13 years ago while working together on Hillary Clinton's first Senate campaign. Hiltzik oversaw outreach to Jewish voters while de Blasio was the campaign manager.
In a review of de Blasio's 2012 public schedule, when he met with Hiltzik in January 2012, the subject listed is simply "media." But Hiltzik confirmed that the conversation was about the Iran Watchlist. After that meeting, de Blasio arranged calls with leaders of local Jewish organizations explicitly about the list.
Hindy Poupko with the JCRC and Iran 180 said the groups welcomed the support.
"There is a long-standing tradition of New York elected officials getting involved in both national and international issues," Poupko said. "We believe this is very consistent with that tradition."
Localizing the Iran Watchlist with the Taxi of Tomorrow
A week after launching the Iran Watchlist, de Blasio gave his global boycott a more local target. He and Assemblyman Dov Hikind stood outside the New York City Autoshow to protest the city's selection of the Nissan NV-200 for the Taxi of Tomorrow, a 10-year contract worth an estimated $1 billion. Nissan is one of the car makers on the Iran Watchlist and it was set to unveil its design at the auto show. De Blasio tweeted this photo illustration of the now former Iranian President Mahmoud Ahmadinejad in the front seat.
This doesn't have to be the image of #TaxiofTomorrow. Tell @MikeBloomberg to join us in calling on Nissan to #canIran pic.twitter.com/niA6qlLl

— Bill de Blasio (@BilldeBlasio) April 4, 2012
The future of the Taxi of Tomorrow is up in air now that a judge has struck down the city's plan. But De Blasio's early opposition to the Nissan taxi has already paid off for him. Two major players from the taxi industry who also opposed the plan were among the biggest bundlers in de Blasio's mayoral campaign. Jean Barrett, executive director of the Metro Taxi Board of Trade, raised $49,000 from 41 donors. Evgeny Freidman, president of the Taxi Club, raised $49,450 from 11 donors.
But Friedman says he backs de Blasio for more than his position on taxi issues.
"I think Bill de Blasio gets a lot of credit just as a man, as a politician for standing up for what he believes in," said Friedman. "I think that you have to respect the man."
A Mayor With A Foreign Policy?
De Blasio continued his tough talk against the Iranian regime outside the United Nations last month at a press conference organized by JCRC. Alongside other elected officials, de Blasio praised the effectiveness of U.S. sanctions arguing that it led to "a different message coming out of Iran."
"As everyone has said, rightfully, we won't be fooled by pretty words until we see fundamental changes in policy, until we see Iran move decisively from the acquisition of nuclear weapons," said de Blasio.
Later that same day, when asked whether a mayor should have a foreign policy, de Blasio gave a more measured response, referencing his days as a community organizer in the Dinkins Administration.
"As you know I spent four years working in the mayor's office, I'm very familiar with that fact that we are one of the centers of this world and therefore a lot of issues come up in New York City that have international ramifications," explained de Blasio, adding, "but our focus is on the people and the neighborhood's of this city and that's where we have a lot of work to do."