A Missing Loan Shark, Some Politicians, and Piles of Money: One Top NYPD Cop's Tangled Web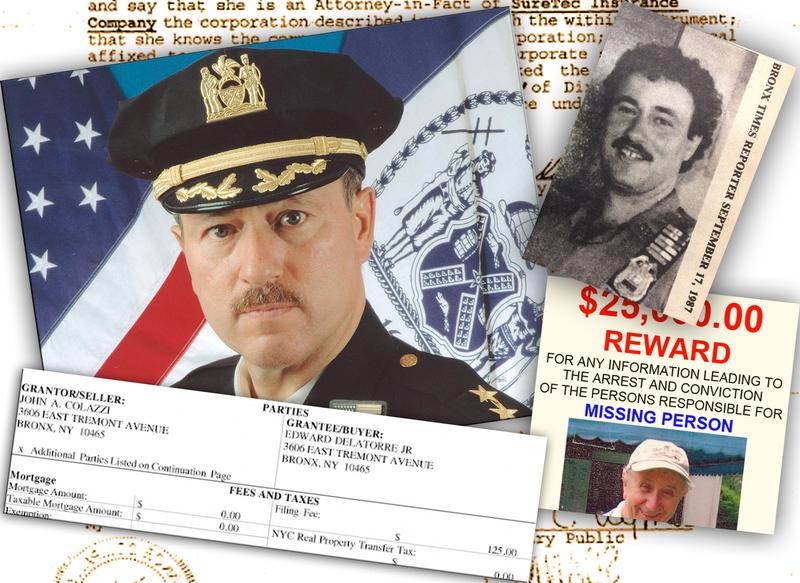 In April 2010, Vincent "Jimmy" Durso — a devoted family man and small-time loan shark — dropped off his wife's home health aide in the Morrisania neighborhood of the Bronx. Four days later, police found Durso's black Honda Accord parked on a shaded street a dozen blocks away near Crotona Park.
He was never heard from again.
For his family, it was a tragedy; his daughter hired a private investigator and even a psychic to help find him. For detectives it was a mystery: Was it the result of dementia, or a worse fate for a man who kept $30,000 cash in a jacket?
But for one top NYPD cop, it was a business opportunity. Assistant Chief Edward Delatorre Jr. bought two of Durso's investment properties from the man's grieving daughter at a below market price — while detectives were still investigating the disappearance.
No one involved in the Durso sale would talk to WNYC, so there's no way to determine how Chief Delatorre came to buy the property. At best it was simply the case of a broker bringing the Durso's together with Delatorre and his wife, who is herself a licensed broker.
At worst?
"Is he capitalizing on knowledge of the value or undervalue of such a property that he was able to come in with insider knowledge and profit as a result of the man's death?" said Dick Dadey, executive director of good government group Citizens Union. "That's an egregious conflict of interest."
WNYC reviewed six years' worth of financial disclosure forms for more than 200 high-ranking NYPD officials who had to file such information with the city's Conflicts of Interest Board.  About three dozen reported outside income. Dozens more are wealthy investors.
But none had as many entanglements and possible conflicts-of-interest as Delatorre, now the Staten Island borough commander. He  not only invests heavily in real estate, listing more than a dozen properties in the Bronx, but also owns a private security company.
Delatorre invested "$500,000 or more" in Al-Boro Security Corp., according his financial disclosure forms. It's not clear how much income he earned, if any — that field is blank. In a field labeled "Nature of Income" he entered a comma, and in another field — "If Other, Describe" — he wrote "none."
The company has a roster of 19 unarmed security guards, according to the New York Department of State, which regulates such businesses.
The NYPD and Delatorre declined to comment for this story.
The missing man
Delatorre also listed an ownership interest in 15 properties on his most recent financial disclosure form. The Conflicts of Interest Board redacted the addresses before releasing the forms. But public records reveal that Delatorre owns many of the properties directly or through Limited Liability Companies — including the properties he bought from the estate of Vincent Durso, the missing man.
Those two buildings are at 3990 White Plains Road in Williamsbridge and 4173 Third Ave. in Tremont. Court filings show that he signed a contract to buy the properties in January 2013, two years after Durso's disappearance, while the case was still open and Delatorre was assigned to the Community Affairs Bureau at police headquarters.
The properties were appraised at $960,000, but Durso's daughter was trying to settle her father's estate and care for her ailing mother, so she agreed to sell for $800,000, court records show. She declined to talk to WNYC. Her father was declared dead by a surrogate court judge in June of 2015.
Eddie Ricketts, who runs a barbershop located in one of the buildings, recalled the shock at hearing about Vincent Durso's disappearance. He said Durso was a good guy who gave him a break on rent at times.
"I was very upset because I mean he was missing and nobody had any idea what was going to happen to our business," Ricketts said. "This new person, he just doubled my rent and everything."
Wheeling and dealing with local pols
In addition to Durso's estate, records show the Chief has also done business with local Bronx power brokers, including state Assemblyman Michael Benedetto. In fact, Delatorre is the Assemblyman's landlord — with New York taxpayers paying the rent.
Records show that Delatorre bought a commercial building at 3602 E. Tremont Ave. with some partners, through a company called 3602 East Tremont Avenue LLC, in March 2003. They paid $650,000.
One of the partners was John Collazzi, who founded a local newspaper, the Bronx Times Reporter, with Assemblyman Benedetto in the 1980's. Collazzi is now a Democratic district leader and chief of staff to Benedetto.
The state has paid more than a quarter of a million dollars in public money to rent the office since 2009. Today, the monthly rent is about $3,400, records show. Benedetto says Delatorre is a good landlord.
"Our relationship besides being friendly is really just business, and we never really mix the two areas — his business and my responsibility to the public," Benedetto said.
Then-city councilman Lew Fidler was the attorney on the purchase of the property. State Sen. Jeff Klein's campaign also rented space in Delatorre's building. The campaign paid more than $75,000 in rent to the LLC since 2009, records show.
Delatorre also bought two adjacent buildings with Collazzi, in 2004 and 2005.
On Dec. 8, 2011 Collazzi signed over sole ownership of those two properties to Delatorre. Records  show the sale price for both properties was zero dollars. (There was a third owner on one of the two properties but he signed over his interest months before Collazzi.)
The transfer came three days after Delatorre became executive officer of the Community Affairs Bureau, according to the NYPD. That's the bureau that interacts with neighborhood groups and local politicians.
The records do not show how much money Delatorre personally put up for the property, or why Collazzi gave up his ownership. If it was a gift, it is not listed as such on Delatorre's financial disclosure form, released by the city's Conflicts of Interest Board. If money did change hands or there was some other financial arrangement, there's no public record showing the terms, or any real estate transfer taxes being paid.
Collazzi declined to comment, calling it a personal matter. Asked about the timing of the transaction in a subsequent call, he used an expletive and hung up. His old newspaper has at times referred to the two as friends. Delatorre grew up in the Bronx and is a long-time Throggs Neck resident, according to one article from the 1987.
Dick Dadey, of Citizens Union, says financial dealings between a top cop and local business and political leaders aren't automatically wrong, but they can be problematic.
"You can't convict as a result of guilt by association," he said. "But you want to ensure that you avoid perceptions of conflicts of interest, because it does undermine trust in the system if people have questions and they occur quite regularly about whether something is appropriate or not."
WNYC requested an interview with Delatorre. As top cop on Staten Island, he's gotten a lot of praise for his handling of that borough's heroin epidemic. Through an aide, he declined.
But on a recent Monday, WNYC found Delatorre working out of an office in the building he owns at 3602 E Tremont – one floor below the assemblyman in space he shares with The Bronx Times.
An employee at the location initially said Delatorre was too busy to talk, and she asked a reporter to leave. She declined to say how often Delatorre works from that location.
A few minutes later, Delatorre walked through the Bronx Times office to a waiting car. He declined to comment, referring questions to the NYPD press office. The NYPD press office declined to comment, referring questions on individual officers' finances to those officers.
Robert Lewis can be reached at the following e-mail address: rlewis@wnyc.org