Police Respond to Two Terrorist Incidents in Heart of London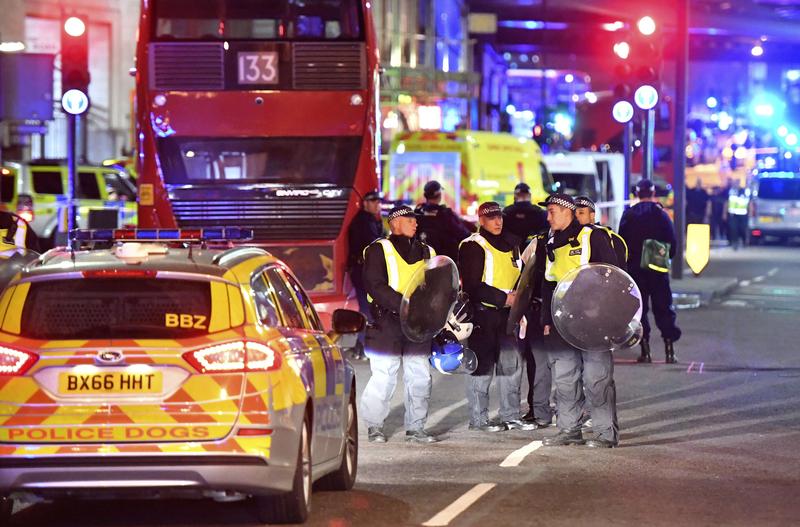 Terrorism struck at the heart of London, police said Sunday, after a vehicle veered off the road and mowed down pedestrians on London Bridge and gunshots rang out amid reports of knife attacks at nearby Borough Market.
The violence turned a summery Saturday night in an area full of bars and restaurants into a scene of panic and chaos, with officers running through crowded streets screaming for people to flee and lifeboats drafted to help clear the area.
British media reported that more than one person had been killed in the rampage.
Prime Minister Theresa May said it was a potential act of terrorism and the Metropolitan Police force said it had declared the attacks as "terrorist incidents."
Police said they were called just after 10 p.m. to reports of a vehicle hitting pedestrians on the bridge, which crosses the River Thames in central London.
Soon after, there were reported stabbings at nearby Borough Market, an area full of bars and restaurants.
The force said armed officers were sent to the scenes and shots were fired. They did not say if officers fired the shots.
The force initially said officers were also responding to a reported third incident, in the Vauxhall area of London. But they said later that turned out to be an unrelated stabbing.
The U.S. State Department said "the United States condemns the cowardly attacks targeting innocent civilians in London this evening."
State Department spokeswoman Heather Nauert said Saturday evening that the U.S. "stands ready to provide any assistance authorities in the United Kingdom may request."
New York City officials said Saturday night that Mayor de Blasio was briefed on the incident in London.
The NYPD said it is monitoring the situation. The Counterterrorism Bureau said its Critical Response Command is deployed at heavily traveled pedestrian locations in New York, although there have been no credible threats to the city.