Police Reformers are Wary of New NYPD Commissioner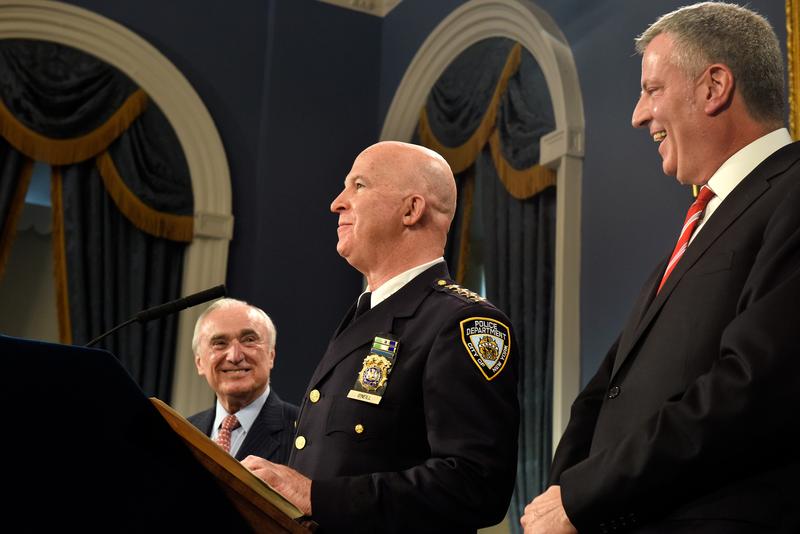 At a time when New York City is grappling with how to best repair the relationship between police and communities of color, Mayor Bill De Blasio has appointed an old-school, white, Irish cop as the next police commissioner. Chief of Department James O'Neill is set to take over the NYPD when Commissioner William J. Bratton steps down next month.
"The NYPD has long had a serious problem with the racial and ethnic composition of its leadership. It's been overwhelmingly white," said Donna Lieberman, executive director of the New York Civil Liberties Union. "People of color are way underrepresented in the leadership of the police department and many people believe that that is reflected in policies like broken windows."
Ben Tucker, the first deputy commissioner and the highest ranking African American member of the department, is staying on. And O'Neill is elevating Carlos Gomez to be Chief of Department. But Lieberman said the mandate and philosophy of the new commissioner is ultimately most important.
"The new commissioner can, in fact, win the hearts and minds of New Yorkers if, in fact, he makes a break from the policies of the past," Lieberman said.
For a number of advocates, O'Neill is something of a blank slate. Mark Winston Griffith, executive director of the Brooklyn Movement Center, a nonprofit that's been advocating for police reform, said he doesn't know much about O'Neill.
"We know that he's a protege of Bratton…It gives us pause right there. By the same token I think we don't want to preempt whatever kind of conversation needs to happen about policy going forward," Griffith said, later adding that many advocates deliberately avoid spending much time talking about diversity within the department. "We harbor no illusions that if you sort of stick a black person in there that somehow relations will improve," he said.
Bratton alienated many protesters — at times linking the Black Lives Matter movement with violence against police. If O'Neill can avoid such rhetoric, he might have a more productive relationship with outside reform groups, said Darius Charney a senior staff attorney at the Center for Constitutional Rights, a nonprofit, legal group that sued the city over the NYPD's use of stop and frisk.
"If he shows that kind of disrespect, then I think there is going to be an issue and his name may be toxic in the police accountability community," Charney said. "But if he is willing to meet the community halfway and actually engage in real discussions about how to reform the police department, I think people are going to be more open to hearing what he has to say."
Some who have met O'Neill are optimistic. State Assemblyman Michael Blake, who represents parts of the Bronx, said he's found O'Neill to be responsive and is hopeful he can heal the divide between police and communities of color.
"He has worked in the Bronx. He has worked in Harlem. He has ridden the A and the D train. He has seen the community up close and personal. Jimmy O'Neill has the opportunity to help transform the city," Blake said.
O'Neill is the architect of a new neighborhood policing program, which aims to have officers spend more time interacting with community members in a small area. He takes over the department next month.