Gathering at City Hall to Discuss a Troubled Relationship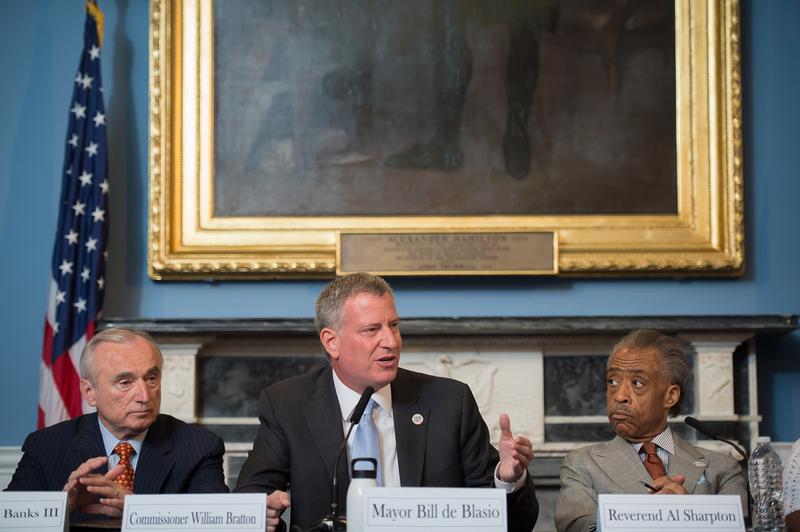 Mayor Bill de Blasio sat between police commissioner Bill Bratton and the Reverend Al Sharpton at the meeting that de Blasio convened on police-community relations, but he also appeared to act as a buffer between the two men. Elected officials and other clergy members gathered at City Hall on Thursday for the nearly two-hour discussion, following the death of Eric Garner in police custody two weeks ago. Everyone agreed that relationships between the NYPD and communities of color could be better, but disagreed on the best way to achieve that.
Bratton restated that the key to reforming the department is re-training. "Routine training every year…has not been done, evidently for decades in this department," declared Bratton. 
Sharpton conceded that training was part of the equation but that immediate accountability for officers who break the rules is essential. "The best way to make police stop using illegal chokeholds is to 'perp walk' one of them that did," said Sharpton. He also criticized broken-windows style policing, saying that for too long the department had focused on low level crimes and that black and Latino New Yorkers were disproportionately affected.
"If Dante wasn't your son, he'd be a candidate for a chokehold," Sharpton said, name-checking the mayor's mixed-race son. "And we've got to deal with that reality."
Sharpton and other clergy members agreed that Garner's death, and the promise to help the city heal from it, would be a test for the mayor and his administration. "The work of reform takes real intensity, real effort—and some patience…the kind of patience that says we have to get it right, said de Blasio.
The cause of Garner's death is still under investigation.