Police and Clergy Hold Interfaith Vigil in Brooklyn for Peace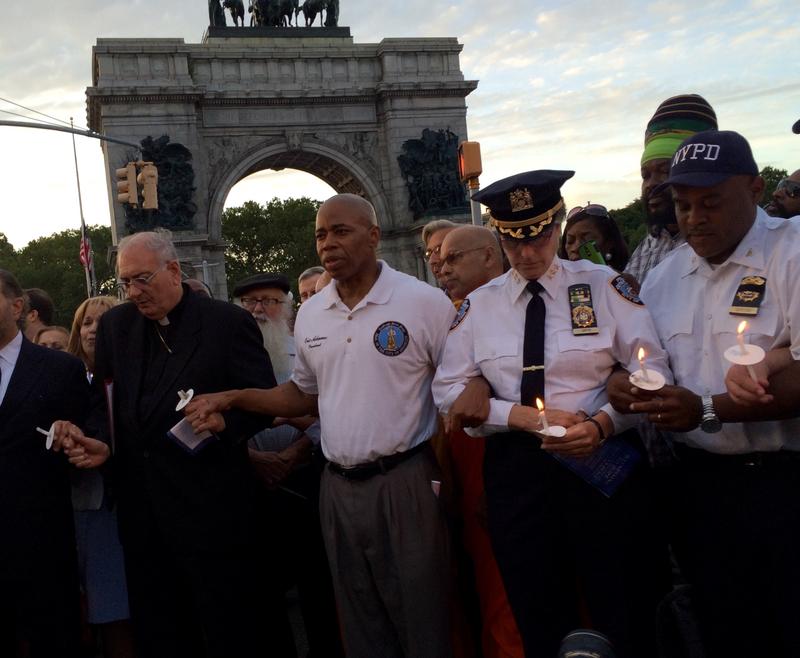 Dozens of clergy members joined police at a vigil in Brooklyn Monday night to pray for the police officers who died in Dallas last week, as well as the two men killed by police in Louisiana and Minnesota.

Reverend A.R. Bernard of the Christian Cultural Center said they were trying to set an example.
"We believe in faith, we believe in peace, we believe in grace, and we also believe in action," he said. "We believe in modeling something and forcing the conversation to continue. And why do we pray, why do we appeal to God? Because we know the playing field of human experience is not level."
Brooklyn Borough President Eric Adams, who served for 22 years as a city police officer, said he knows what it is "to leave your home with the uncertainty of returning, not only as a police officer, but as a young man who may be a victim of aggressive policing."
He called policing a "noble profession" and said "the bad guys want us to be divided from the good people of the city," but he would not allow that.
"We need police and police need the people of this city, and we shall let nothing gets in the way and divide that from happening."
Christian, Muslim, Jewish, Hindu, Buddhist, and Sikh clergy each spoke as they stood in a semicircle across from Grand Army Plaza with members of the NYPD. An officer from the ceremonial unit sang "God Bless America" and "Let There Be Peace on Earth."