SchoolBook
Student-Poets Open Up Using Rhyme and Meter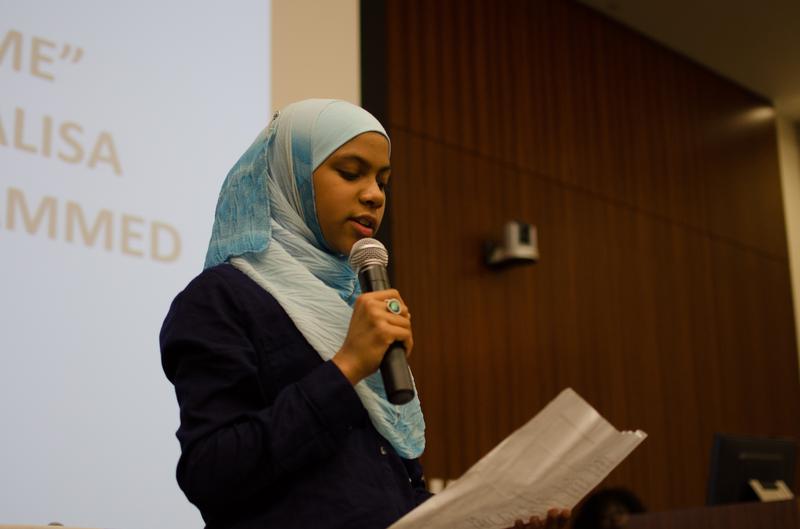 A jittery and excited gaggle of about 250 middle schoolers from 17 different New York City public schools gathered recently for the culminating event of a four-week poetry writing program run by the group Teaching Matters.
Fine tuning and sharing their poetry in breakout sessions throughout the morning, seven finalists were selected to read their best works in front of the whole crowd.
"The cloth I wear on my head does not define me," said Kalisa Mohammed from M.S. 217 in Queens, reading from her poem "Me". "Don't be scared by my scarf. It covers my hair not my heart."
Jaden Clarke, Sky Lee and Frank Valdes from P.S. 5 Port Morris in the Bronx performed a rap together called "Density", an ode to the scientific principle they had learned in class. Teri Glushovich, a student at Icahn Charter School 1 read a message to her absent father.
"Some of the poems that the other kids read they were really, really deep," Anastasia Mourzakhanova, a bright-eyed eighth grader at I.S. 228 David A. Boody said after the slam. "It gives me a bigger feeling towards poetry now."
Natalie Nuzzo, a English teacher who was new to the Teaching Matters curriculum, said she felt that the workshop helped her students open up while still introducing them to poetic elements like rhythm, meter and line breaks.
 "It really gives them a vehicle to be open and honest and candid, while still being academic and talking about things in an intellectual, elevated way," she said.