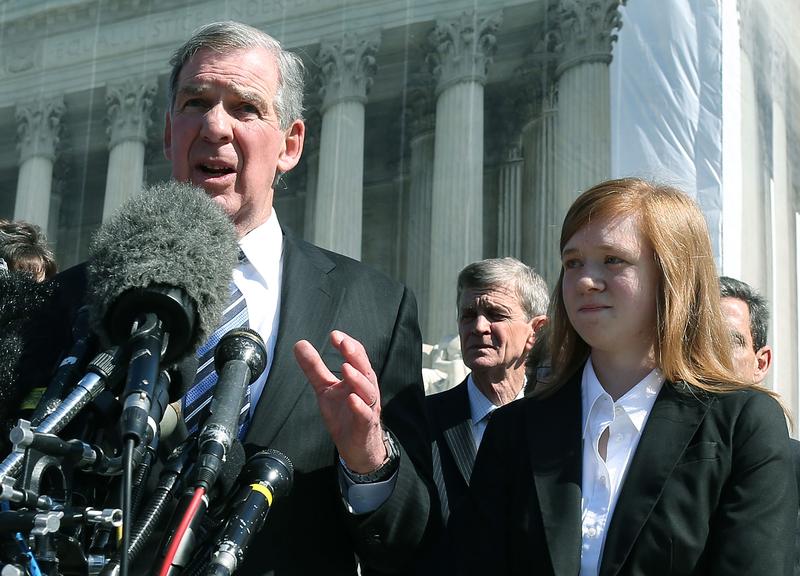 Summary
We often hear that individuals who come to symbolize major Supreme Court decisions "took their case all the way to the Supreme Court." But sometimes, such plaintiffs are taken by hand. Bob explores how shopping for the perfect plaintiff to serve as the poster child for an issue is a strategy employed by public-interest law across the political spectrum, and dates back to 19th-century civil rights litigation.
Transcript
BROOKE: This is On the Media, I'm Brooke Gladstone.
BOB: And I'm Bob Garfield.
[CLIP MONTAGE]
She took her case all the way to the U.S. Supreme Court and won…
Now, they're in the national spotlight, taking their opposition to that california law all the way to the supreme court.
The two women who took their case for same sex marriage to the U.S. Supreme Court, became the first couple to tie the knot in California after the court's decision.
BOB: Yes, they are intrepid, these plaintiffs who with their grievances march through the court system to influence the law of the land. And they are often iconic, as well.
[CLIP]
CNN: This case starts with a young woman by the name of Abigail Fisher here, she was denied admission by the University of Texas. Abigail Fisher turned around and sued claiming non-whites were admitted lower grades than hers.
FISHER: There were people in my class with lower grades who weren't in all the activities I was in who were being accepted into UT and the only other difference between us was the color of our skin
BOB: What you may not know is that plaintiffs who take their cases all the way to the supreme court very often are taken by the hand. And first they are identified, recruited, cultivated and heavily promoted by lawyers or activists such as Edward Blum, a fellow at the American Enterprise Institute and director of the Project on Fair Representation, who located Abigail Fisher only after a 3-year search.
BLUM: the first thing i did was to design a website called "UT-not-fair" and that website was distributed to folks that I thought could then distribute it to other folks who may have kids who had applied to UT and were rejected, that brought in I'd say a little over 200 possible candidates. While that was working I started giving speeches at various college campuses, I started networking with parents who would likely have juniors and seniors in highschool who would one day be applying to the university of texas, and through those three mechanisms I finally after close to three years found abigail fisher.
BOB: Although, curiously, not through his outreach efforts but altogether by chance.
BLUM: lo ­and­ behold, I know this guy, I once met his daughter, and that's how the university of texas lawsuit came to be.
BOB: And she was perfect. A petite strawberry blonde whose steely determination is leavened with a sweet smile and agreeable manner. Bingo!
BLUM: finally, an individual who others can relate to. Abigail Fisher is the girl next door. Everyone can look at her and listen to her and realize she's just like my own daughter, or I have a cousin like her, or she's like my sister.
BOB: If this were a personal injury case, and not public-interest law case, such plaintiff shopping would be "barratry," also known as ambulance-chasing, which is deemed unethical by every state's bar. But Fisher v the University of Texas is not about money, and lawyers are given wide berth to find just the right set of facts to match the contentious legal issue -- and just the right poster child.
In the landmark 2008 Supreme Court case District of Columbia v Heller, which confirmed the individual right to own firearms, Cato Institute chairman and Heller co-counsel Robert Levy recruited 6 plaintiffs to cover all the bases.
LEVY: They had to be diverse by gender, by race, by income, by age. They had to have a fervent belief in their right to bear arms, and coupled with that a real need. So it wasn't enough to be true believers. They also had to live in an area where they're threatened with violence and had a legitimate basis for wanting the right to defend themselves with a gun. They had to be law-abiding, so we didn't want crackheads, as the posterboy for the second amendment.
BOB: Not that the justices, in all their supremacy, would necessarily be turned off by unsavory plaintiffs, but the court of public opinion is a different matter
LEVY: you have to have good stories to tell. And to have good stories means you have to have good storytellers. So we would look for plaintiffs that were able to express their position clearly and powerfully and were diverse, because the media loves diversity.
BOB: The media are also attracted by injustice, drama and a really solid man-bites-dog yarn. So if you were, say, trawling for sympathetic plaintiffs for a California gay-marriage case, how about a couple that was married by the city of san francisco-- then unmarried by the state supreme court, then barred from getting married again by state constitutional referendum Proposition 8. That would be Sandy Stier and Kris Perry, riding the 6 Flags Bizarro of legal rollercoasters. When the referendum results came in 2008, they were shattered.
BOB: You and your wife said, this will not stand, marched to a lawyer and began a legal odyssey that took you all the way to the supreme court, right?
PERRY: No, that is not how it happened. We went in a bunker. We went back to our lives, continued to raise our children, go to work every day, contribute to the community we lived in, and in some ways didn't hold our heads as high as we had previously. we couldn't think of any solution other than just to tolerate it.
BOB: And then the lawyers found them -- not by beating the bushes for the photogenic aggrieved, but by six degrees of Hollywood separation. Perry, who is an early-child-education advocate, happened through movie director Rob Reiner to encounter another pre-k education advocate Chad Griffin, who also an LGBT activist of long standing, and was about to mount a national legal challenge on marriage rights soooo -- long story short: Hollingsworth v Perry, which in 2013 legalized gay marriage in California once and for all and helped pave the way for marriage equality nationwide. The roller coaster has glided to safety.
PERRY: it is really rewarding to sit here today.. But we were semi-panicked the entire time over not prevailing and being the posterchildren of a failed effort that, you know, despite every effort being made to do a good job, not persuading a judge. it was also scary at times. We were harassed, they were scared for our safety. We kept the blinds shut several days at a time. the entire time you wake up, you open the front door - Is that the day that they come?
BOB: The constitutional poster-child role is not easy, and it is not new. Susan Carle, civil-rights historian and professor of law at American University's Washington College of Law, says plaintiff shopping is as old as the fight for equal justice under the law. The Plessy of the notorious Plessy-Ferguson decision was a so-called octoroon, selected to sit in a first-class train car explicitly so he would be refused service, to test laws permitting segregation.
CARLE: the earliest mention I can find of the strategy is a Baltimore organization called the Brotherhood of Liberty, and they were trying to use test case litigation to challenge transportation, segregation, the discrimination in bar admissions on the basis of race and other kinds of cases. the Brotherhood of Liberty was operating in the 1830s or so, so it goes back a long way.
BOB: Carle says that Brown v. Board of education, which overturned Plessy v Ferguson and ended legal segregation, consolidated local cases that…
CARLE:were very carefully chosen so that they represented jurisdictions all around the country - south carolina, Washington DC, Delaware, Prince Edward's county in Virginia and Kansas to make it very clear that this was a national problem and needed a national solution
BOB: Things don't always go as planned. Bob Levy, in litigating District of Columbia v Heller, located 6 highly sympathetic plaintiffs. The National Rifle Association, which was mounting a parallel challenge, came with 5 more. All 11 had wonderful demeanors and harrowing, even heroic stories to tell. And 10 of 11 were kicked out of the litigation, because they did not meet the DC Circuit's threshold of standing.
LEVY: Kafkaesque. that was a shame... Particularly Parker, who was the lead plaintiff and was really the one with the most compelling story. She had her life threatened by drug dealers and lived in a really bad neighborhood and she was most eloquent about her need for a gun and her dedication to gun rights...but she was no longer part of the lawsuit. So we felt bad for her.
BOB: But one plaintiff, a security guard named Dick Heller stuck, and he prevailed. His name is now part of history. As, perhaps, will Abigail Fisher's, whose case was first remanded by the Court, but will now be heard this term after her 7 year odyssey. Advocate Edward Blum:
BLUM: the first and most important issue is that of courage, because these lawsuits will last a long time. Your personal life will be analyzed and vilified on social media...
BOB: You know how Groucho Marx said he wouldn't belong to a club that would have him as a member?
BLUM: Of course
BOB: Do you really want a plaintiff who would take on this... Do you really want a plaintiff who would be crazy enough to proceed on a matter like this?
BLUM: I absolutely do need a plaintiff who's crazy enough and committed enough to take on a high profile issue like this. Let's face it, if Fisher v. University of Texas is successful then Abby's name will go down in history as the young woman that challenged UT. That could one day be harmful to her in her life's endeavors, so thank goodness that there are people like Abigail Fisher who are willing to, sort of, take the heat for the rest of their lives for their participation in this.
BOB: Not to mention Blum's own crusade. After three years of plaintiff shopping, when Fisher agreed to commit to the case come what may, was it all champagne corks and high fives for her sponsor and advocate?
BLUM: I think I choke up a lot more than I high five in life…….. It was a moment of kind of reflection and your throat swells up a…..that was a, much more of an emotional moment for me than it was a celebratory moment.

BOB: But maybe, if he has chosen well, in a few months, he and his fellow affirmative action opponents, will have something historic to celebrate.