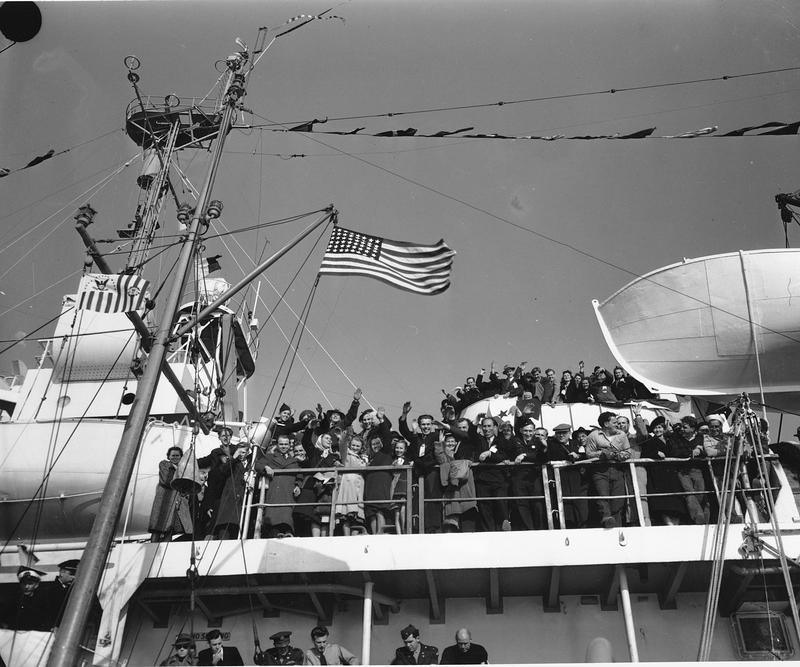 Summary
The exact date of this episode is unknown. We've filled in the date above with a placeholder. What we actually have on record is: 1949-uu-uu.
This episode is from the WNYC archives. It may contain language which is no longer politically or socially appropriate.
"This is a story for Uncle Sam by Uncle Sam." An original narrative ballad providing commentary on the DP Act of 1948. A character called Uncle Sam (the soul of the US) delivers musical selections such as: "You find 'em and We'll use 'em" and "Those People Sure Look Good To Me" - in addition to spoken texts that challenge official US policies towards DPs.
Audio courtesy of the NYC Municipal Archives WNYC Collection
WNYC archives id: 2299
Municipal archives id: LT992
Transcript
This is a machine-generated transcript. Text is unformatted and may contain errors.
This is a story of Uncle Sam for Uncle Sam But Sam the story of Plymouth Rock nineteen forty nine. Remember Me Sure. Why say we grew up together didn't we remember the day I first set foot over here oh I rolled up my sleeves rubbed some dirt on my hands and build us a place to live in. When I was young I had a plan when thirteen states sold I began. So I took my float here in my then worked my way across the land and then before I know I'm next to it and your love to feed. My friends I mean. I stretch from Maine to the Golden Gate there's a freckle on my face for every city and state. When factories roll over you can hear me follow. And watch the come the way it's the little let me remind me of my plan the friends old told me. Growing up was easy. I remember way back in sixty one I got so sick I thought I'd split in two but Old Doc Linkin me pull me through and since then well I don't like to boast but we've come a long long way. Yes We've got us quite an establishment these millions of farms and factories and every kind of business you can imagine but even them all in working order up front or sometimes loses track of people. Only a short while ago Sammy system is now saying whatever happened all those nice people from Europe are using them over here to live why don't they come here anymore. And you're too young to stop growing now. And there Sam do something. To my forty eight states a would you use some extra folks if I found them for. Me. Is the kind of folks we'd like for you to. Move. On in my. Kind of people. Who are kind of people like those who. Don't care what kind of labor any. Friends and neighbors and women like to mention. Playing the. Good and that's just the kind of folks I had in my. Well it wasn't long before I found myself on the eastern seaboard walking along the shore looking for the phone and I could. Not marry no one but I know. The wind was blowing. And it sounded like someone was talking to me. I looked around there across the ocean I saw this man standing behind a fence black against the sky say there Mr you're in trouble or something who are you. Smart for moves for go. Or. More or pullers for me. Or. Fall. That's not asking too much. Then he smiled and he said I don't care what kind of labor there would be for me to do just a chance to be your neighbor that is all I ask of you. That is a happy coincidence you're just a fellow we've been looking for old everything and with that I hailed it down to Washington and rustled up the whole caboodle of my legal. Meetings Oh the order. And lawyers I said here's the proposition. Talking to the States a while ago did you know they told me so in the middle of the nation when population well just now I met up at our needs a job and a place to live so why don't you cook me up a regulation knows I'm getting over got a hunch there's plenty more like games may get rid of me my legal fellers mull it over a while and then. I'm. An American or know. That of making a foreigner what Mitt. Seems to me you're very good i'm a couple of things. Or. Three hundred. Or they came from the. Continent. On the Mayflower came one. Scary. Past Since then the residents. This country stretched from. These families came from an end of the. Name to famous mysterious. Long line of immigrants. From. Thirty five. For a minute they looked at me kind of shame faced. Then OK Sam how many a one zero should I have I four hundred thousand that fill the bill I guess what Sam That's a tall order when you settle for I have well I'll take it when I'll be back and I hightailed it over to the seaboard again oh OK Mr Come on over. He came on over and I met him in the harbor had his wife in youngster with their eyes staring out in the dark at the lit up Statue of Liberty and the man murmured to himself I never thought I'd see the sun again And then very quiet like you said. I thank you very much. I thought to myself these folks. Are just delayed pilgrims I just got here sooner that's all. Well no sooner did I bring them to their new home when they rolled up their sleeves and set their work I stood there watching them and they sure look good to me and I'm thinking I could use a whole crowd of them so with that in mind back to the shore I hustled and I looked out toward the horizon again yet there they were plenty more looking straight at me looking at me through a fence twice as tall as before Hey there I shouted Come on all her. They just stood there staring at a piece of paper hanging on the fence I recognized the handwriting it was my legal thinkers saying where. We must draw the line somewhere in need of immigration. Plates of registration be said parties must arrive via the same boat twenty per cent in a year of body by coming. In maybe the state. Date we stipulated. Rule. Like a couple of short steps and I'm back in Washington meetings. Now see here I started out what's all this about a date maybe these folks had good reason to be late. That's. A feller wants to get here bad and seems to be on time. Says I. Yes I wonder what could have happened to those folks had they been late if Columbus had discovered land in fourteen ninety four what America said. From me. When the Pilgrim Fathers came ashore did they have to punch the clock will say you should have come before us all get right off that rock when we signed our independence Mr Hancock and ran. Because. On the. OLD a new born let's say three months to many. Of your White House. That many if the forty miners heard the gold had been located. Back that. You. The moon. Would you have said don't like your looks we'll have to close if you'd insisted come on time or else just. It seems to me. When I finish the place was quiet the thing can go on. When you put it that way maybe we were wrong after all. I told them. Then. Isn't. The most seem best to you just remember. You. Are just going to watch the best. You want to being. So invested in the movie. I guess you'll have no room coming up pretty soon shouldn't be too hard for the sort of fathers who once mighty fine constitution. Walking up and down the coastline staring out over the mic at the folks over there. Funny thing this started out to be a story about me and turns out to be a story about some other folks too well I'm not surprised Oh. That's. Good. You're just heard Rayment of them singing and telling the story of Plymouth Rock nine hundred forty nine an original narrative ballad with story and lyrics by Paul Tripp music by George Klein singer conducted by eyes ear and produced and directed by Ted cutis to our first Plymouth Rock and sixteenth when they came the Pilgrims the first displaced persons in our history seeking refuge from political and religious persecution today in camps in Germany Austria and Italy one million human beings seek refuge again where shall Leggo We've heard their voices we've searched our hearts with examined our books we can give refuge to four hundred thousand no more than our fair share so now we have a law which excludes half of this quarter entirely and opens the door to the other two hundred thousand with one hand and closes with the other judges these people not by any human rule but by cold religious and national standards these are our kind of people let's judge them as we would judge ourselves called Caruso's big.