A Player Leaves the Game
Wednesday, August 13, 2014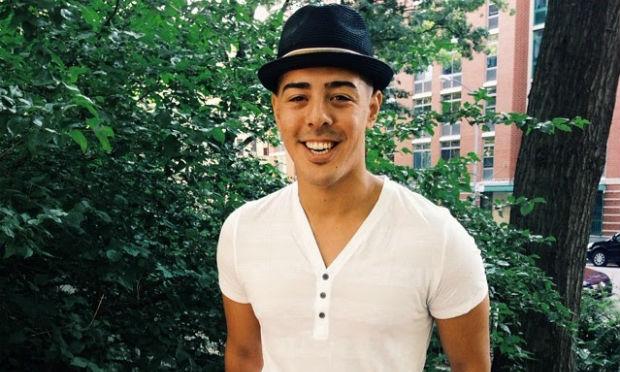 (Jozen Cummings)
Jozen Cummings can't get any woman he wants. But for a while there, the New York Post's dating reporter was doing pretty well for himself. He used to take out multiple women a day: one for coffee, another for lunch, and another for dinner. He left the rest of the night open for a wild card.
But as a kid, he'd watch his single mom stare at the phone, waiting for a man to call. They often didn't. He knew he didn't want to be one of those men. For a long time, he was.
Now that he's found the woman he plans to spend the rest of his life with, he knows he can't treat her that way. 
So there are challenges ahead. For example, all that dating he did wrecked his financial life. He also made some pretty bad decisions — like cheating — that ruined past relationships. Because his father couldn't keep a relationship together, he's had to learn what it means to be a committed partner on his own. 
Jozen and I talked about how what life was like as a confident ladies' man, what he learned from his father's death, and what he hopes for after bachelorhood ends.
INTERVIEW HIGHLIGHTS
The first girl he liked didn't like him back:
You definitely remember the first. Roxanne, this girl in my second grade class. I started off coloring pictures for her at home and leaving them at her desk. I'll never forget one day, the person sitting next to me tapped me on my shoulder and said turn around, Roxanne is trying to get your attention. And I turned around and she just mouthed the words, 'I don't like you.' And I was just like, Oh man. I was so upset, and so hurt....And that stayed with me. And you just don't forget that feeling. And what's funny is that no matter what age it comes, it feels the same.
 How he learned to be confident:
I worked the deli section of a restaurant, which was right next to the host stand. And we had a bunch of pretty hosts. And all of them were about — if I was 16 they were 18. [One of them said], you know Jozen, the number one thing that you have to have as a man is confidence. It doesn't matter how you look to anybody, but people can see whether you're confident. So you have to be confident if you want to get anywhere with girls. And that's when I just kind of told myself, well, okay, get confident.
 He doesn't want to die alone like his father:
None of [the mothers of his children] showed up to his funeral. What that showed me was that you can love someone, but you can also put them out of your life. And I just thought that, here was my father, a man who was loved, but nobody really wanted to be there.
On dating black women when you're multiracial:
I feel like for a while, I subscribed to this idea that I was actually being like, doing a noble thing. Like that I liked black women was somehow progressive….I grew out of that. And that's when I, once I let that go, that's when I started becoming more open to dating anybody....I used to feel like very much that they were a gateway, or they strengthened my identity.
Why he's getting his finances in order:
What I see with Gina is somebody who will love me, and ride for me, like be by my side. But I don't want her to have to take responsibility for decisions that I made before she came into my life. And my finances are a reflection of that. And I'm really trying to get myself into a better place, because I want to take care of her.
You can read a full transcript of our interview, and visit Jozen's blog, Until I Get Married, for regular updates on his love life.
Music Playlist

Take a Ride - Death, Sex & Money Theme

Artist:

The Reverend John Delore and Steve Lewis

Label:

John Delore

Drops Of Water In the Ocean

Label:

freemusicarchive.org

BWN Discotheque

Artist:

Jack Ventimiglia, BMI

Label: BWN Music

Still Not a Player (Instrumental)