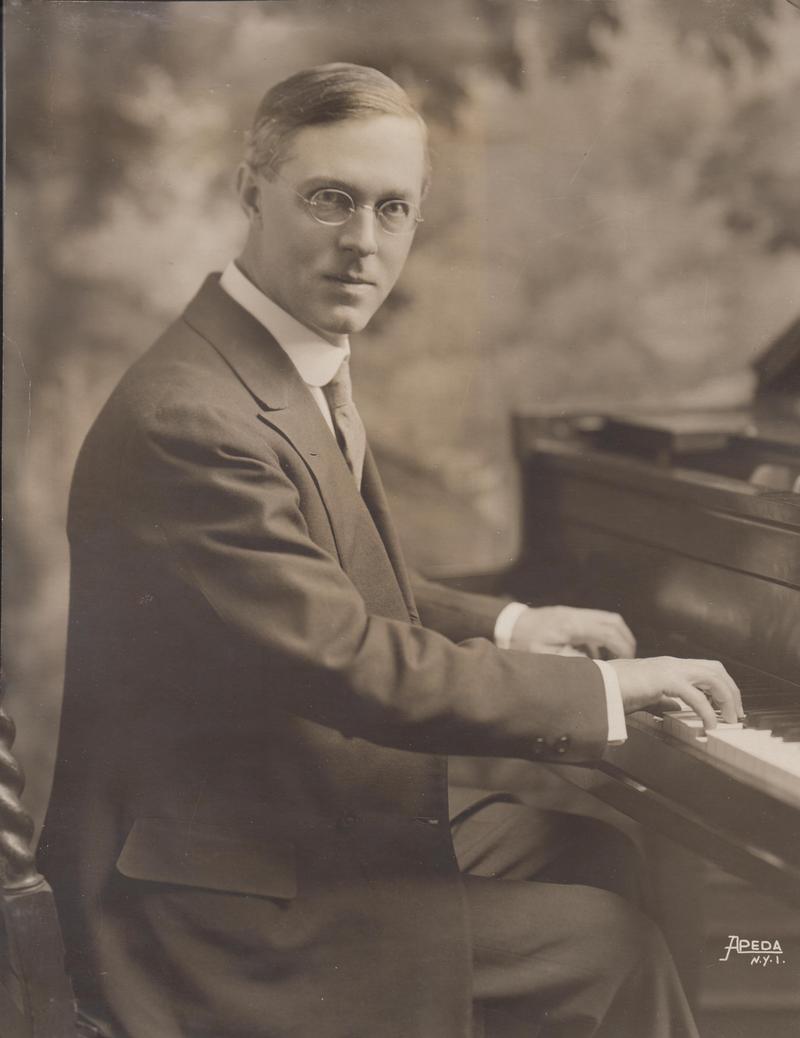 From the April, 1941 WQXR Program Guide:
Mr. Hutcheson is President of the Juilliard School of Music in New York. In addition to being a great pianist and teacher, he is the author of numerous books on music, including the recently published "A Musical Guide to Richard Wagner's Ring of the Nibelung."
There are many different individual approaches and responses to radio. As head of the Juilliard School of Music I am naturally especially interested in the effect of broadcasts of serious music on students and teachers of music.
At the Juilliard School we have regular listening hours for the students, and often the room, seating about two hundred people, will be two-thirds full. The students bring their scores of symphonies, concertos, or operas, and follow them with intense absorption during the broadcasts. This opportunity to accompany the actual hearing of a score by visual study of it is a real service, for in a darkened opera house or concert hall it is impossible to use a score. 
Of course, many of our students and teachers besides those attending the regular listening hours take advantage of the radio performances in the same way. Any teacher owning a good radio set is importuned by friends and pupils with requests for permission to come and listen to special programs.
I may be pardoned for believing that what happens in the Juilliard School of Music is typical of what ought to happen in every school of music and in every college and university in this country. Fortunately, I have an imposing mass of evidence that this is actually the case, and recently, to my pleasure, I have had repeated occasion to recommend the installation of listening classes for such programs as those offered by WQXR.
There is another way in which radio makes possible the study of music under very desirable conditions. This is the broadcasting of
recordings of great symphonies, concertos, etc., played by leading orchestras and artists. Music students are seldom rich, and few can afford to own a library of records. A student who has been assigned a concerto for study often has an ardent desire to hear a performance of it from an authoritative artist. He may have to wait years for such a chance, especially if he does not live in a great music center. And even if he lives in New York City, the price of a ticket may provide a difficult problem. In such broadcasts as these, Station WQXR has been a leader of insight and courage, and fully deserves the praise which is accorded to it daily by musicians of all types.
Let me pass now from the student to the professional aspect of radio as it affects our school. Many of our advanced students and graduates, particularly in our Graduate School, earn their living as radio artists, several having achieved a nationwide reputation. Radio is, therefore, obviously an important and constantly widening outlet for every kind of musical talent. Broadcasting orchestras, sustaining programs for singers and instrumentalists, chamber music, solo appearances with orchestra, incidental music for drama, program-making, accompanying, composing, arranging, conducting, all this work calls not only for trained musicians but also for musicians trained in specialized radio technique. Hence, schools throughout the country in increasing numbers are offering courses and installing departments in script-writing, program-making, announcing, engineering and other aspects of broadcasting.
At the Juilliard School of Music we have so far concentrated on two particular angles of radio, the actual technique and the engineering problems, though we realize that there are others which may be profitably studied. The interest in these courses is keen, particularly among the singers, and the advantage to the student who has a radio appearance to fulfill or an audition to undergo of being able to rehearse in a well-equipped studio is obvious.
It is probable that radio has interfered to some extent with attendance at certain musical events.  Naturally it is easier and cheaper to "tune in" from one's armchair at home than to make the effort and incur the expense of going to Carnegie Hall for a Sunday afternoon concert of the New York Philharmonic Orchestra. But radio has made more than ample amends for this in the carrying of serious music to every hamlet and farmhouse in the country. Radio is the greatest disseminator of music we have and, therefore, must be regarded as a social institution of wide and powerful influence. It is within its power  to guide and uplift public taste and become far more than a mere expression of popular preference in entertainment. Its broadcast purpose is served when it takes its place as the enlightened leader, the molder of the best in social thought and culture. I share the conviction of many musicians and music lovers that WQXR is serving this purpose and taking this place, and in so doing, it establishes the strongest ties with schools of music which have similar aims. We, too, must train leaders of culture, capable of maintaining a national morale which will withstand the strains and shocks of cynical thought and will endure in a brighter and more humane future.
The Institute of Musical Art (the three-story building at the near corner) and the Juilliard Graduate School (far corner) at Claremont Ave., circa 1950. (Photo by Alton Taube and courtesy of The Juilliard School) 
Smaller photo above: Juilliard students Christopher von Beayer and Bette Wishengrade at 130 Claremont Avenue and courtesy of The Julliard School.