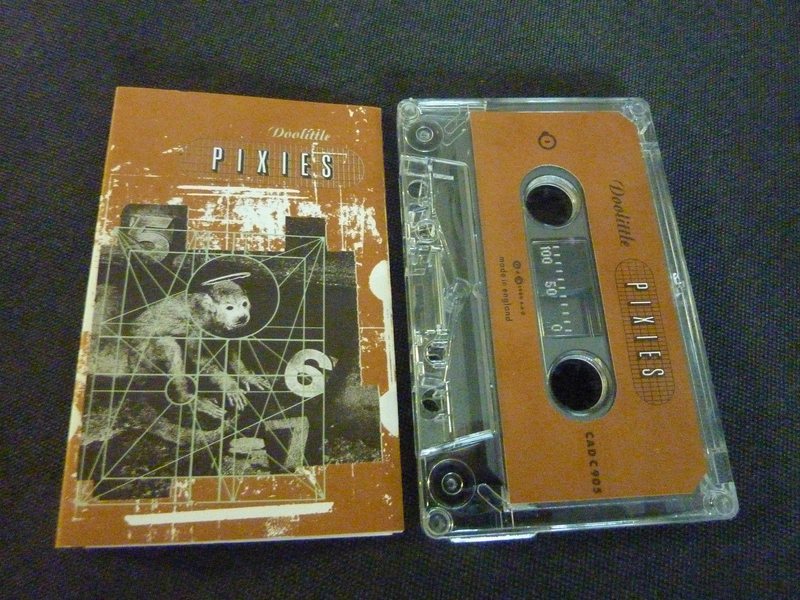 For this New Sounds, hear songs of the Pixies as arranged "New Sounds-Style" by everyone from the Asphalt Orchestra (the punkass marching band from Bang on a Can) to the Polaris Prize winner, Tanya Tagaq, along with the not-gonna-be-pigeonholed-into-just-jazz trio The Bad Plus, and the multi-instrumentalist "indie" eclectics TV on the Radio.
As a New Sounds broadcast exclusive, listen to THREE tunes from the most excellent forthcoming "Asphalt Orchestra Plays Pixies- Surfer Rosa," album coming November 18 from Cantaloupe Music. Hear un-slavish, biting and ferocious arrangements for marching band from this unexpected collection which definitely captures the rawness and power of, -and quite possibly improves upon- the originals. (There, the NSAPA has officially blasphemed. Read more about the Asphalt Orchestra record here.)
Then, hear Polaris Prize winner Tanya Tagaq and her ecstatic yet frightening version of the Pixies' "Caribou," which incorporates her unstoppable vocal acrobatic talents, not limited to Inuit throat singing. Also, the Norwegian singer Hanne Hukkelberg deconstructs "Break My Body," (Frank Black Francis) complete with accordion, woodwinds and brushed drums, taking the song to a previously unanticipated level of masochism. Listen to the Bad Plus doing the Pixies' "Velouria," which rises to a fever pitch of insanity with its Liszt-like piano pyrotechnics and an inspired avalanche of drums. Plus, from TV on the Radio's first EP, listen to their doo-woppy "Mr. Grieves." All that and so much more.
PROGRAM #3651 The Pixies, New-Sounds Style (First aired on 10/21/2014)  
ARTIST(S)

RECORDING

CUT(S)

SOURCE

The Pixies

Surfer Rosa

Gigantic, excerpt [1:40]

4AD - #78030 (Reissued in 2003)
Available at Amazon.com or iTunes

Asphalt Orchestra

Asphalt Orchestra Plays the Pixies Surfer Rosa

Gigantic (arr. Nathan Koci) [4:41]

Cantaloupe 21103
Due out November 18, 2014
cantaloupemusic.com or pre-order from iTunes

Curtis Hasselbring

The New Mellow Edwards

Ana [2:25]

Skirl 003
skirlrecords.com

Vitamin String Quartet

String Quartet Tribute To The Pixies

Bird Dream of the Olympus Mons [2:41]

Vitamin Records - #8874
Available at Amazon.com

Asphalt Orchestra

Asphalt Orchestra Plays the Pixies Surfer Rosa

Bone Machine (arr. Peter Hess) [2:56]

Cantaloupe 21103
Due out November 18, 2014
cantaloupemusic.com or pre-order from iTunes

Hanne Hukkelberg

Do Not As I Do single

Break My Body (live in Oslo 2005) [4;17]

Leaf / HANNE 1
Now out of print.
Another version appears on her record Rykestrasse 68 on Nettwerk hannehukkelberg.com

Rockabye Baby Music (Mike Baiardi)

Lullabye Renditions of the Pixies

Ana (arr. Mike Baiardi) [2:06]

Rockabye Baby! - #9811
Available at Amazon.com

The Bad Plus

Give

Velouria [5:36]

Columbia #58331
thebadplus.com

Asphalt Orchestra

Asphalt Orchestra Plays the Pixies Surfer Rosa

Where Is My Mind? (arr. Ken Thomson) [3:55]

Cantaloupe 21103
Due out November 18, 2014
cantaloupemusic.com or pre-order from iTunes

Miranda Sex Garden

Suspiria

In Heaven (Lady In The Radiator Song) [4:06]

Mute - #CDSTUMM 112
Available at Amazon.com

TV on the Radio

Young Liars

Mr. Grieves [4:11]

Touch & Go TG 252CD
Available at Amazon.com or iTunes

Tanya Tagaq

Animism

Caribou (Arr. Jesse Zubot) [4:53]

Six Shooter Records
store.sixshooterrecords.com

British Sea Power

Dig For Fire: a tribute to Pixies

Caribou, excerpt [4:33]

American Laundromat Records ALR-0011
alr-music.com , iTunes or Amazon.com