A Planetarium of Old Socks and Q-Tips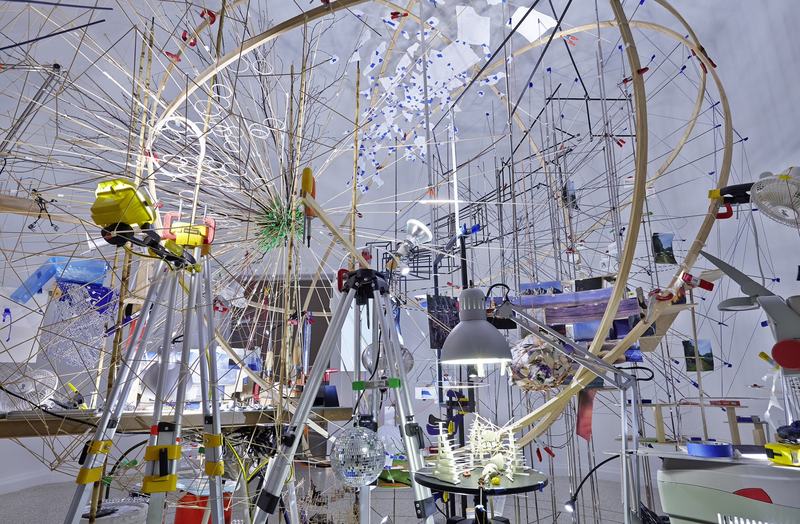 From across the room, the wood frame of Sarah Sze's Triple Point (Planetarium) resembles a model of Saturn and its rings. Lean in, though, and you'll see q-tips, lamps, fans, ceramic pebbles, photos of landscapes, old socks and disco balls.
Sze, a New York based artist, represented the United States at the 2013 Venice Biennale. Now, one piece of her submission sits in the Bronx Museum. The work references the scientific model of a planetarium and it attempts to represent the objects of the world.
Holly Block, executive director of the Bronx Museum and co-commissioner of the U.S. pavilion, said that it was the unusual way Sze utilized space that made her a candidate for the Biennale.
"She will focus on something as small as your own eye and make you think about the cloud in the sky, and making the connections between large and small, interior exterior. All these different things focus on how you think about space," she said.
Carey Lovelace, co-commissioner of the 2013 U.S. Pavilion, said Sze's work was specifically designed to sit in Venice. It interacted with the architecture of the building and made use of the outside spaces. She said that she was initially concerned with how the piece would translate to the Bronx, but found it even more dramatic here.
"I thought she actually changed the piece" she said, "but her work is so complex, there is so much to see in it, that just by having these other vantage points to look at it, I realized there were elements that I'd missed before that I was able to see this time".
The exhibit will be on view until August 24th. Admission to The Bronx Museum is free.