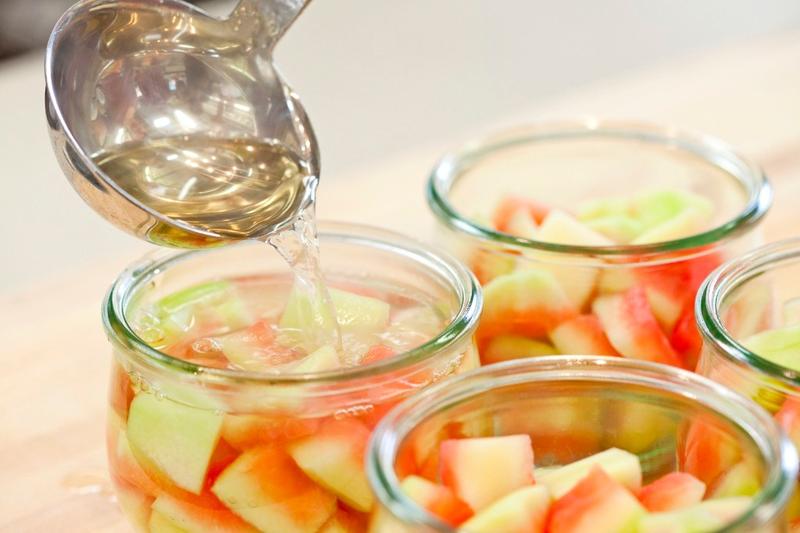 Makes four 1-pint jar
Make today, enjoy in 10 days
            1          (5- to 6-pound) watermelon
            1/4      cup Diamond Crystal kosher salt
            5–7      cups ice cubes
            2          teaspoons cardamom pods
            1          teaspoon whole peppercorns
            1          (2-inch) piece ginger, peeled and sliced into ¼-inch-thick rounds
            1          lemon grass stalk, trimmed to bottom 6 inches and
cut into 1-inch pieces
            2          cups rice vinegar
            2          cups water
            3/4      cup sugar
1. Cut off both ends of watermelon and stand upright. Using sharp chef's knife, trim layer of green skin away from rind, then quarter watermelon. Using knife or large spoon, scoop all but 1/4 inch of flesh from rind. Cut rind into 1‑inch pieces and place in large bowl (you should have 8 cups). Add salt and toss to combine. Cover rind pieces with single layer of ice cubes, cover, and refrigerate for 8 to 12 hours. Discard ice, then rinse and drain rind pieces well. Transfer to jars with tight-fitting lids.
2. Bundle cardamom, peppercorns, ginger, and lemon grass in cheesecloth and tie with kitchen twine to secure. Combine spice sachet, vinegar, water, and sugar in large saucepan and bring to boil over high heat. Remove from heat, cover, and let steep for 10 minutes. Discard spice sachet. Return brine to boil.
3. Pour brine evenly over rind pieces to cover, let cool to room temperature, then cover and refrigerate for 10 days before eating. Pickles can be refrigerated for up to 2 months.
To Process for Long-Term Storage: After draining watermelon rinds in step 1, set aside; don't pack jars with rind pieces. Prepare brine as directed. In step 3, transfer rinds to hot, sterilized 1‑pint jars. Pour hot brine evenly over rinds, leaving 1/2 inch of headspace at top, and process following Canning 101 steps on page 71. Processing times depend on your altitude: 10 minutes for up to 1,000 feet, 15 minutes for 1,001 to 3,000 feet, 20 minutes for 3,001 to 6,000 feet, and 25 minutes for above 6,000 feet. Store in cool, dark place for up to 1 year.