Soundcheck
PHOX: Longtime Friends Crafting Heartfelt Pop Songs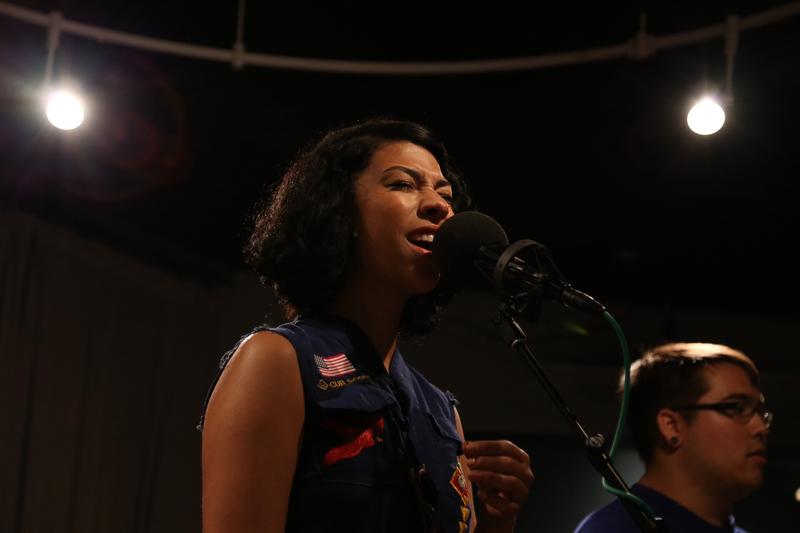 While PHOX may have only just released its self-titled album in June, the sextet has already won people over with heartfelt pop songs and the charismatic stage presence of lead singer Monica Martin. When you see PHOX perform, or to hear those songs, there's an undeniable chemistry that extends past the music. 
But it makes sense: PHOX's members all share the same hometown, Baraboo, Wisconsin. After graduating high school, each left home to pursue an array of passions: music, cosmetology, and even a job in Homeland Security. But eventually, they all found their way back to Wisconsin, moved into a house together in Madison, and soon began writing and performing together. It's not surprising that their cohabitation has become an influence on their work: "It's the collaboration and having a wide variety of influences is what makes us PHOX," says guitarist and trumpet player Matt Holmen. "If there was one person directing the record, it wouldn't be us."
Now, after two video EPs, Confetti and Unblushing, the group recorded its full-length record at April Base -- the Eau Claire, Wisc. studio of Bon Iver's Justin Vernon -- and boats Vernon's engineer Brian Joseph at the helm. With songs like "1936" and "Slow Motion," PHOX's music brims over with soaring melodies, tight vocal harmonies, and intricate instrumentation that brings together plucky banjos and sweeping guitar lines, clacking percussion and even handclaps. It's the comforting and joyful sound of longtime friends coming together and creating something they all believe in. 
Set List:
"Kingfisher"

"1936"

"Slow Motion"