PHOTOS: Annual St. Patrick's Day Parade Picketed by Protesters
Monday, March 17, 2014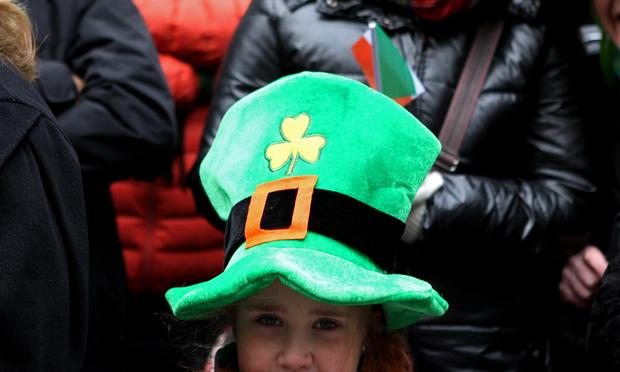 (Stephen Nessen/WNYC)
St. Patrick banner being marched down 5th Ave. (Stephen Nessen/WNYC)
Friends from New Jersey shoot a selfie at the St. Patrick's Day parade. (Stephen Nessen/WNYC)
A police officer marching in the parade breaks away to shake hands with parade-goers. (Stephen Nessen/WNYC)
Protesters picketed the exclusion of LGBT groups at the annual St. Patrick's Day Parade on March 17, 2014. As members of the NYPD marched by, they yelled, "Queers in, cops out." (Stephen Nessen/WNYC)
Behind barricades, groups picketed the exclusion of LGBT groups from the St. Patrick's Day Parade. Sponsors like Guinness and Heineken dropped out of the parade, while Ford remained in the parade. (Stephen Nessen/WNYC)
A group picketing the exclusion of LGBT groups, referenced the history of racism against the Irish in previous generations. (Stephen Nessen/WNYC) 
Cardinal Timothy Dolan greeting parade goers outside St. Patrick's Cathedral. He said the parade embodies the spirit of New York City. "People coming together with love with a new home, finding in America a sanctuary, it makes it all worthwhile," he said. "And it warms the heart. You don't have a flask on you do you?" he asked a reporter nearby. Regarding Mayor Bill de Blasio's absence at the parade, Dolan said he was glad to see him at mass today. Dolan said he's not in charge of the parade, but trusts the committee.
The Lobos Latin Band from Guatemala marching in the St. Patrick's Day Parade. (Stephen Nessen/WNYC)
Jordana Brunerr, 35, from South Africa, bundling up during a cold St. Patrick's Day parade. (Stephen Nessen/WNYC)
More in:
Stephen Nessen reports for the WNYC Newsroom and can often be heard live on Morning Edition.