Photos: It's Snow Nasty Out There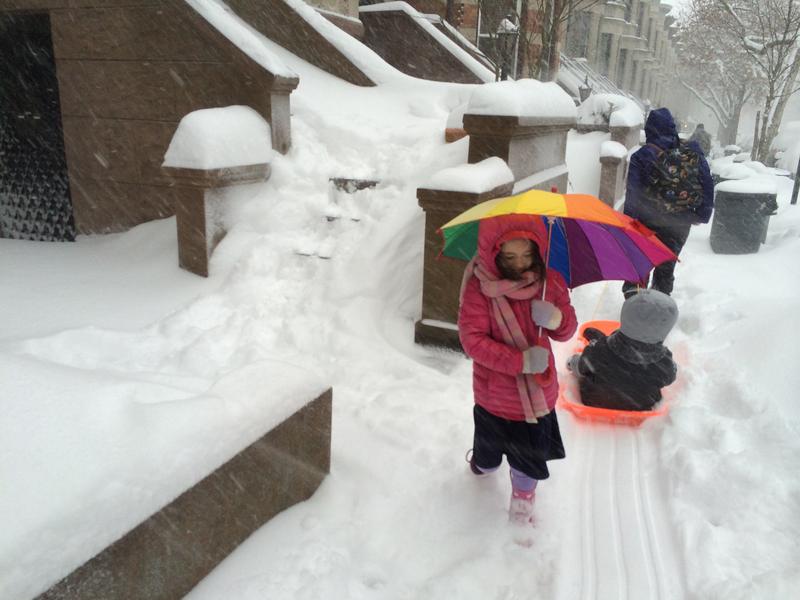 Wildly falling snow plus a forecast for 10 inches of accumulation and freezing rain — all that wasn't enough to warrant a snow day for New York City schools on Thursday. Students and parents woke up this morning disappointed that school would open despite the wintry mess quickly coating the streets. They were joined by teachers and administrators in criticizing the city's decision not to call a snow day.
Take a look at the havoc the wintry weather is wreaking on New York City's streets today.
A snowy commute in Sunnyside, Queens during a snowstorm on February 13, 2014. (Stephen Nessen/WNYC)
Drivers and bikers had a snowy commute during a morning snow storm on February 13, 2014. (Stephen Nessen/WNYC)
A stuck schoolbus in Brooklyn. (Manoush Zomorodi/WNYC)
A lone shoveler was clearing a path as more snow fell in Southbridge Towers, Lower Manhattan. (Alex Goldmark/WNYC)
Delivery to a grocery store in Inwood in the snow. (Julianne Welby/WNYC)
Keeping the sidewalks shoveled in front of a grocery store in Inwood. (Julianne Welby/WNYC)
A stuck vehicle snarls traffic on Flatbush Ave. in Brooklyn on February 13, 2014. (Amy Pearl/WNYC)
Care for a seat? There is room on this snowy bench in Lower Manhattan. (Alex Goldmark/WNYC)
Snow covers the statues at the steps of the National Museum of the American Indian. (Ilya Marritz/WNYC)
Add 'sled' to the popular modes of transportation in Brooklyn on February 13, 2014. (Jennifer Hsu/WNYC)